April is already here, meaning major clothing shops alongside small boutiques are starting to cater to the warmer season. Walk into any shop around the Denver area and you'll notice pastels coming into play as well as shorter sleeve and pant lengths. But just because you're seeing major spring looks in stores does not mean you have to dive in head first.
So 303 Magazine teamed up with Laura Krudener, artist and lifestyle blogger at Among the Colors. Founded by Denver-based artist Krudener, Among the Colors is a lifestyle and community project focused on bringing color and creativity into your life. She's created three spring ready looks we can't wait for you to try out.
Pleats and Culottes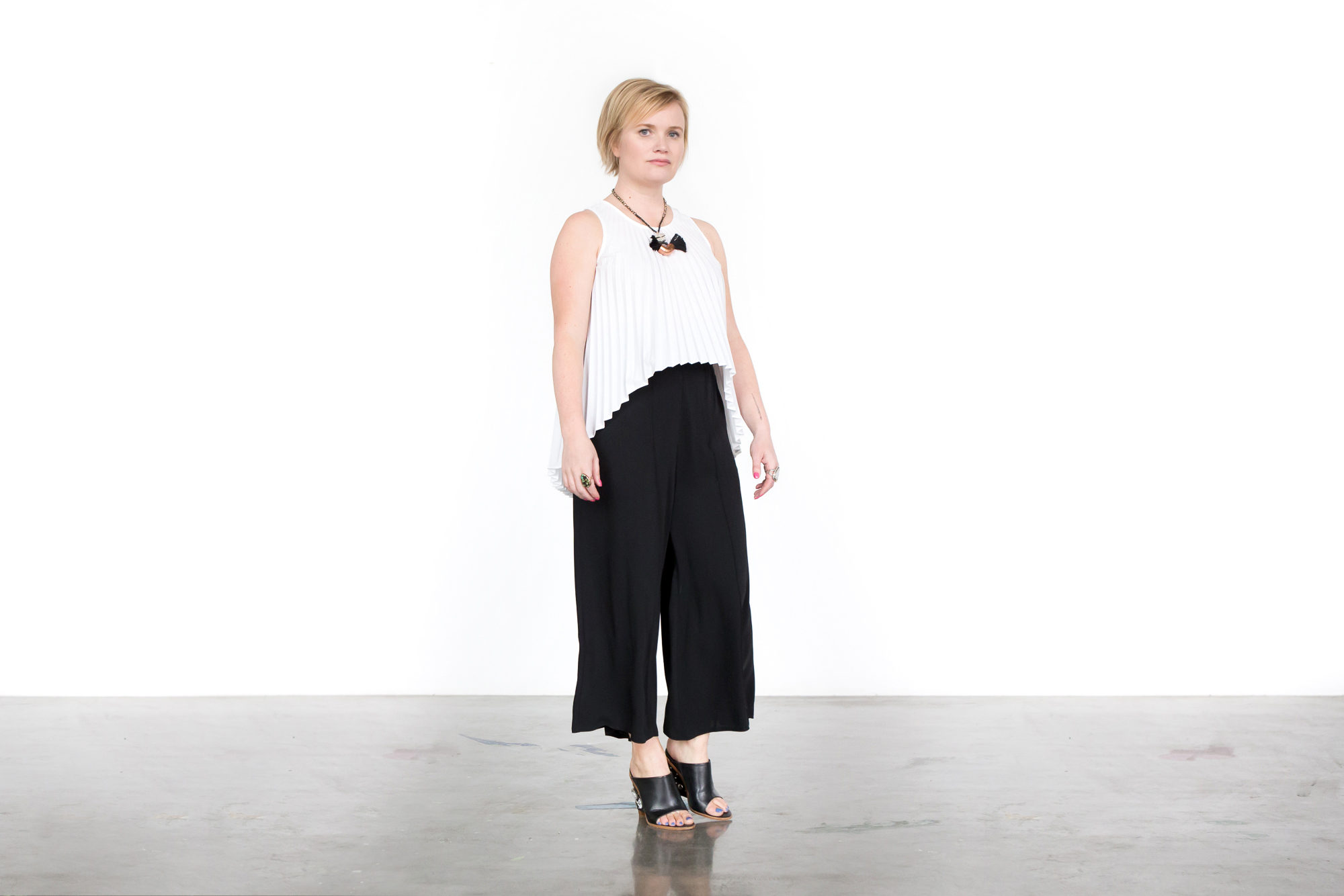 There is no denying that culottes are going to be the pant of the spring season. Easy to throw on and run around in, these stylish pants first appeared in the late Middle Ages and were praised for their comfort. So it's no surprise Krudener found these fitting for spring. Paired back to this white pleated top from Shanina Mote, the high waisted pants work perfectly in showcasing the pleats. This is another great look for those waiting for the weather to warm up. Simply throw on blazer or cardigan to keep warm, or style this look with a black turtleneck underneath to create a new look. Krudener stated, "I like the menswear and '90s fashion influence of the pleats trend. This asymmetrical crop top pairs well with culottes for a fun play on volume. Also, I like how the culottes make me look a little taller than I am."
Off the Shoulder 
Love it or not the off the shoulder trend is here to stay. Having popped up in fashion magazines, designer collections and boutiques, there are now plenty of options for this trend. Whether you opt for classic black or hot magenta, this look works for just about any sized girl. Here, Krudener chose a Parker off the shoulder top that's giving us major retro vibes. The elastic top feels very '90s, and works well in fitting thin to broad shoulders. Paired with some classic skinnies, this look is great for a weekend out or for travel. We're also loving the statement earrings by Elizabeth and James. Not only do they give the look a good visual point, they also give off a tropical vibe that you can transition over to summer. "I love the off the shoulder trend because it is so versatile. I styled it here with dark skinnies for a dinner date look, but would easily wear with boyfriend denim shorts and flats to brunch. Since I have short hair, big earrings are kind of always my thing. So I guess it's a great trend for now because it allows me to stock up on some ear candy," said Krudener.
Pretty in Pink
We love this Mara Hoffman romper for its unique, stand out design. The bust tie helps create that feeling of spring while the blush pink works for just about any skin tone. The horizontal strips add some visual interest that makes us want to get nautical. This look can easily be taken from casual to dressy, all with the change of a shoe. Too cold to brave this look for a night out? Throw on a pair of tights along side some ankle booties to keep warm. Krudener paired it back to some really simple, geometric earrings and a pair of Valentino Rockstud pumps. "I love all the blush pink that is popping up all over the spring collections. This soft hue can be worn alone or paired with nude or gray for a soft, modern spring look," stated Krudener.