Yoga on the Rocks is back for the fifth year and whether you're a first time yogi or fold into a pretzel regularly, these classes are famous for a reason. The teachers at CorePower Yoga and The River Power Vinyasa Yoga have joined together to create two months of yoga to that famous Colorado sunrise.
Every Saturday beginning in June through July, thousands of yogis from across the state — and even the country — come to practice a power vinyasa flow.
"Yoga On The Rocks has become a Colorado summer tradition, and we're excited to continue sharing our unique practice with thousands of new and seasoned yogis," said Joy Shanley, studio manager for CorePowerYoga in Boulder who will be leading the first class of the CorePower series. "Red Rocks provides the perfect backdrop for an unforgettable experience."
So how does an outdoor experience differ from a classroom? "Being outside is so much easier to tap into the presence of the class," said owner and teacher at The River, Danielle Barbeau-Cook. "When you're in a classroom, it's easy for your mind to wander. But when you're underneath the big Colorado sky and there are all these people, and it's Red Rocks — you're in the moment."
Teaching to that big of a group is a whole other thing. Katy Rowe, a yoga instructor at The River, is a seasoned veteran of YOTR. "Teaching something as sacred as yoga in a place as magical as Red Rocks is a dream come true. There is nothing like watching the sunrise on 2,000 plus yogis moving and breathing in unison. A true Sun Salutation. The natural setting and symphony of bodies and hearts moving with a common mindset reminds us that we are a part of something so much bigger. As an added bonus, I get to say I sang to a sold out crowd at Red Rocks!"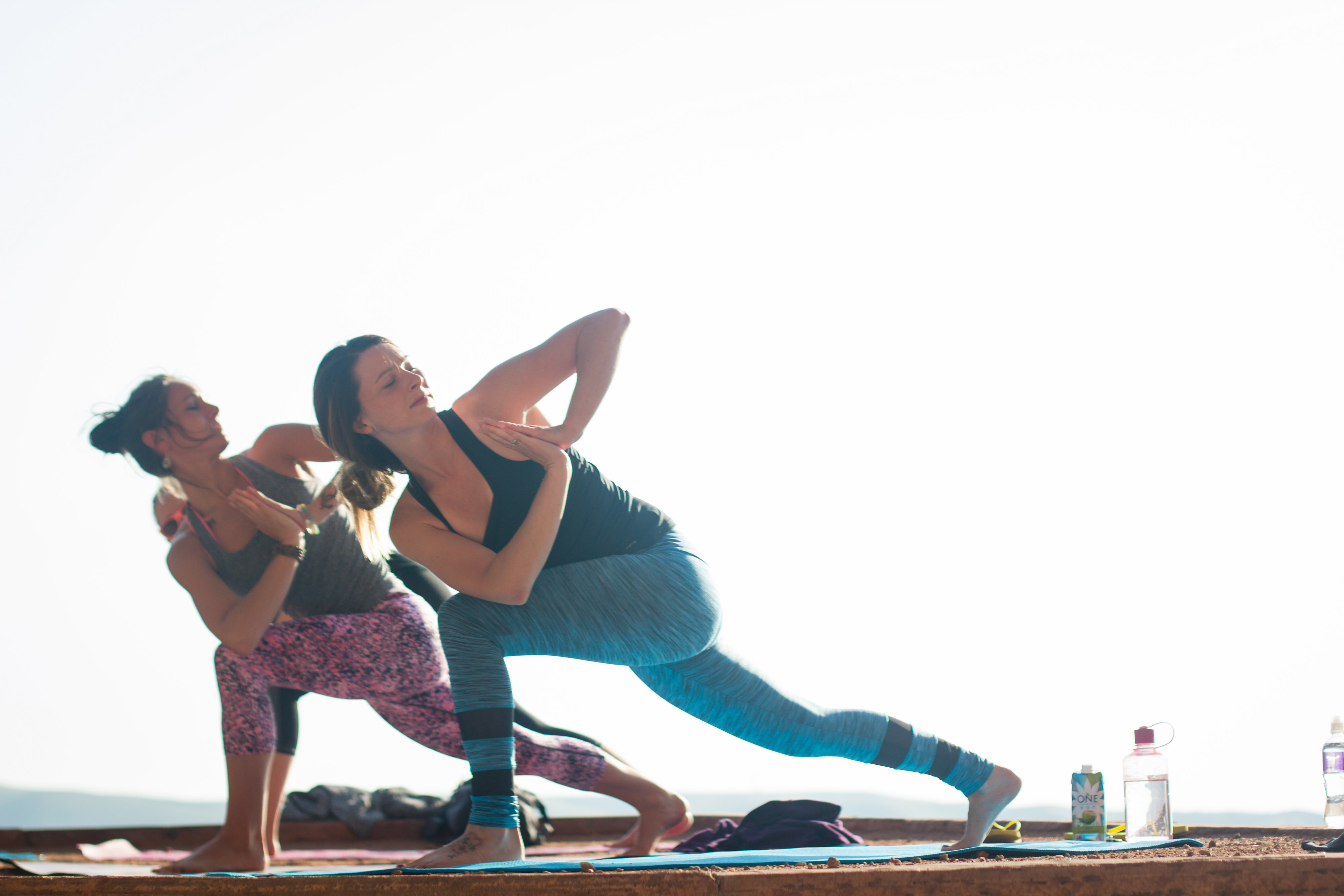 For those who have never attended YOTR, the first time can be intimidating — even if yoga is a daily practice. For first timers, and even a friendly reminder, here's some need to know tips:
 Classes always sell out in advance

 

Arrive on time. Classes start promptly at 7 a.m. Plan to arrive by 6:15 a.m. to account for the time you will spend parking, hiking up the amphitheater and finding that perfect spot for your yoga mat. Pro tip: the best spot at Red Rocks is in the middle about half-way up.

That's where you get the best panoramic view without being too far from the stage, but you'll need to be one of the first yogis in to claim that spot!

The most important thing to know is that you don't have to touch your toes to be able to take a class. "If you are new to yoga, no worries!" Barbeau-Cooke said. "Classes are for all levels. We will have instructors on stage demonstrating the postures and providing modifications to ensure all participants can feel successful. People of all sizes, shapes, abilities and ages truly can benefit from this practice of mindful movement and breath. Again and again, yoga will help you feel comfortable and beautiful in the skin you're in, especially when surrounded by the incredible natural beauty of Red Rocks."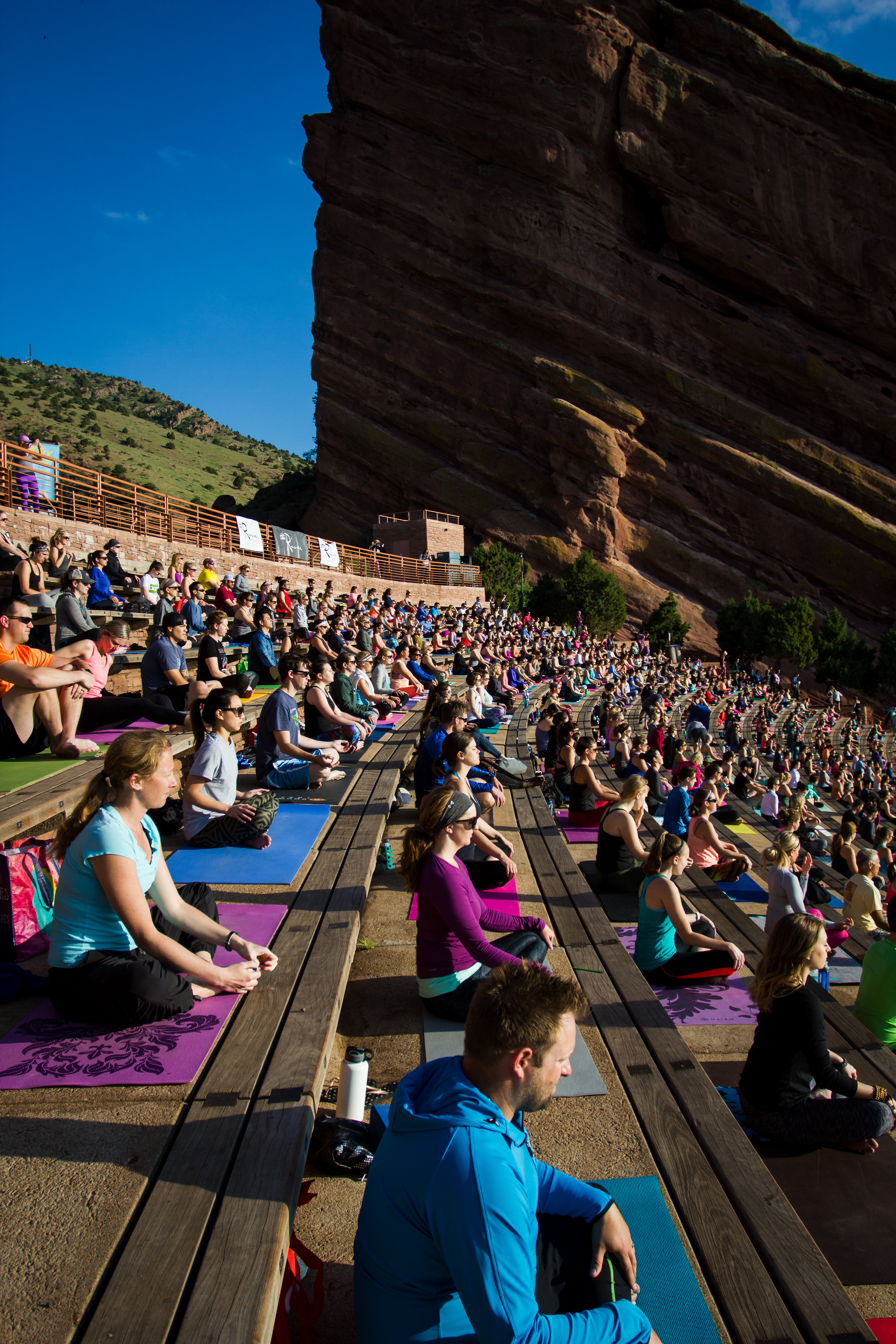 To celebrate its fifth year with the program, CorePower Yoga is partnering with First Descents, a local organization that offers young adult cancer fighters and survivors free outdoor adventure experiences. One dollar from every CorePower YOTR ticket sale will go to First Descents. Similarly, one dollar of every ticket sold for The River's classes at YOTR will go to LoveYourBrain, an organization who provides support for survivors of Traumatic Brain Injury (TBI) through yoga and meditation.
"Red Rocks has an incredible energy and unmatched beauty, so when you add thousands of people moving, breathing, smiling and doing something that feels good in mind, body and spirit all in unison it's just…wow," said Barbeau-Cook. "You'll never forget the feeling. There really is nothing quite like it."
Live DJs will be there to spin some yoga-tastic tunes while the instructor leads on stage. The River will teach the first four classes of the YOTR season in June and CorePower Yoga will teach four additional classes later in the summer.
Beginning Thursday, April 6 at 10 a.m. MST, four-packs with access to all sessions will go on sale for $52, with individual sessions going on sale for $14 on Saturday, April 8, also at 10 a.m.  Other dates include June 3, 10, 17, 24 for The River led classes and July 29, August 5, 12 and 19 for Corepower Classes. Attendance is limited to 2,000 people per class and tickets sell out swiftly each year, so yogis are encouraged to purchase passes as soon as possible.