In the heart of downtown Denver and nestled in the RiNo Arts District resides MOTH Contemporary Circus Center. MOTH is helmed by the multi-talented Deena Marcum Selko who is the center's owner in addition to serving as the artistic director, head coach and performer. Five and a half years ago, Selko came to Denver from Vermont bringing with her over 15 years of experience as a professional aerial performer, circus arts professional, teacher and dancer.
Upon arrival, Selko began performing in shows and teaching privately. Two of Selko's early students were Cassidy Vallin and Kristina Shelton, both of whom began training in the circus arts from a very young age.
"I started [training in the circus arts] when I was eight years old. My sister got into circus through a friend and then she pulled me in with her," Vallin said.
Shelton found her way into the circus world through the doorway of competitive dance. "Our ballet teacher took us to see a recital and somebody got lifted up on a rope at the end. I looked at my mom and was like, I want to do that," Shelton said.
Over four years ago, Vallin and Shelton met Selko while learning the circus arts in a studio located in Evergreen, Colorado and began studying under her.
In April of 2015, Selko opened MOTH's studio in RiNo where she offers a space for students and professionals alike to train under and collaborate alongside a bevy of incredibly talented coaches, all of whom are highly skilled in a myriad of circus talents.
"The difference with MOTH, between any of the other schools, is that we're [a] full-on circus. Most of the other schools are only aerial. Circus being that there are ground acts, character work and much more. You have to have both air and ground skills to be competitive in the circus world," Selko said.
She went on to emphasize that MOTH's programs are about striving for excellence whether trainees are pursuing professional or recreational circus arts training. The passion and expertise offered by Selko is why students like Vallin and Shelton followed her from Evergreen to Denver. Even though it is quite a commute for both girls, they train diligently 10 to 12 hours a week at MOTH as part of the professional youth training program.
"In the circus world, [there's] a stereotype for Stag Trapeze – where it's a man base and girl flyer – so there's a bigger base and a smaller flyer, but we wanted to switch it up."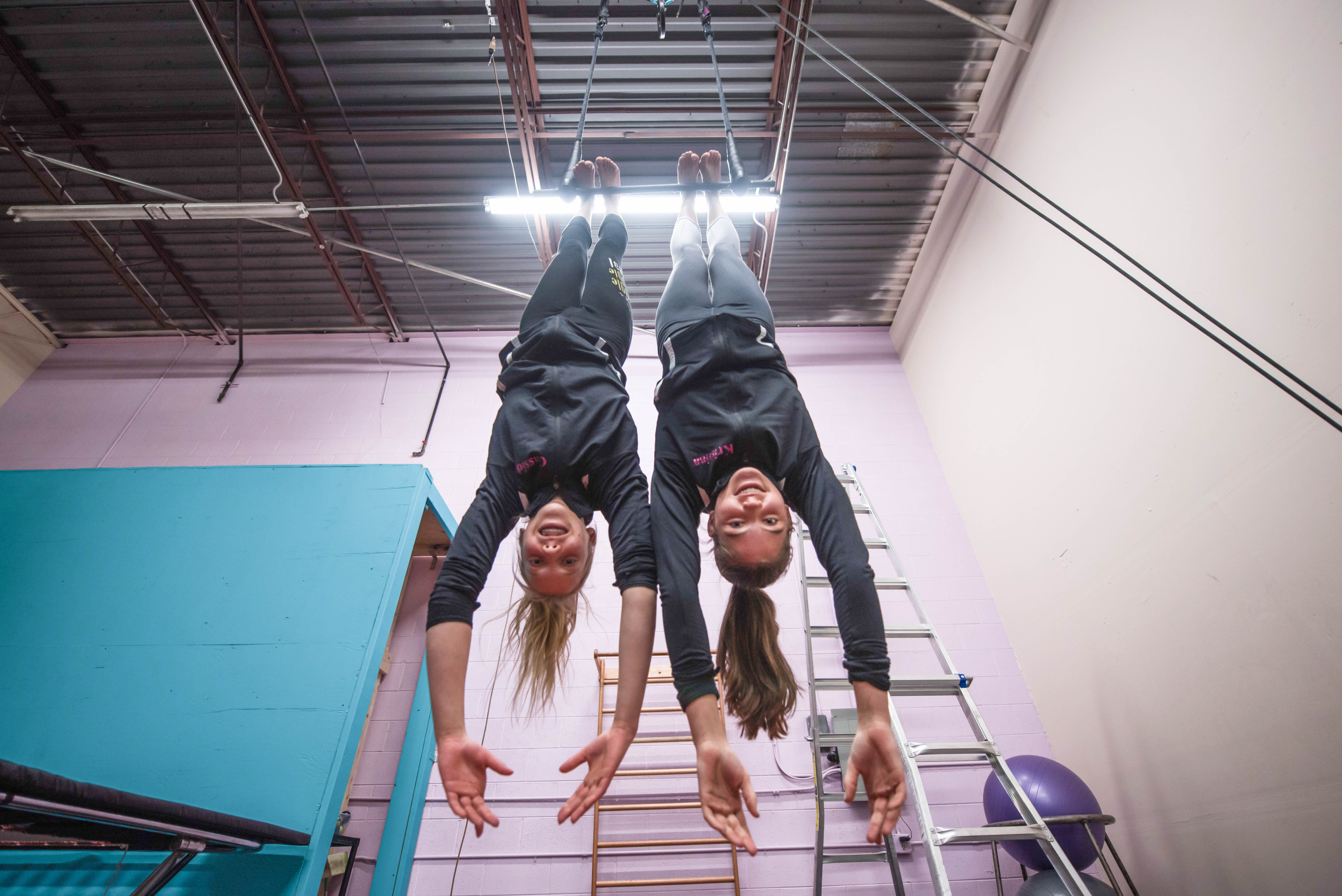 All of that continued dedication and hard work paid off for Vallin and Shelton this past February as the pair took home two prizes each in the Student Series at the Vegas International Variety Acts Festival (VIVAFest). VIVAFest is a youth and professional circus competition held in Las Vegas. The festival is centered around bringing the circus community together for a weekend of competition, learning and community.
Vallin and Shelton competed both as solo competitors and together with their duo act. Vallin was awarded first place with her solo Static Trapeze act, while Shelton took third place on the Static Lyra. Together, they performed a Duo Trapeze act that won the pair first place. Their duo act features both performers on a Stag Trapeze and pushes past expected stereotypes.
"In the circus world, [there's] a stereotype for Stag Trapeze – where it's a man base and girl flyer — so there's a bigger base and a smaller flyer, but we wanted to switch it up," Vallin elaborated.
The girls have settled back into their routine of training at MOTH after the excitement of winning at VIVAFest. Vallin is working on her invented apparatus, the Hexagon, while Shelton continues to focus on honing her Cloud Swing and Tippy Lyra in preparation for MOTH's upcoming student showcase. They will also be performing their award-winning duo as part of the student show on June 4 in the Byron Theater of the Newman Center, which MOTH has recently made their home performance space.
MOTH's training programs are focused towards giving people the possibility of professional careers in the circus arts.  The recently sold-out L'ectrique Dollhouse circus show, put on by MOTH Poetic Circus (MOTH's professional performance company) at the McNichols Civic Center Building on February 11, proves that possibility is attainable. This is encouraging for the new generation of circus-hopefuls like Vallin and Shelton, who dream of performing under the big-top for as long as possible.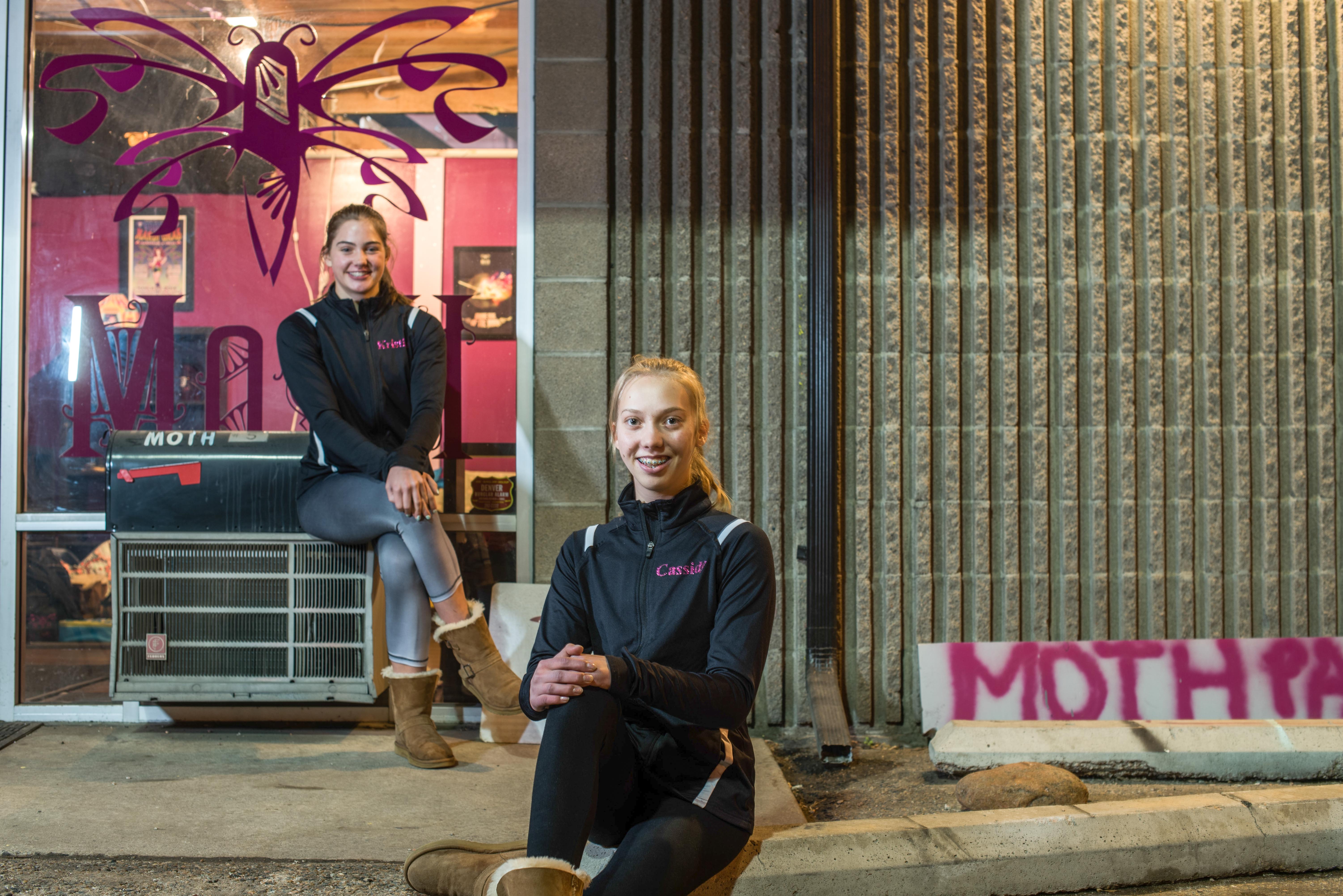 All photography by Nick Annis.