Sunday marked the official opening of South Pearl Street's latest dining addition that took over the previous location for Session Kitchen which shuttered early July 2015. Que Bueno Suerte! is a Latin American restaurant that is part of the Mission Yogurt Inc. — also responsible for Root Down DIA, Timberline Steaks & Grille, Etai's and Que Bueno! Mexican Grille all operated out of the Denver International Airport.
Chef Dana Rodriguez of Work & Class was brought onto this concept as the consulting chef working alongside her husband and executive chef Vicente "Vinny" Sosa.
"Vinny and I are extremely excited for this project with the Tafoya family," said Rodriguez. "It is a big restaurant, but Vinny has an amazing team in place in Ivan Ceballos, sous chef; Jenn Mena, general manager; and our floor team. This menu is representative of Vinny's childhood, but with elements of modern Latin fusion, creating his own signature dishes."
The menu itself is comprised of several shared plates (platos para compartir) including the panucho ($9) served with black bean purée and savory tinga chicken smothered in a chicken-chipotle jus atop a house made tortilla then garnished with pickled red onions, avocado and thin slivers of radish. The pulpa a la parrilla ($13) — which simply translates to grilled octopus — is a grilled citrus and garlic octopus with a fennel, grapefruit salad and huitlacoche (also know as Mexican truffle) butter sauce. The acidity from the grapefruit complements the rich, tender octopus.

Also adorning the menu are few soups and salads (sopa y ensalada) including the ensalada de plamitos ($10) with sliced heart of palm, grapefruit, grilled shishito peppers and spicy pepitas drizzled with a grapefruit gastrique vinaigrette over a light bed of lettuce. The cold portion of the menu (lo frio) includes a ceviche, shrimp cocktail and oysters on the half shell.
Entrées are categorized in three sections: tacos, warm plates (platos fuertes) and Que Bueno classics. The more classic section boasts of familiar dishes such as fajitas (priced by protein) and chicken enchiladas ($19). Whereas the platos fuertes highlights the faisan a la pilbil ($32) — a not so familiar dish — with achiote pan roasted pheasant, epazote black bean purée, grilled cactus and jicama citrus salad topped with achiote pan sauce.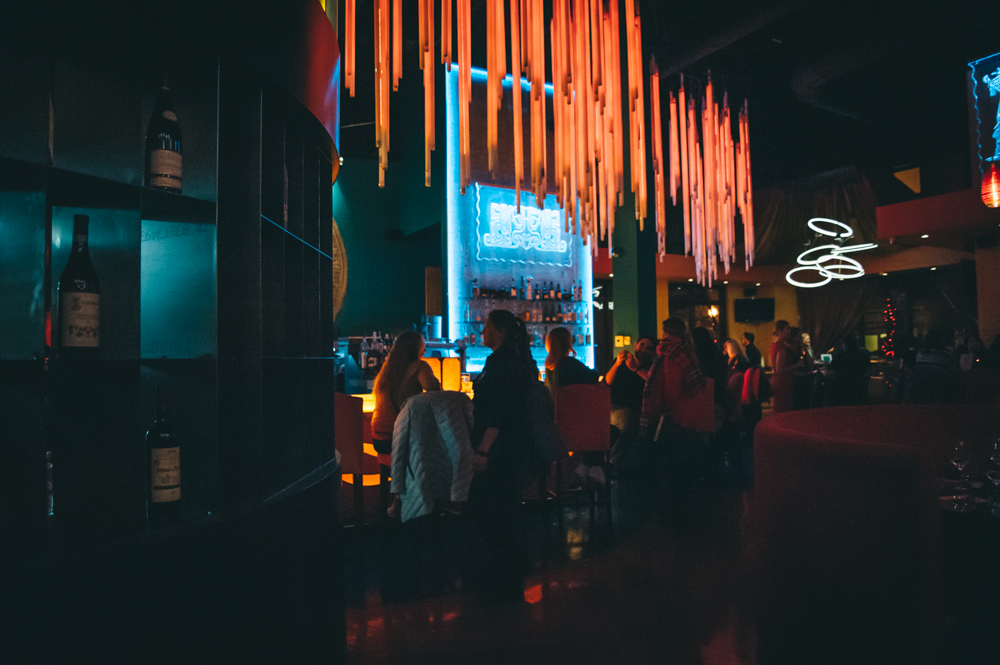 The original space has been updated, but certain elements from the previous owners remain, including the lit sculptural display above the bar. Original Mayan inspired artwork shines through in hand painted chairs and a mural by local artist Daniel Luna.
Que Bueno Suerte! is located at 1518 South Pearl Street and is open for dinner Sunday through Wednesday 4 p.m. to 12 a.m. and Thursday to Saturday 4 p.m. to 2 a.m.. A late night menu, lunch and brunch will be added at a later date. For reservations call 720-642-7322.
All photography by Lucy Beaugard.