This is an entry in an ongoing series for 303 Magazine, which will profile a range of industry professionals and the stories behind their tattoos. It is our intention to highlight the talents of local tattoo artists where possible, while demonstrating the narrative power of imagery by putting front and center a form that continues to fascinate the curious.
Troy Guard is a name that seems to have repetitively popped up this past year in regards to making waves in the Mile High, and rightfully so with over a handful of his restaurants opening their doors in 2016. Most people know Guard for his year of accomplishments, but not as many have had the chance to really get to know him. From where he got his start to all the travels along the way, this is the inspiration behind his work and his ink.
Having been born in Hawaii and spending the first years of his life there, he was immersed in a very multicultural life. The cuisine that molded his career from an early age was heavily influenced by Japanese, Chinese, Samoan and Filipino cultures.
At the age of 13, Guard worked his first job making sandwiches in small Seattle shop owned by his neighbor. From there, he moved to San Diego and began moving up the line — from bus boy, to dish washer, a host and finally a cook. He credits his time in San Diego for the Mexican influence in his dishes.
"A lot of my flavors in my restaurants have that [Asian influences]. Asian and Mexican mix really well — sweet and salty, and spicy and sour — those are all taste buds. My tongue is just salivating thinking about it with all these pow flavors in your mouth," said Guard.
He never attended culinary school which, he found in the long run, made him work harder for his craft. He understood that his strengths were highlighted best when he was working in a hands-on environment as opposed to a classroom. Guard dedicated 40 plus hours a week in various kitchens before opening his own refining his technique and understanding craft. His appreciation for the opportunities to work with and learn from several great chefs is evident.
"I never went to culinary school. I just worked my way up. For instance, say I was a cook at TAG and I worked 40 hours a week and my schedule said 3 p.m., then I would come in at 9 a.m.. And I'd work for free for six hours just learning because that was my school. I would learn how to cut fish, cut meat, make sauces, do anything because that was my schooling. When I'm coming in on my own time I want to learn it all," explained Guard.
His travel and experience have certainly influenced his cooking style, but not many know that his story is written on his arm. While traveling through Asia for a little over eight years, Guard found work in cities such as Japan, Hong Kong and Singapore. His time in Asia heavily influenced the tattoos that adorn his entire right arm.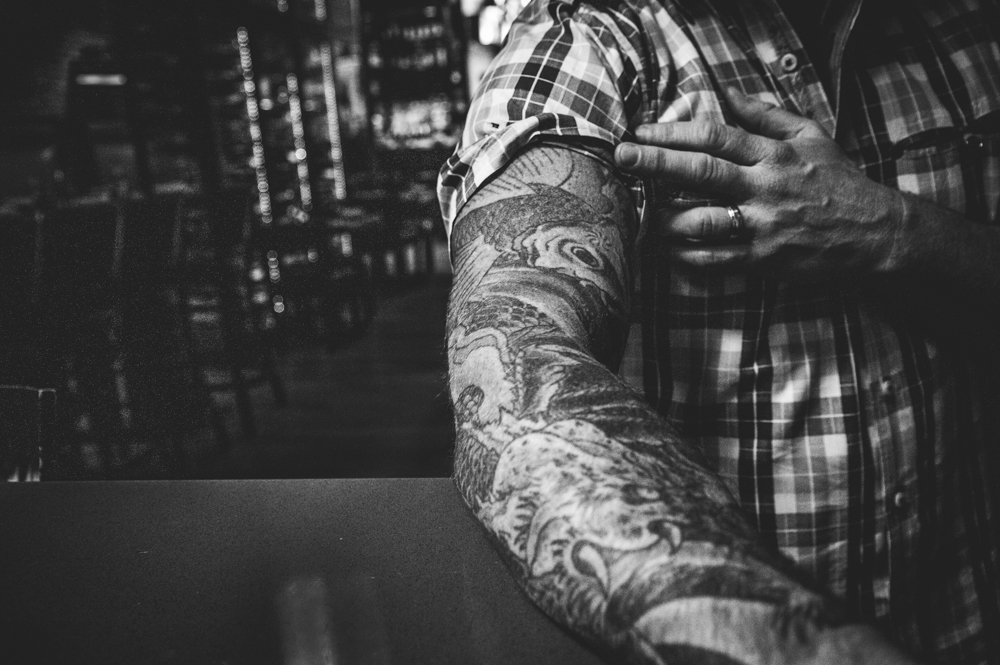 He jokingly reminded us that he is no millennial while reiterating his age (45), and explained that with the changing times comes the acceptance of fresh ink. When he was younger, it was frowned upon to mark your body. Tattoos were seen as a rebellion and now they are generally perceived as meaningful expressions of creativity such as his Asian-themed sleeve. Each piece that covers Guard's right arm was carefully done over a course of six to eight sittings with Adam Rosentham of ThinkTank on Broadway.
"The dragon that wraps around here [entire arm] is very dominate and strong. It can conquer a lot of stuff and that's what I need to do in business that I'm doing. You need to be strong and adapt well, keep your focus and be on top," said Guard. "The koi over here [bicep] represents calmness, tranquil beauty and going with the flow which you kind of need that balance sometimes. You have to be a little bit fiery and a little chillax."
Each intricately inked design outwardly seemed to have the same Asian theme but while digging deeper into the conversation it's realized that strength and perseverance was also influential. Endless hours of hard work and dedication molded Guard's career, though without the element of passion he doesn't see a point. Even if there is passion in what you're doing, it still can be a difficult thing to see and appreciate.
"I think for me, getting around great people — I worked in busy restaurants with good people — I didn't do it for the money, I did it because I really enjoyed it," said Guard. "You have to do something you really enjoy. Like the the lotus flower you're going to come up and see it come into fruition."
Mentioned on more than one occasion during our time together was the lotus flower that sits just inside his forearm where the crease of his elbow begins. The tattoos of the koi fish and dragon are intriguing pieces but something about the way he explains the meaning of the lotus flower makes you wonder if you should get one too.
'The lotus flowers start in a bunch of mud and blooms through. They have to go through a bunch of shit and challenges and reap the rewards of struggling through the water, through the mud, getting up and saying wow look what I've done," said Guard.
Guard has done just that, achieved everything he set his sights on in a non-traditional way. Nearly 32 years after his start as a bus boy, his list of achievements continues to grow. With a recently added project (Hashtag) to his already growing empire, it seems as if this is one lotus flower that will continue to persevere while making his presence known in the Denver culinary scene.
All photography by Lucy Beaugard.