Searching for the best wedding dress on a budget? Well, you're in luck because the largest bridal consignment boutique in Colorado, the Altar Bridal Consignment, is about to open its second location.
The Altar, currently located at 9629 West Colfax Avenue in Lakewood, plans to open in Centennial this week. The Lakewood store alone houses over 600 gowns carrying everything from new, pre-loved, designer, couture, sample, discontinued and vintage wedding dresses in sizes zero to 30.
After speaking with The Altar's co-owner, Maureen Mika, we were able to find out more about the boutique and their plans for growth.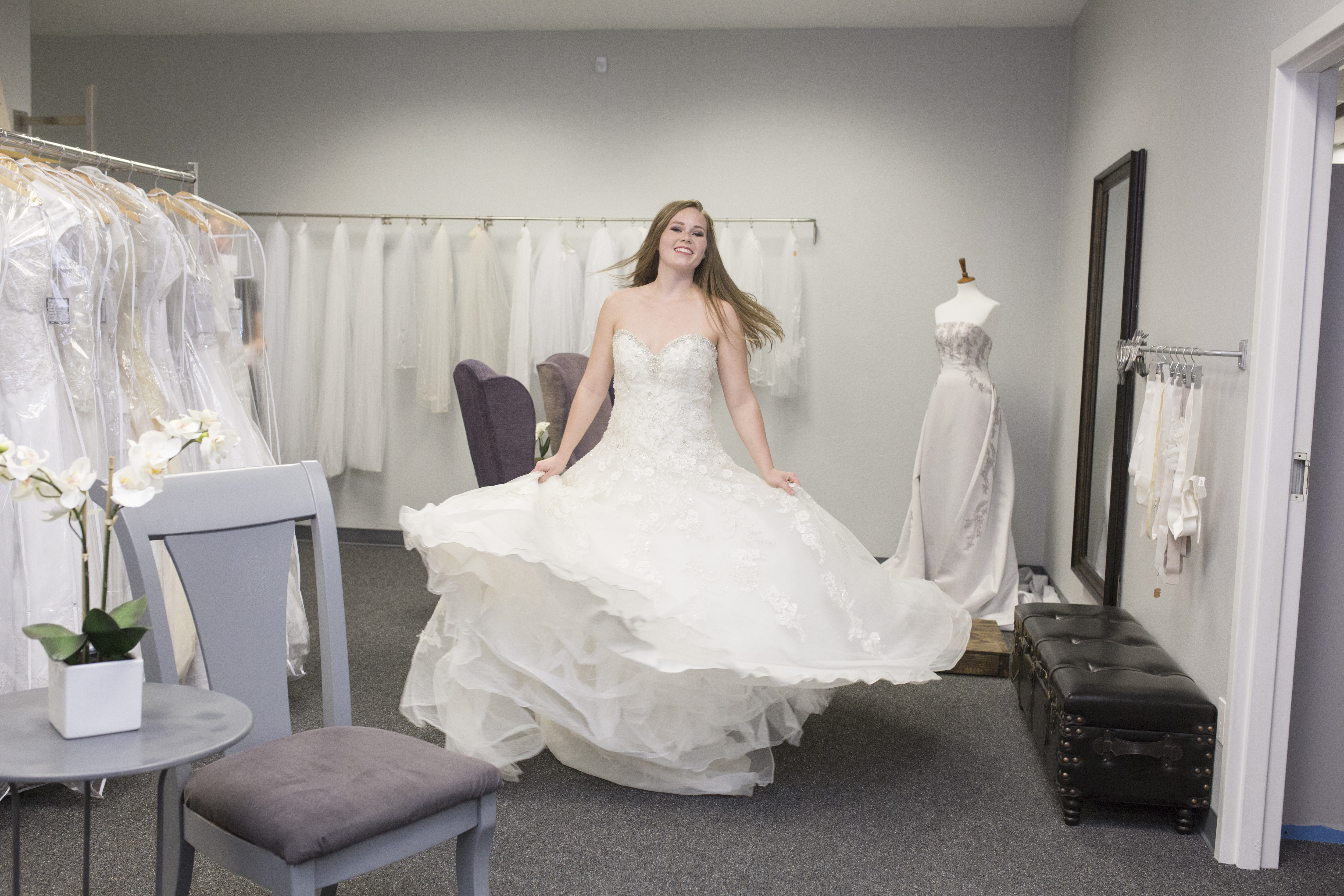 303: Tell me a little bit about The Altar Bridal Consignment and how it began?
Maureen Mika: The Altar Bridal currently has a store in Lakewood, Colorado and due to its popularity we decided to open a second store. Tiffany Freeman started The Altar seven years ago in a small, 900 square-foot store on Tennyson. After nine months she grew out of that store and moved into the current store on Colfax. There has been incredible growth over the past seven years and that meant it was time to grow.
303: What inspired you to open a bridal consignment store?
MM: I've been a wedding fashion stylist for many years (www.maureenmika.com) and know that girls are always looking for a great deal. In addition, they are always looking for a way to sell their gown as they know they don't want to keep it like their mothers did. This is a great opportunity for them to consign their gown and make some extra money.
I love that a plus size woman can come in and try a dress on that fits them and they don't have to try on a size 12 sample and guess what her dress might look like on her in her size. I love the stories in a consignment shop because a girl can come in at the last second and get a dress. A girl came in and told us that the airline made her check her gown and they lost it. She was getting married in two days in Estes Park and needed a new dress. We found her a new dress immediately and turned her alterations around in one day. She came up to me and said, "I think if my dress comes in, I'm not going to wear it and wear the gown I found because I like it so much better." I mean, how awesome is it that we can help someone in that situation? We have countless stories that are so similar.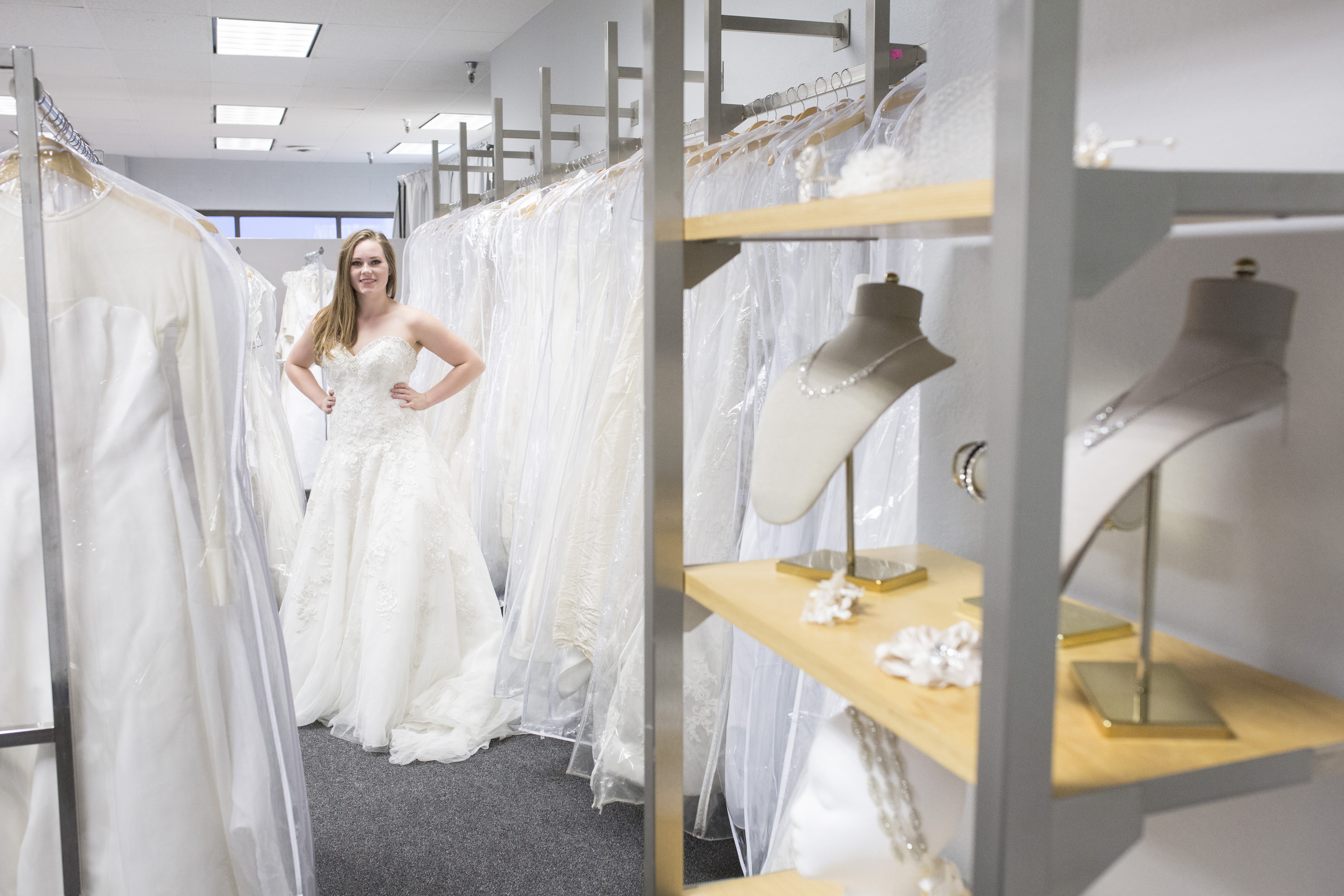 303: What makes the shop unique?
MM: We are the largest consignment store in Colorado. We will be specializing in offering the largest selection of plus size gowns as well.
303: Where do the pre-loved dresses generally come from?
MM: We receive all of our pre-loved dresses from consigners that are looking to sell their wedding gown they already wore at their wedding and loved their dress so much they want to share the love with others.
303: What are sample dresses?
MM: Sample gowns come from bridal salons that have discontinued sample gowns they need to move to bring a new line in. They are extremely current style gowns at an amazing discount. These gowns have been tried on in the store, but never worn at a wedding.
303: What dress styles do you generally carry in the store?
MM: We like to only bring in dresses three years or newer to keep up with modern styles.
303: Do you have a favorite wedding dress style?  
MM: I love classic and timeless. A gorgeous gown for me comes from the beauty in the structure of the gown and not about a lot of embellishments.
303: What are the price ranges?
MM: Our dresses start at $99 and can go up to $2,000. Many dresses average between $399 and $999 though.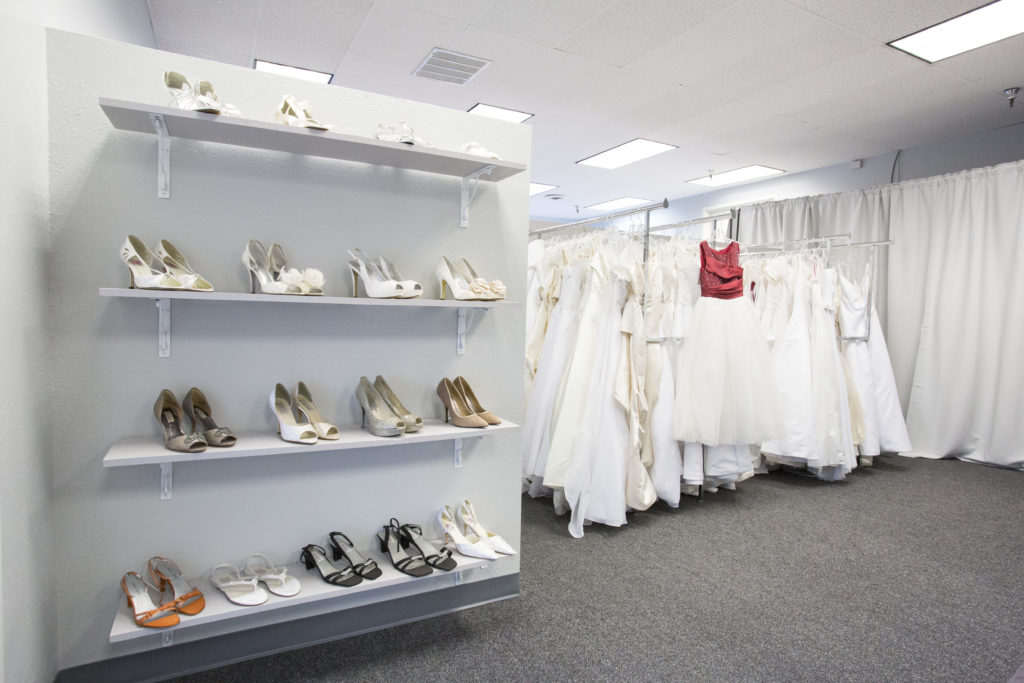 303: What do you recommend to all the brides out there shopping for dresses? 
MM: Before coming dress shopping, set a budget for your dress and accessories. Also please make sure you know that 99 percent of the time the dress will need alterations to fit your body perfectly, so leave some of your budget to the side for that as well. Alterations are not included in the price of the gown.
303: What are your plans for the upcoming year?
MM: Growth! We are excited to be in Centennial due to the amazing amount of growth that is going on in that area in general.
303: Can we expect any other stores opening in the future?
MM: Tiffany and I are very excited about the future of The Altar. We hope that in a few years, we can begin to franchise nationwide.
303: Is there anything you would like to add?
MM: Alterations Plus is our in-house alterations company and [they] have specialized in bridal alterations for over 19 years. By coming into The Altar South they will be able to work with a professional wedding fashion stylist as well as the head bridal stylist for Novelty Brides Magazine here in Denver.
In addition, my company Lola Events Group (www.lolaeventsgroup.com) will be run out of the shop. We specialize in Day of Coordination for weddings.
We will also have seven spaces for wedding industry clients to rent out and with that they can use our conference room to meet with their wedding clients. It's an amazing opportunity for wedding industry folks as their company name will be put in front of actual brides on a constant basis in a bridal shop. That is not offered in any other bridal shops in Colorado.
Interview was edited for length and clarity.