Lotus' return to Red Rocks was filled with debuts, Denver artist collaborations and dancing. Accompanying Lotus were openers El Ten Eleven and Tycho. This triple line-up cultivated a beautiful moon-lit night full of soul-soothing music at one of the world's most legendary outdoor amphitheaters.
I arrived on an eclectic school bus named "Kelly." Filled with eager souls awaiting Lotus' return to Red Rocks, the lots held immense energy. One could feel the excitement as the night rolled in and the cooler temperatures began to settle. Goosebumps began to ensue, but this was only a prelude for what was about to musically occur under the night sky on this beautiful September Coloradan night.
El Ten Eleven was the first act of the night, bringing momentum to kick off the concert. The two piece power-duo of El Ten Eleven is comprised of Kristian Dunn and Tim Fogarty. Fogarty plays the drums and Kristian Dunn plays an impressive double neck bass/guitar, as well as an old school six-string bass and fretless bass.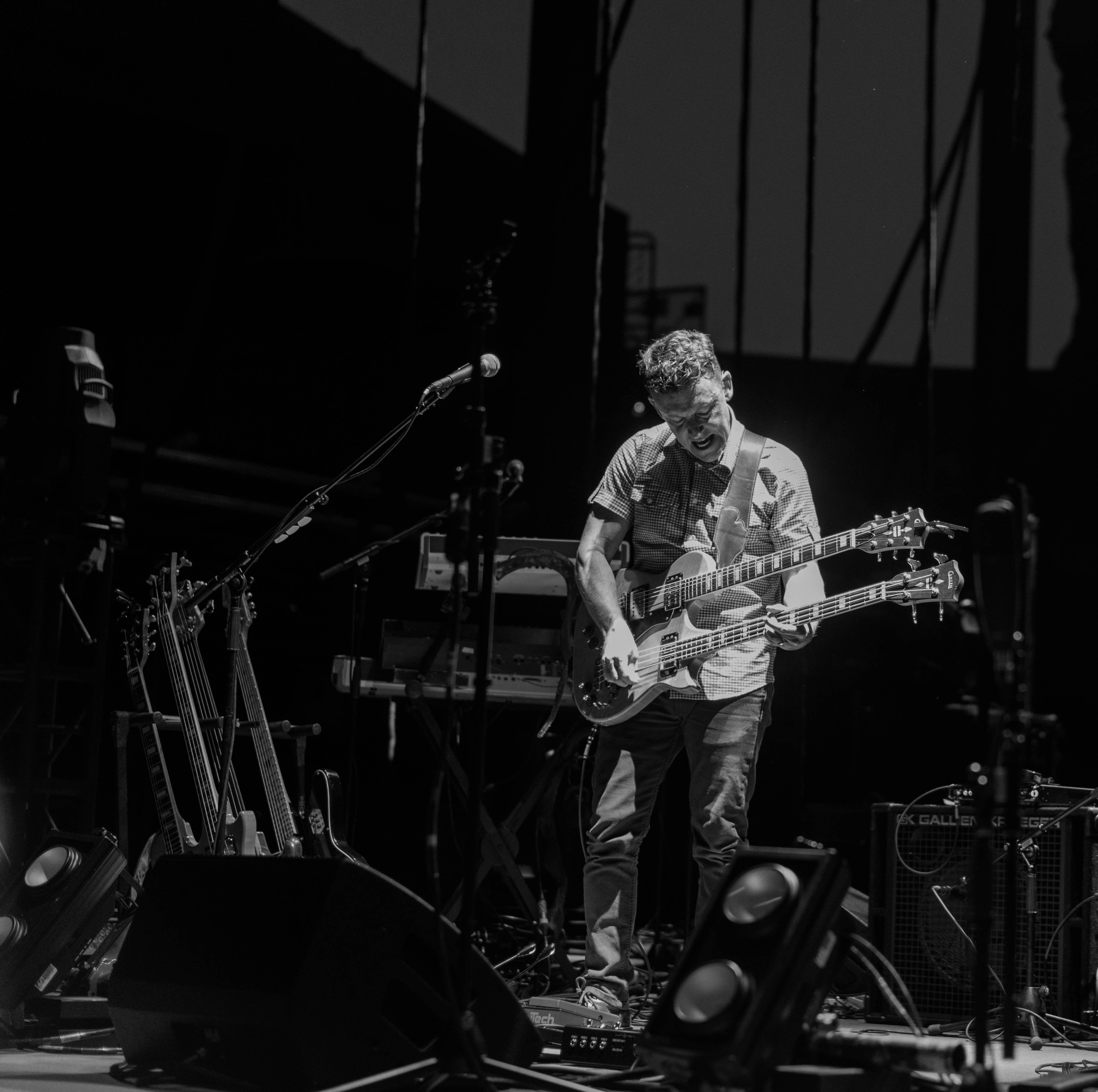 Red Rocks was the fourth stop on their tour, noting that the show on the Rocks was better than the night before in Albuquerque (yay for the 303!) The duo got experimental with this unusual set-up. Mid-jam, Fogarty used his drumsticks to play on the bass-end of Dunn's double neck bass/guitar while Dunn looped the unique sound with his guitar riff. Simply put, it was incredible to watch and even more amazing to hear. El Ten Eleven played a few of their newer tracks, as well as some fan favorites like "My Only Swerving." They seemed ecstatic to be playing the Rocks and even tweeted that "It was truly epic, one of our favorite shows we've ever played."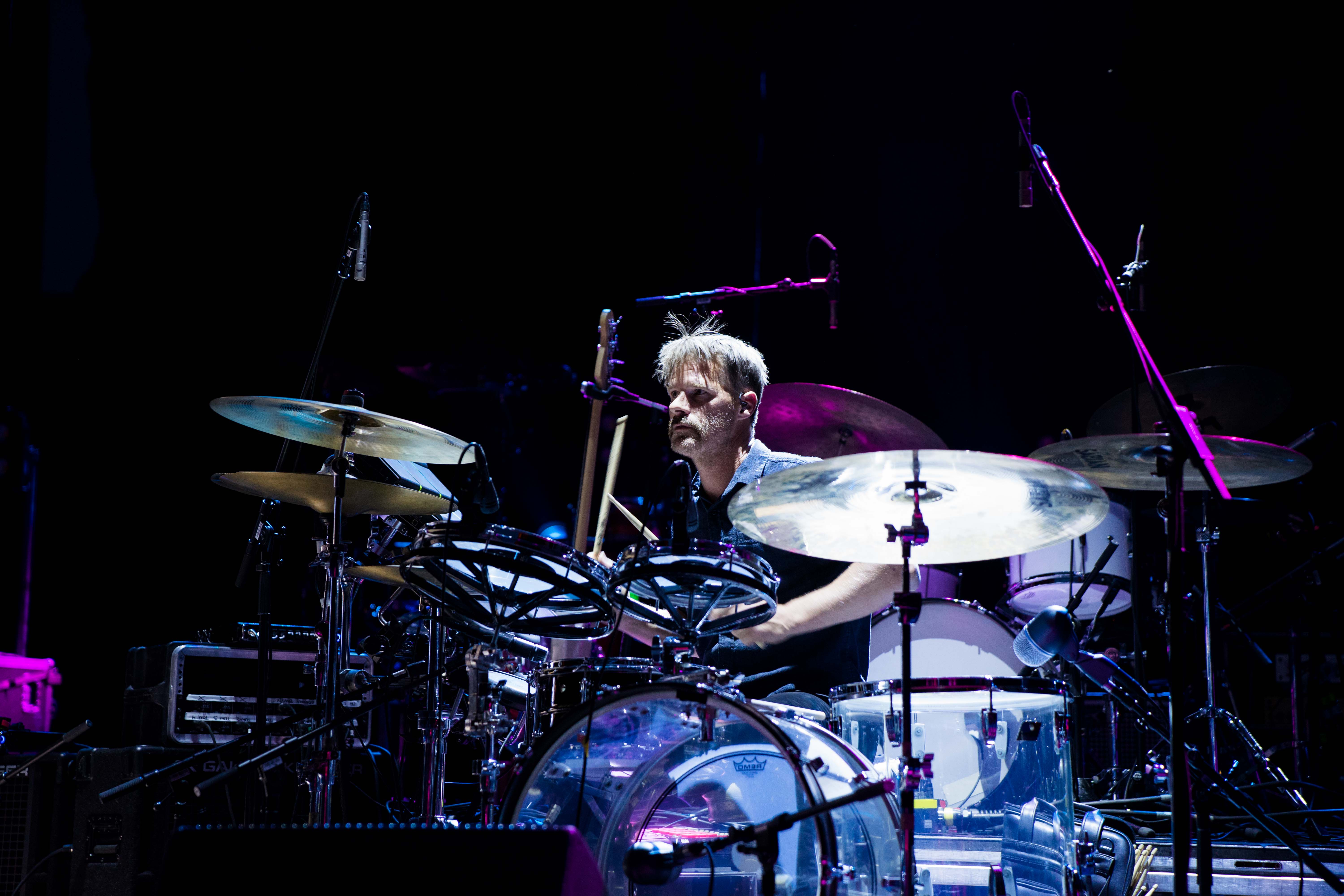 Tycho was up next, and at this point the moon was rising from behind the right side of the stage, casting its light over the sea of music lovers. Tycho's set embodied depth, taking listeners to a new world, a world in which their ambient sounds echoed throughout the natural amphitheater. While his set was comprised of both new and old music, Tycho opened with "Division," one of his two new songs, diving head-first into the world of his latest work. He followed that with "A Walk" off his 2011 hit album Dive. Later in the set, Tycho debuted "Epoch," a track released just this past week. The visuals took the ambiance of the music and matched it with the display of beach themes, taking listeners on a ride with a wave that crashed and flowed, creating the vibe that Red Rocks uniquely eminated that night.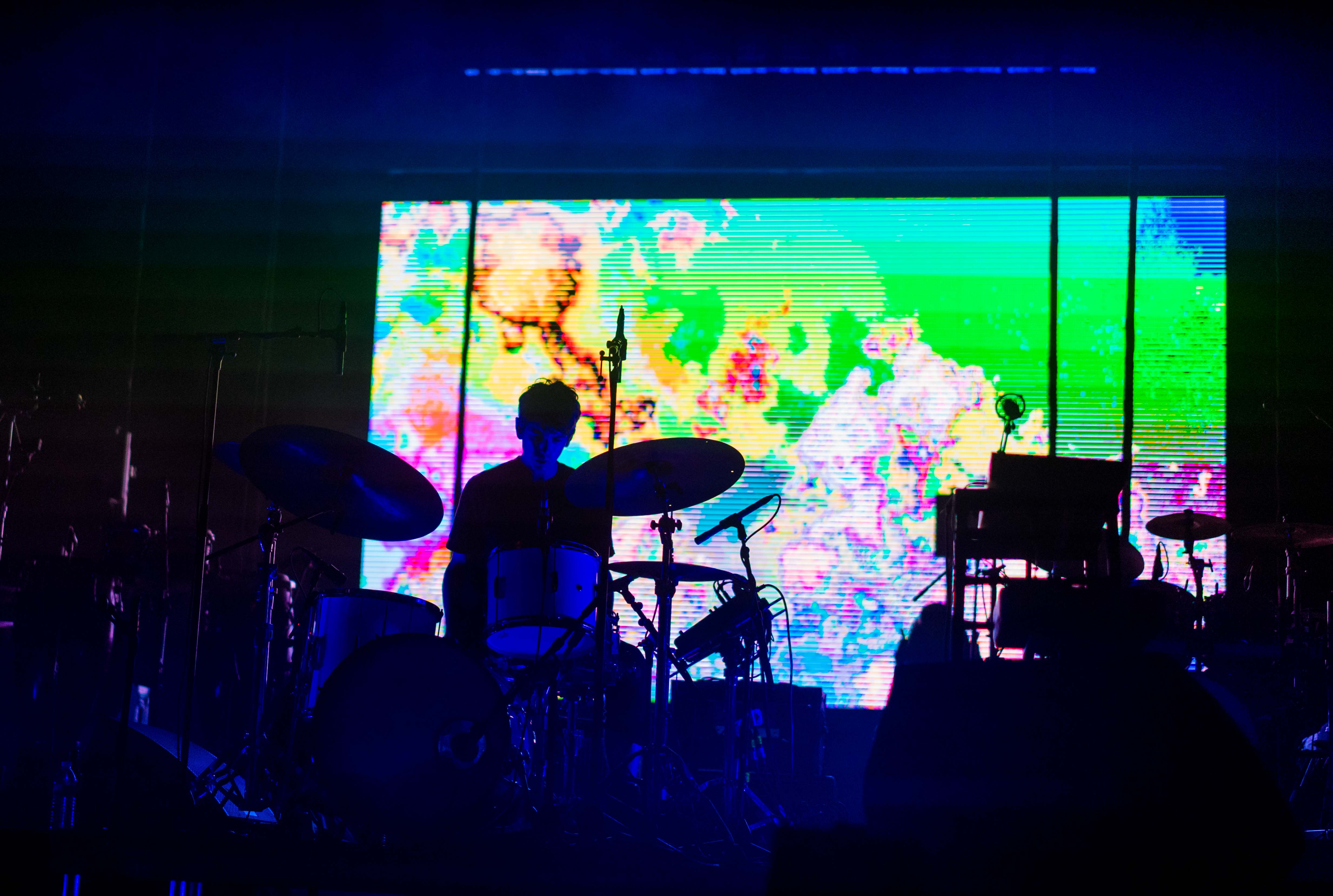 Lotus then took the stage as they began the debut for their new album, Eat the Light. They started the night off with "128," the same track they opened up with last Halloween at the Fillmore. Lotus then went into "Cold Facts," a new track, but not one off the Eat the Light album.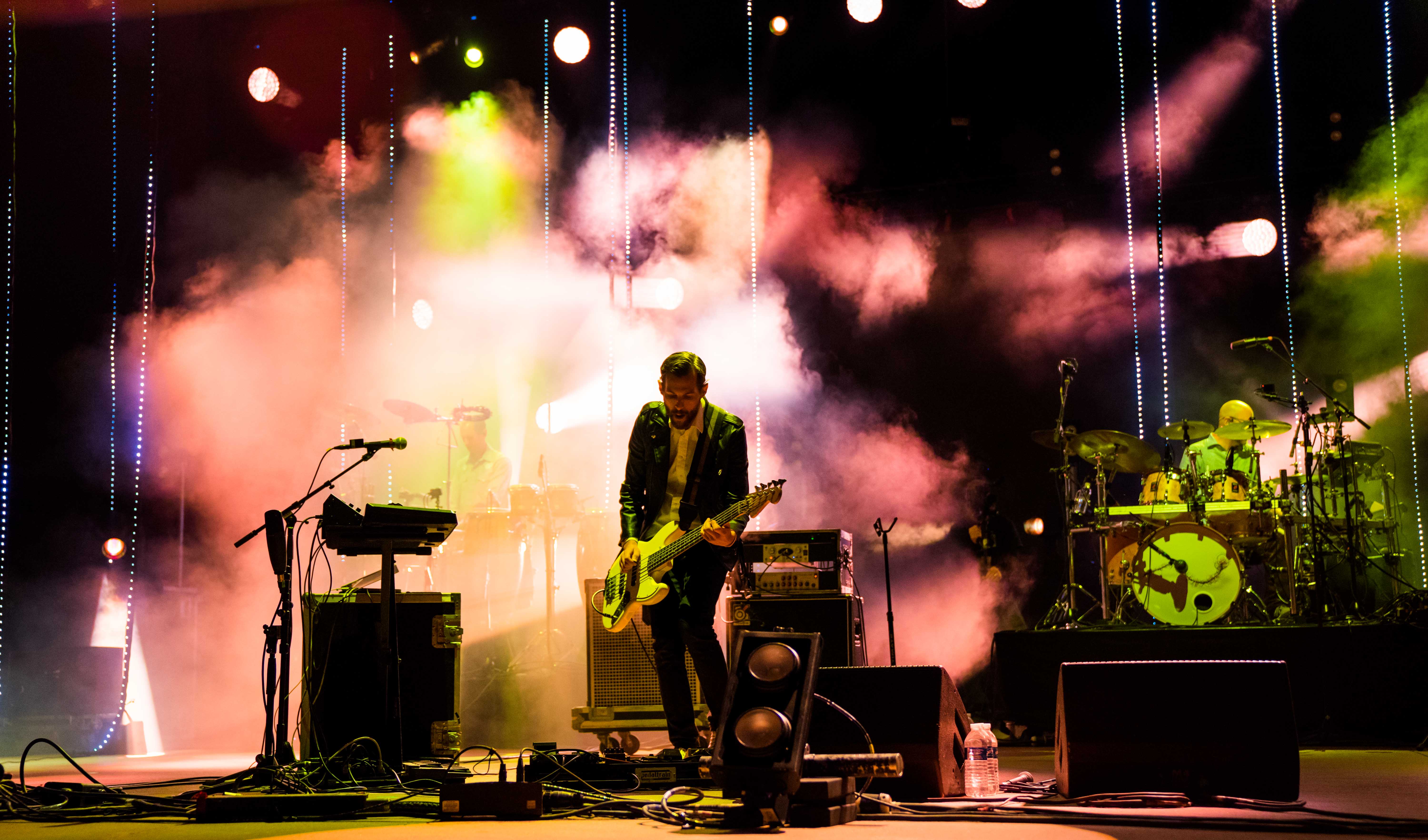 Denver's Raven Jane was then brought on the stage to play "Suntan," a track off Eat the Light that helped capture the summer-sunshine vibe the album paints. The song was visually accompanied by yellow lights and a fantastic breeze by Mother Nature. Raven Jane brought a beam of positive energy that radiated the Rocks while temperatures were dropping. The set then took fans down a path of Lotus' past, playing tracks like "Inspector Norse," a cover from Todd Terje, and "Hammerstrike" from their iconic Hammerstrike album.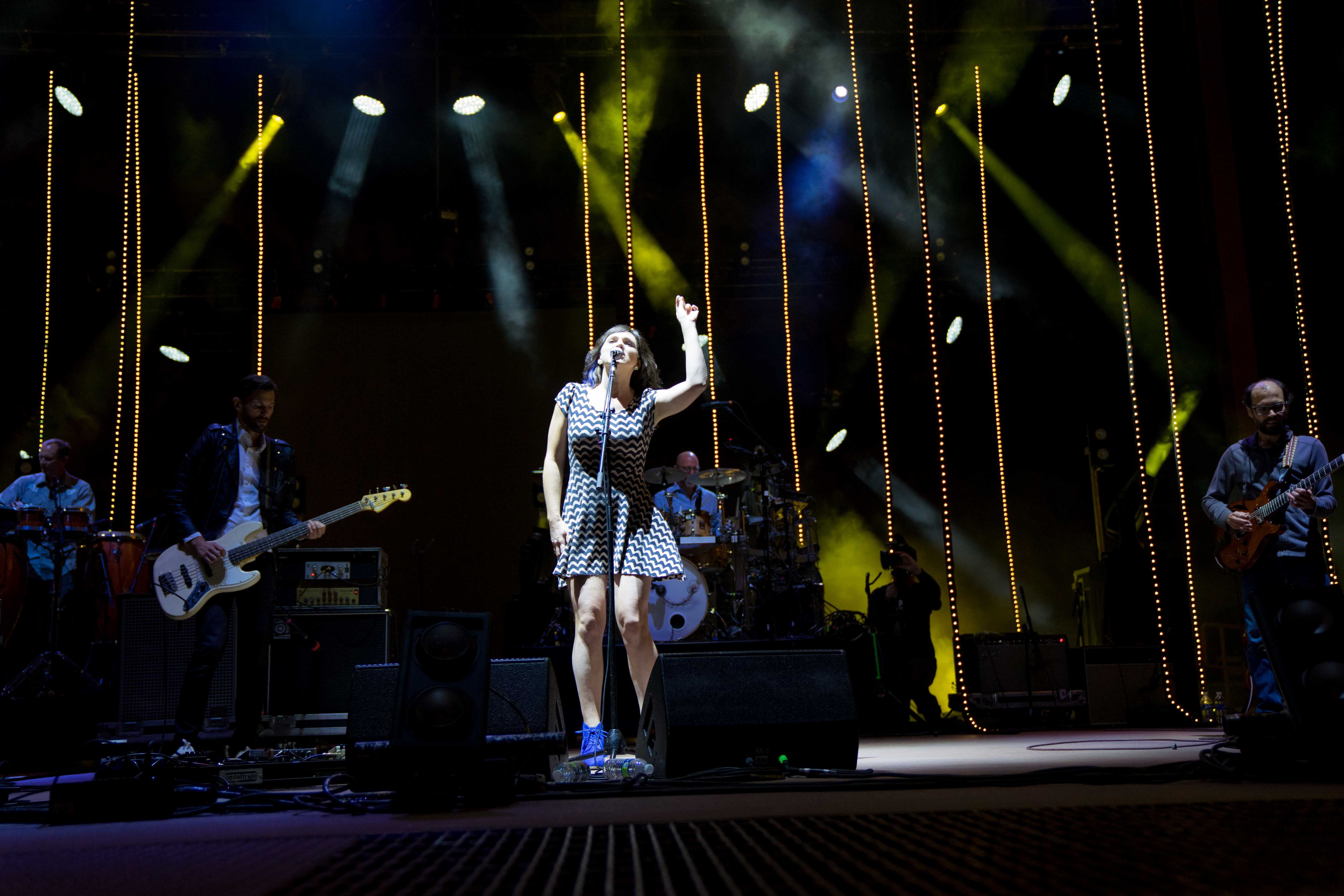 "Anti-Gravity" then played next, a track off their new album featuring Oriel Poole, which gave fans an opportunity to hear a contrast from the old and new sounds of Lotus, while reminding us that Lotus is not limited to a single sound or genre. They encompass so much more than music writers can find words to describe. Next, "Livingston Storm" from their Nomad album was played, creating a marriage of sound from Lotus' past and their future. The transition highlighted Lotus' strong ability to segue like none other, keeping jams tight but also experimental, engaging listeners to thrust their bodies in involuntary ways, surrendering to the flow of Lotus.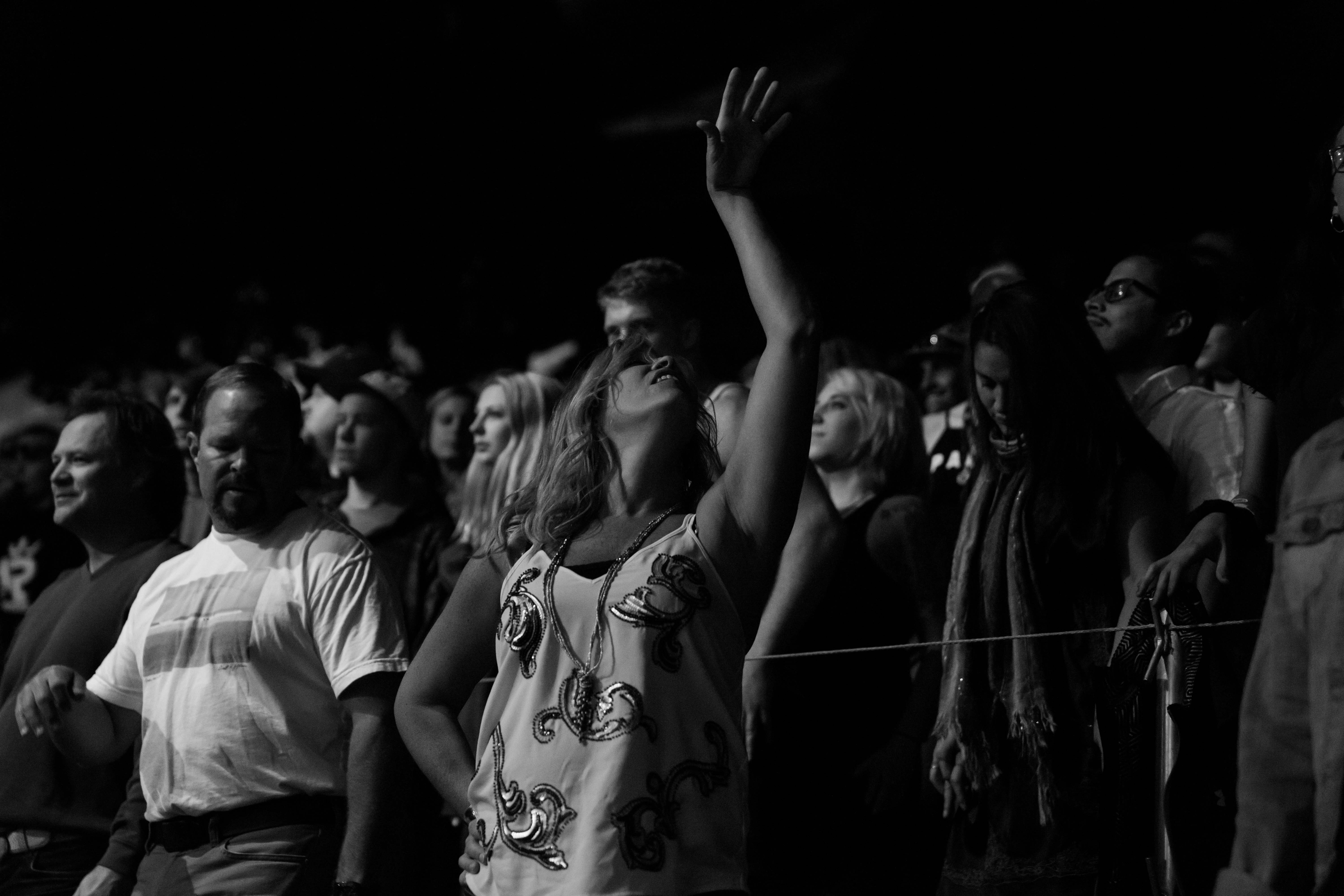 Gabe Otto, a Denver local who previously played as David Byrne for Lotus' Talking Heads Deconstructed tour, took to the stage as Lotus began to plunge into the jams of their new tracks. "Sleep When We Are Dead" was debuted, as Otto took on a similar vibe from his David Byrne role, dancing  and powerfully occupying the stage while Lotus went into improvisational jamming. They then went right into the track "Eats the Light," featuring Otto as well, fueling the already-high energy that was radiating throughout the souls of those who filled the Rocks that night and the energy held within the venue that is home to some of the band's best performances.
Lotus then took it way back to "Spaghetti," a track not included on any albums, but frequently played in their sets. This slowed down the pace and highlighted their strong ability to put on an instrumental improv jam. It entailed funky bass-lines, incredible drum beats, perfectly-timed guitar solos and sound progression. This went into "Nematode," a track off their 2003 debut album Germination that gave fans a soul-rejuvenation, overflowing spirits with joy and giving goosebumps with a sound that is signature to Lotus.
My personal favorite, "Greet The Mind," was played next, another signature track from the band off their 2005 album Nomad. This song takes listeners a step into Lotus' world of an electronic-jam sound, with a catchy bass line and groovy rhythm that gets the hips moving. This was followed by "Behind Midwest Storefronts," which  closed the set.
Lotus did not take any set breaks, and barely gave fans a moment to catch some air, the air that Lotus constantly breathed into the life of the venue as tempos progressed and slowed down. This was a thrill similar to an experience on a roller coaster.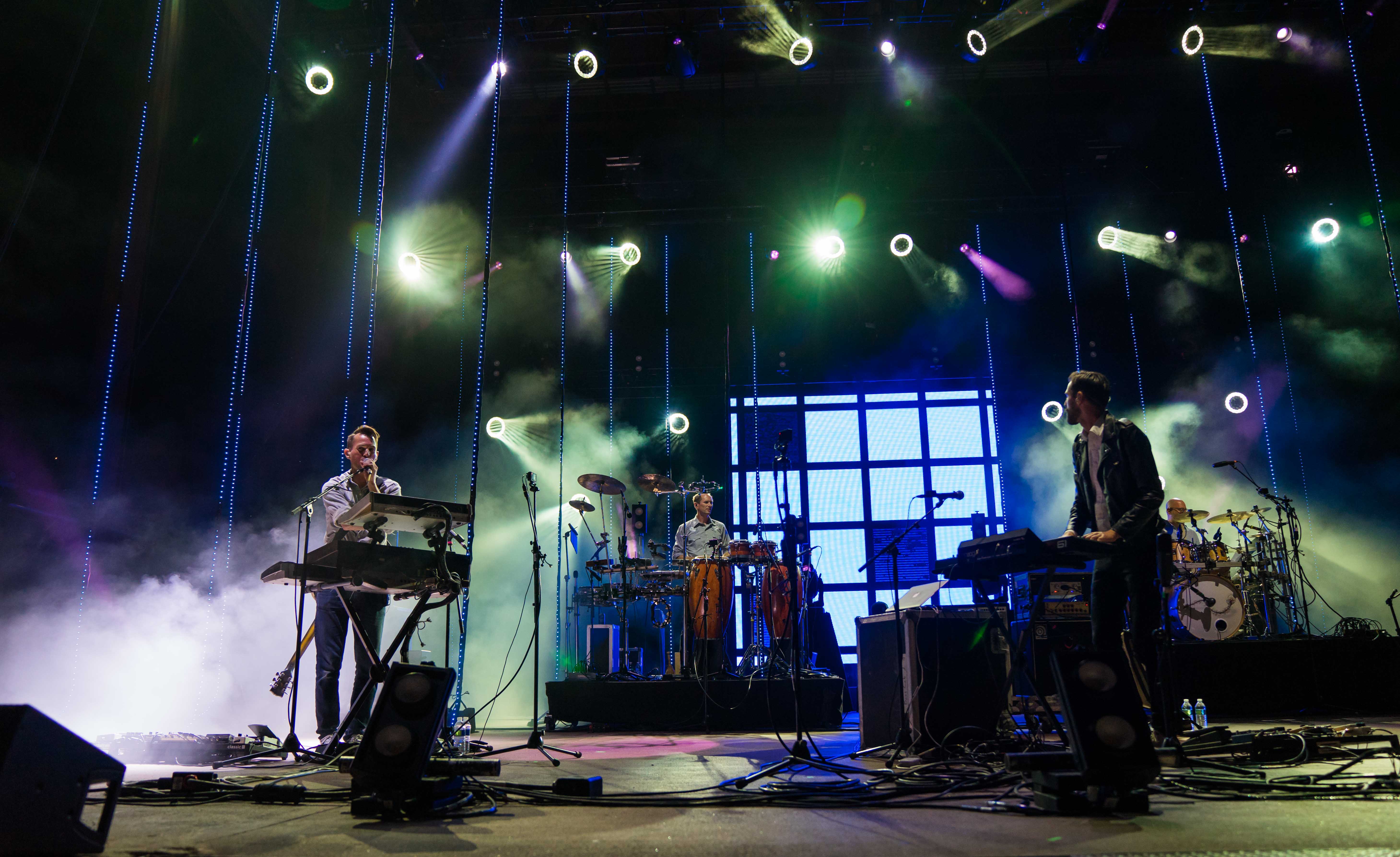 Lotus then closed the night with an encore of "What Did I Do Wrong," off 2013's Build album, highlighting the band's versatility in sound as the track encompassed a bit more dub. This showcased the band's genius ability to keep a tight improvisational jam, experimenting with the limits of their sound while staying true to the core vibes that are essential to Lotus.
All Photographs by Meg O'Neill. Check out the full gallery here.