Welcome to Colorado, where the weather will always have you second guessing your outfit. Whether Colorado is home or you're just stopping in for a visit, it is important to take precautions and learn to adjust to the bipolar weather conditions, especially when the colder months hit. As we make our way into fall, it is crucial to know how to dress appropriately for the sunny 65 degree days that can easily turn into a 20-degree snowstorm in a matter of minutes. The key essential to surviving the unpredictable conditions comes down to one thing – layering.
We spoke with Paisley & Park boutique owner Lauren Cohen about how to layer with style and make an easy transition from a dress and jacket to faux fur vests, no matter what weather condition. Below you can find some of the trendiest seasonal looks from Paisley & Park modeled by Jessica Muir, alongside the layering technique and stylist tips.
All photography by Matt Cohen.
Outfit #1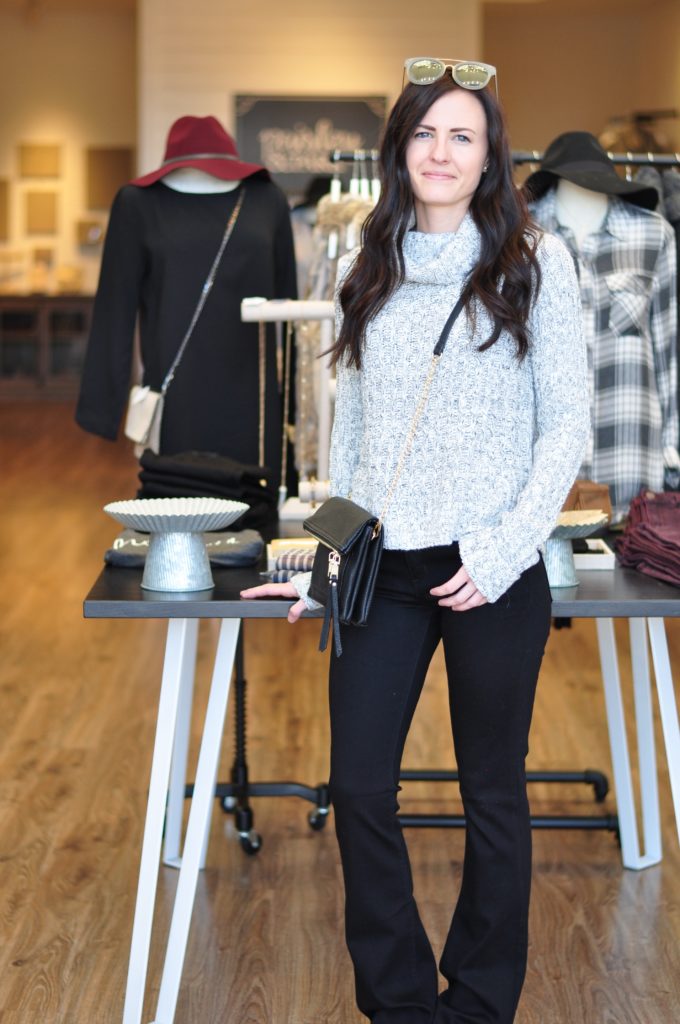 Cost: Top: $62; Jeans: $68; Cross body bag: $40; Sunglasses $15; Total: $185
The Low Down: This simple fall look does the trick because you can layer underneath the sweater. It also has longer sleeves that can act as a glove during desperate measures. "It's all in the accessories. A great clutch and pair of sunglasses really add a stylish touch to a simple look," Cohen said.
Cost: 
Jeans: $62; Top: $34; Scarf: $24; Clutch: $40;
Total: $160
The Low Down: 
This last layering look is our favorite because it keeps it casual, classy and of course, cozy. "Blanket scarves are now considered a wardrobe staple," Cohen said. "We love styling it with a simple tee and skinny jeans."
Outfit #3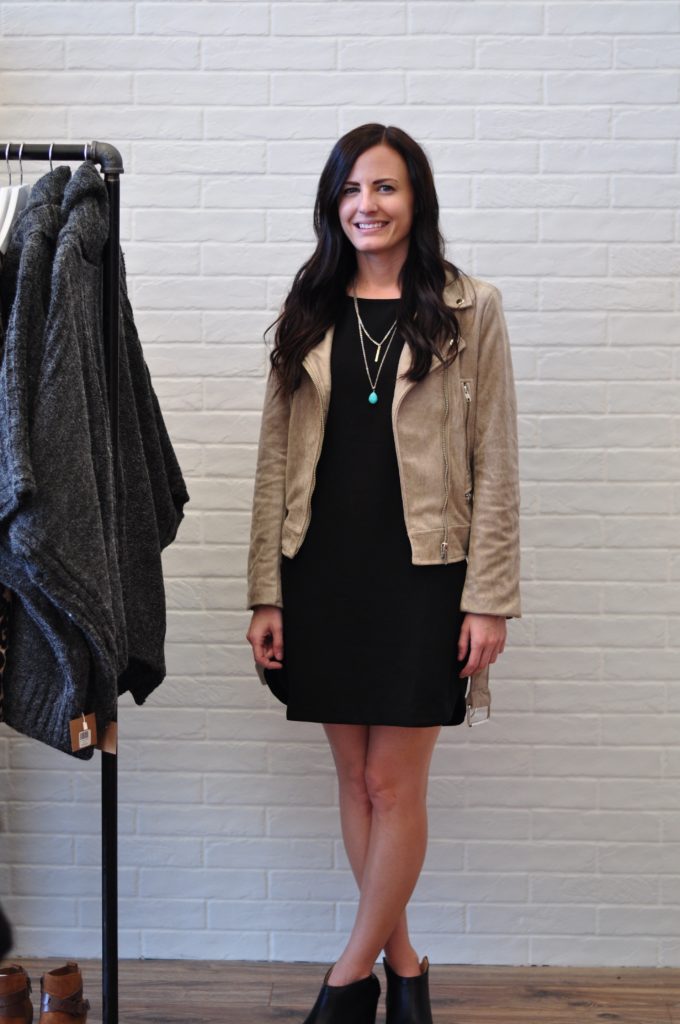 Cost: Jacket: $92; Dress: $45; Clutch: $36; Booties: $45; Total: $218
The Low Down: This is the perfect look before the blizzard season hits and can easily be worn with tights when temperatures start dropping. Adding a leather jacket on top is key because it can be worn for any occasion no matter the temperature. "Our favorite layering piece this season, the faux suede moto jacket. It adds just the right amount of edge to a simple black dress," Cohen said.
Outfit #4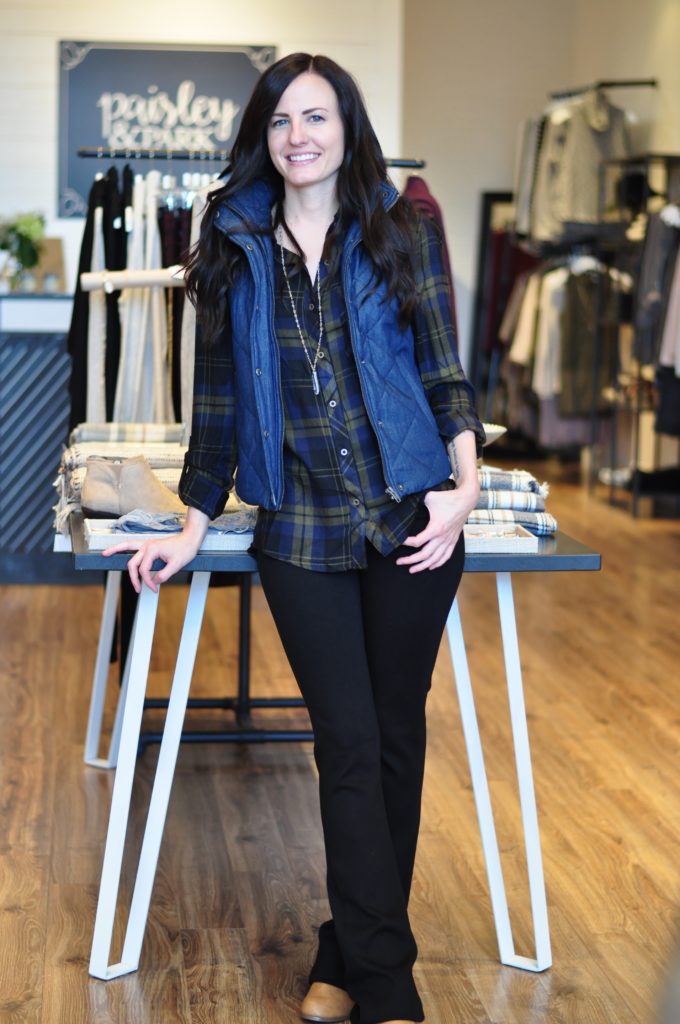 Cost: Top: $42; Vest: $55; Jeans: $68; Necklace: $20; Total: $185
The Low Down: Pairing this plaid button up with a vest and jeans can keep you bundled when the braving the chillier winter nights. When you get too warm, you can always remove the vest and still look stylish. "We love styling denim in unexpected ways, such as a denim vest," Cohen said. "Pairs well with black jeans and a coordinating plaid top."
Outfit #5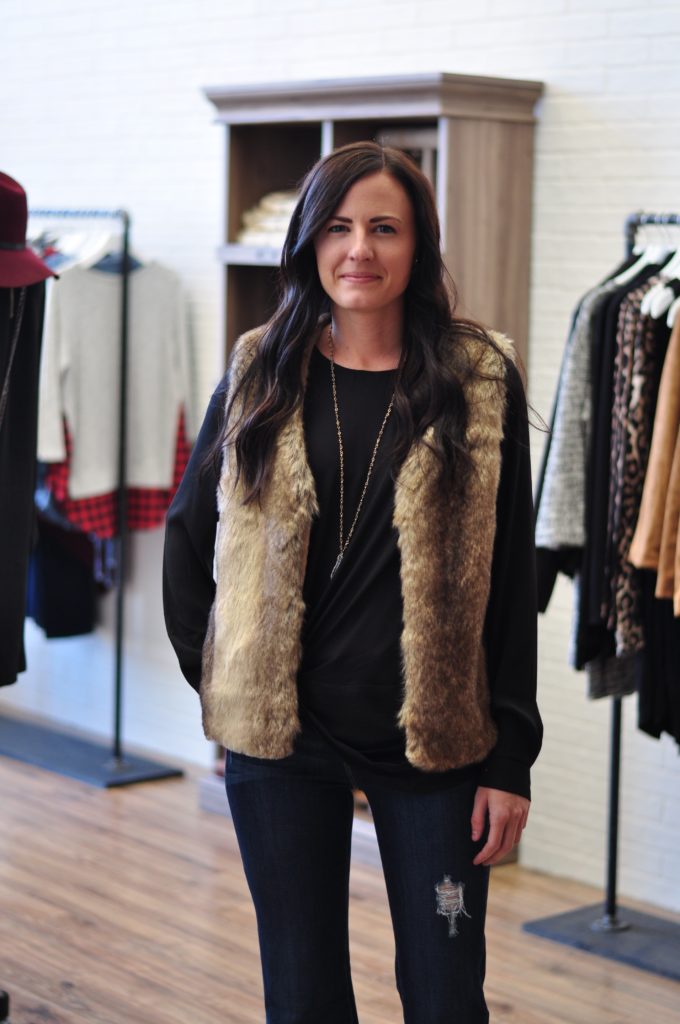 Cost: Vest: $68; Necklace: $20; Top: $45; Jeans: $68; Total: $201
The Low Down: This vest is perfect for chilly days. It's light enough to be worn indoors and warm enough that when paired with a long sleeve shirt you are ensured a safe haven from the crisp fall nights. "We love adding a faux fur vest to our fall wardrobe, it's such a versatile statement piece," Cohen said.
For more information about Paisley & Park, the store location is 8000 East Belleview Avenue D10B in Greenwood Village and you can reach them at 720-482-4013.