This weekend in Denver there is a wide range of activities to choose from. We have tracked down events from the NFL Kick-off to Denver Food & Wine Classic to a really morbid way to eat bacon for charity and everything in between. Also because Sunday will be the fifteenth anniversary of 9/11,  we are proud to include two amazing community events for remembrance.
Thursday, September 8
NFL Kick-off Celebration and Concert
When: September 7, 3-8 p.m. & September 8, 10 a.m.-6 p.m.
Where: Civic Center Park
Cost: Free
The Lowdown: On Thursday, September 8 at 6:30 p.m. MDT the Denver Broncos will start back where they finished off, head-to-head with the Carolina Panthers at Sports Authority Field at Mile High. Don't start planning your football party just yet, because you're already invited to one — the 2016 NFL Kickoff in Denver. Several days of football-tastic festivities are being hosted in Denver in honor of the 2016 Super Bowl Champions. Wednesday, September 7 and Thursday, September 8 will be your chance to get autographs from a number of NFL legends, win killer swag from NFL Kickoff sponsors, see live musical performances by Dierks Bentley and OneRepublic and so much more, all at Civic Center Park and all for free. Below we've listed all the events taking place at the 2016 NFL Kickoff party so you don't miss a thing. Football, we sure have missed you — welcome back. For full details go here.
Friday, September 9
 Carl Hiaasen Book Signing at Aspen Grove Tattered Cover
When: Friday, September 9 at 7 p.m.
Where: Tattered Cover in Aspen Grove – 7301 South Sante Fe Dr., Littleton
Cost: Free Admission
The Lowdown: Goofy and prolific author Carl Hiaasen is on tour promoting his new book, Razor Girl. The best-selling author of Bad Monkey and Skinny Dip will have a reading and book signing at the Littleton wing of famous local book store Tattered Cover on Friday at 7 p.m. Get there early to purchase a copy of the book, as proof of purchase is necessary to get it signed, and then pick out a front row seat for the reading. Get all the info on the Tattered Cover website calendar here.
Alferd Packer Bacon Party
When: Friday, September 9 at 5 p.m.
Where: Reinke Bros. – 5653 South Prince St., Littleton
Cost: $5 Admission Fee
The Lowdown: The time has come for the annual Alferd Packer Bacon Party to raise funds for the Littleton Rotary Club. The morbid event's namesake Alferd Packer was a gold panner in parts of what is now Jefferson County. Packer, during a harsh winter while attempting to cross the Rocky Mountains in Colorado, resorted to cannibalism to survive. The festival pays homage with tons of beer, live music and local food trucks. As advertised the event will go on regardless of weather, but with all the bacon available, likely no one will eat anyone else.
Shake Down – Denver Food and Wine Fest
When: Friday, September 9 at 6:30 p.m.
Where: The Pepsi Center Grounds – 7th St. and Auraria Pkwy., Denver
Cost: $55 Get Tickets Here
The Lowdown: The Denver Food + Wine festival is taking the city by storm this week. While they have a whole host of amazing events that you should absolutely check out here, we have chosen two to feature on our roundup this weekend. To start, for the ideal Friday night out, don't miss The Shakedown. This event consists of a Louisiana-themed night of live local bands, assorted food from the Denver area and a cocktail competition that you get to judge.
Saturday, September 10
Bike to Lookout Mountain from Park Burger in RiNo
When: Saturday, September 10 at 9 a.m.
Where: Park Burger RiNo – 2615 Walnut St., Denver
Cost: Free Admission
The Lowdown: Arrive at 9 a.m. for a complimentary bike tune-up from Define Cycle and refreshments provided by Natural grocer; both will be necessary on this 40-mile trek to and from Lookout Mountain. Afterwords, there will be live music, free beer from Great Divide and a delicious lamb burger from Park Burger. For more information on the specifics or to register check out the event info here.
Tour de Fat
When: Saturday, September 10 at 10 a.m.
Where: City Park Denver – West Side
Cost: Free Admission
The Lowdown: New Belgium Brewing's Tour de Fat is a bike lover's dream, and for all Denver residents that feel that way, Saturday is going to rock! The Brewery's traveling show raises money year round and this year all Denver proceeds will be going to Bike Denver and the Denver Cruisers. There will be tons of live music, other variety shows and for 21+ attendees, beer. Also get excited for the costumed bike ride and fashion showdown, which will kick the whole event off – preregister here.
High Elevation Rock Fest
When: Saturday, September 10 at 12 p.m.
Where: Fiddler's Green Amphitheater – 6350 Greenwood Plaza, Englewood
Cost: $59.50-69.50 – Get Tickets Here
The Lowdown: If you missed Riot Fest or just want to turn up the harder stuff, the High Elevation Rock Festival is guaranteed to scare the neighbors of Englewood's Fiddlers Green Amphitheater. Avenged Sevenfold, Pierce the Veil and Ministry are just a few of the bands that will be at the all day event. Check out the preview video to see more names or just to get really excited for some headbanging.
Ska Brewing Co. 21st Anniversary Party
When: Saturday, September 10 at 4 p.m.
Where: Ska Brewery – 225 Girard St., Durango
Cost: Tickets Available Here. [Update September 9 at 1:57 p.m] – Ska's 21st anniversary is sold out. 
The Lowdown: With Fall just around the corner, school beginning and leaves changing in clumps at the top of trees, it is the perfect time of year for a day trip to Durango. Colorado's most underrated college town happens to be home to Ska Brewing Company who this weekend will be celebrating their 21st birthday. The brewery will be opening it's doors at 4 p.m. to other people of age and there will be plenty of party with bands like Fishbone and The Toasters playing the event. Bring your skanking shoes and enjoy some delicious, fresh-brewed beer.
Adult Swim Drive-In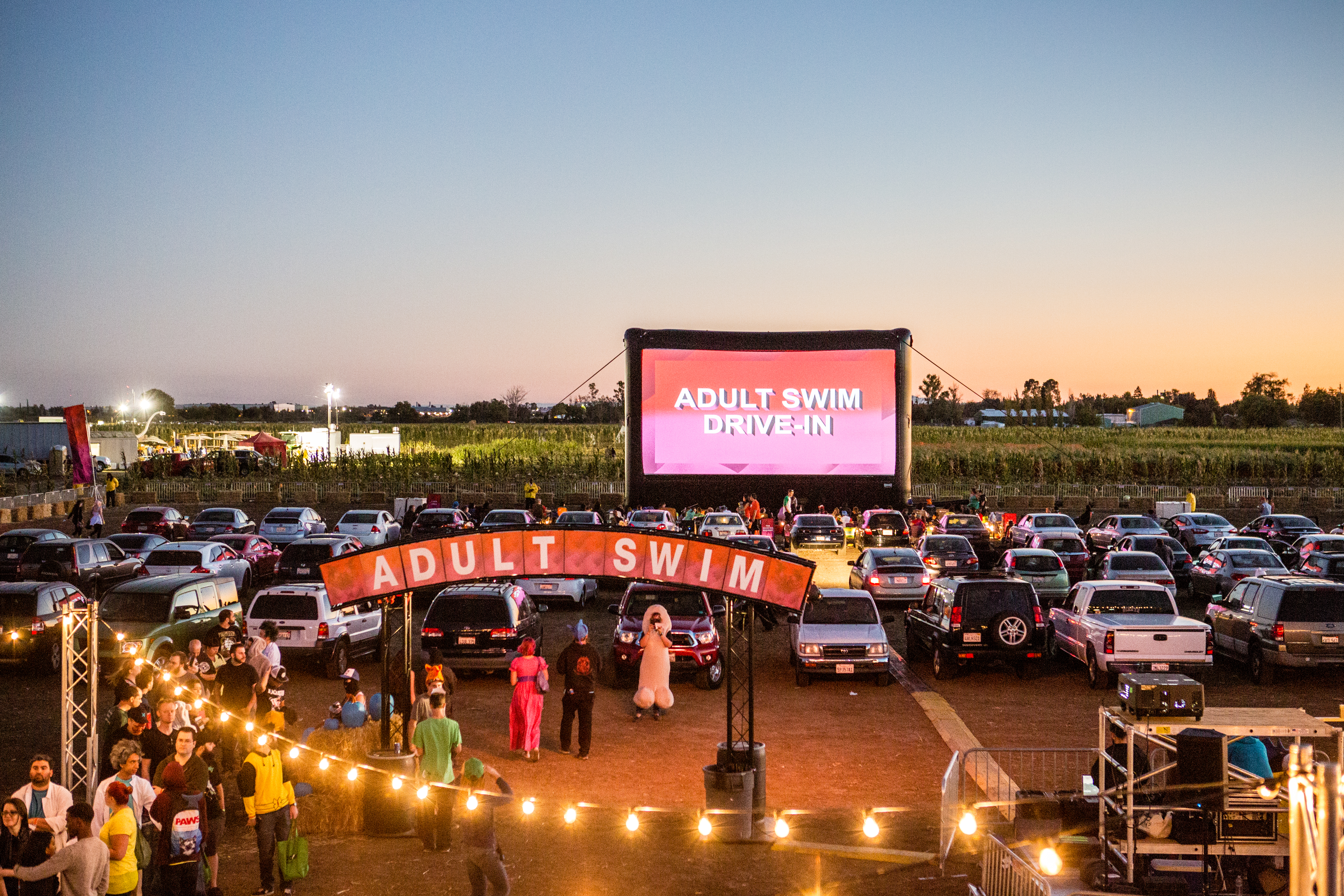 When: Saturday, September 10 at 6:15 p.m.
Where: The 88 Drive in Movie Theater – 8780 Rosemary St., Commerce City
Cost: Free Admission with RSVP
The Lowdown: The naughty, late night, cartoon cult classic will be showing un-aired episodes, deleted scenes and more at the drive-in Saturday night. In addition to the never-before-seen footage, there will be food trucks, games, trivia and according to the website — friendship. The event is free with RSVP if you are over 18 and coupons good for one free meal will be given out on site while supplies last. Read more here.
Sunday,  September 11
9/11 Stair Climb at Red Rocks
When: Sunday, September 11 at 8 a.m.
Where: Red Rocks Amphitheater South Lot – 18300 West Alameda Ave., Morrison
Cost: $35 – Register Here
The Lowdown: The Colorado Stair Climb to commemorate 9/11 is an un-timed walk that spans the length of which is roughly equivalent to 110 stories, the height of the World Trade Center's twin towers. There will be a brief ceremony including a moment of silence and a rendition of "Amazing Grace" beginning at 8:46 a.m. and the walk itself will begin at 9:02 a.m. Registration this year is $35 which includes water, drinks and refreshments during the entertainment after the walk. All money this year will go to the West Metro Fire Rescue Foundation.
Rise and Dine at the Curtis Hotel
When: Sunday, September 11 at 10 a.m.
Where: The Curtis Hotel – 1405 Curtis St., Denver
Cost: $55 – Get Tickets Here
The Lowdown:  The second event we are featuring from Denver Food + Wine Festival is slated to be a real treat. The Curtis Hotel will host Rise and Dine, the ideal brunch, where food from all of Denver's hottest spots will be available, pajamas are encouraged and the event will be attempting to set the record for world's largest Bloody Mary. Of course, as anyone who has tried to get Brunch at 10 a.m. in Denver knows, the best part will be no lines or wait.
CO Remembers – Tribute Concert at Civic Center Park
When: Sunday, September 11 at 1 p.m.
Where: Civic Center Park Denver
Cost: Free Admission
The Lowdown: Gov. John Hickenlooper and Mayor Michael B. Hancock will co-host a day of ceremonial tribute and free concert to honor the memory of those lost on 9/11. The event will begin with a processional led by the Colorado National Guard in honor of First Responders. The Mayor and Governor will share brief remarks followed by a four-part military honors ceremony. Finally, there will be a tribute concert featuring John Fogerty and Big Head Todd & The Monsters. The event is free and families are welcome; you can access more details about the event on the website.
Sexpot Comedy: Lucha Libre & Laughs
When: Sunday, September 11 at 7 p.m.
Where: Ratio Beerworks – 2920 Larimer St., Denver
Cost: Free Admission
The Lowdown: If you think pro-wrestling and stand-up comedy are sexy then you are weird and we have the perfect event for you. Sexpot Comedy has another round of Lucha Libre Laughs where one comedian will have to defend their championship by being the funniest in the room. The event is hosted by the amazing Ratio Beerworks; it will be narrated in classic pro-wrestling style and it is free.
Want to get this list before everyone else?
---
Mark Your Calendars…
Dumb Friend's League Wag n' Trail
When: Saturday, September 17 at 8 a.m.
Where: Glendale Farm Open Space
Cost: $50
Gary Lee Days
When: September 16-18
Where: Gary Lee Motor Club and Grub
Cost: Free Admission
The Crush 2016
When: September 17-18
Where: RiNo Art District
Cost: Free Admission
Dining Al Fresco on Larimer Square
When: Saturday, September 17
Where: Larimer Square, Denver
Cost: Free Admission