Looking for the perfect Colorado summer getaway? Look no further than two hours west of Denver to Avon, Colorado. Located inside of this small mountain town is Bachelor Gulch, a luxurious reflection of the ideal Colorado lifestyle, boasting direct ski access in the winter and rustic beauty in the summer. While Bachelor Gulch does play home to residents, its main allure is its resort, The Ritz-Carlton.
There are a thousand things to do when visiting this resort in the summer getaway – after experiencing them all we have compiled a list of our top nine below.
1. It's Just as Beautiful in the Summer
Any ski bum in Colorado knows that stopping through the Ritz's property at the end of a run is where it's at. But have you ever seen the resort in the summer?
The Ritz is located at the base of the mountain, so everywhere you look there is an incredible view. Take a deep breath on your balcony while watching a mountain sunset and you can't help but feel the stress melting from your body.
Not only are the views in the summer stunning, but the resort unveils a whole new identity with activities and attractions that come out when the sun does. Keep reading to see what we mean.
2. It's (Very) Dog-Friendly
Seriously. As a dog owner, and the author of this article, I can say that I have never experienced a property (let alone a world class resort) so dog-friendly. They love dogs so much that they have two resident mascots, Bachelor and Belle, who roam the grounds, making friends with guests and their four-legged companions.
If you are (like I am) a crazy fur parent, the canine amenities at the Ritz will blow your mind. The 'Bachelor's Pack' includes: all-natural pet food available for in-room orders, special treat deliveries, 'Pampered Pup' in-room doggie massages and bath treatments, overstuffed beds, treats, toys and a guide to local dog parks, canine-friendly dining spots, and a directory of pet supplies and services.
 3. They Have an On-Site Naturalist to Take You Hiking
Strap on your tennis shoes and sunscreen and seize the opportunity to go on a nature hike with Ranger Jackie Elder, one of the onsite resident naturalists. Don't let her sweet welcoming demeanor fool you into thinking she would not know how to respond to a serious situation.
Carrying bear spray, gallons of water, and over 10 years of experience as a former national park ranger, Elder  knows her stuff.
"I feel like it is part of my job to connect people to the mountain," said Elder said during our hike. "It is easy to forget that you are in nature when you are at the resort, but it is so important to acknowledge it and respect it."
There are dozens of trails and hikes that a naturalist can customize for your group. Whether you want to hike 10 miles before the sunset or leisurely stroll through the property with grandma, they can do it all.
When customizing your hike, make sure to check out Anderson's Cabin (pictured above) to learn more about the history of Bachelor's Gulch. This charming one-room rustic cabin was owned by John Anderson, one of the seven bachelors who founded the area in the early 1900s. The space has been upgraded and recently opened as an event space, perfect for weddings and other intimate ceremonies.
4. The Wild Flowers Are Something You Can Only See in the Summer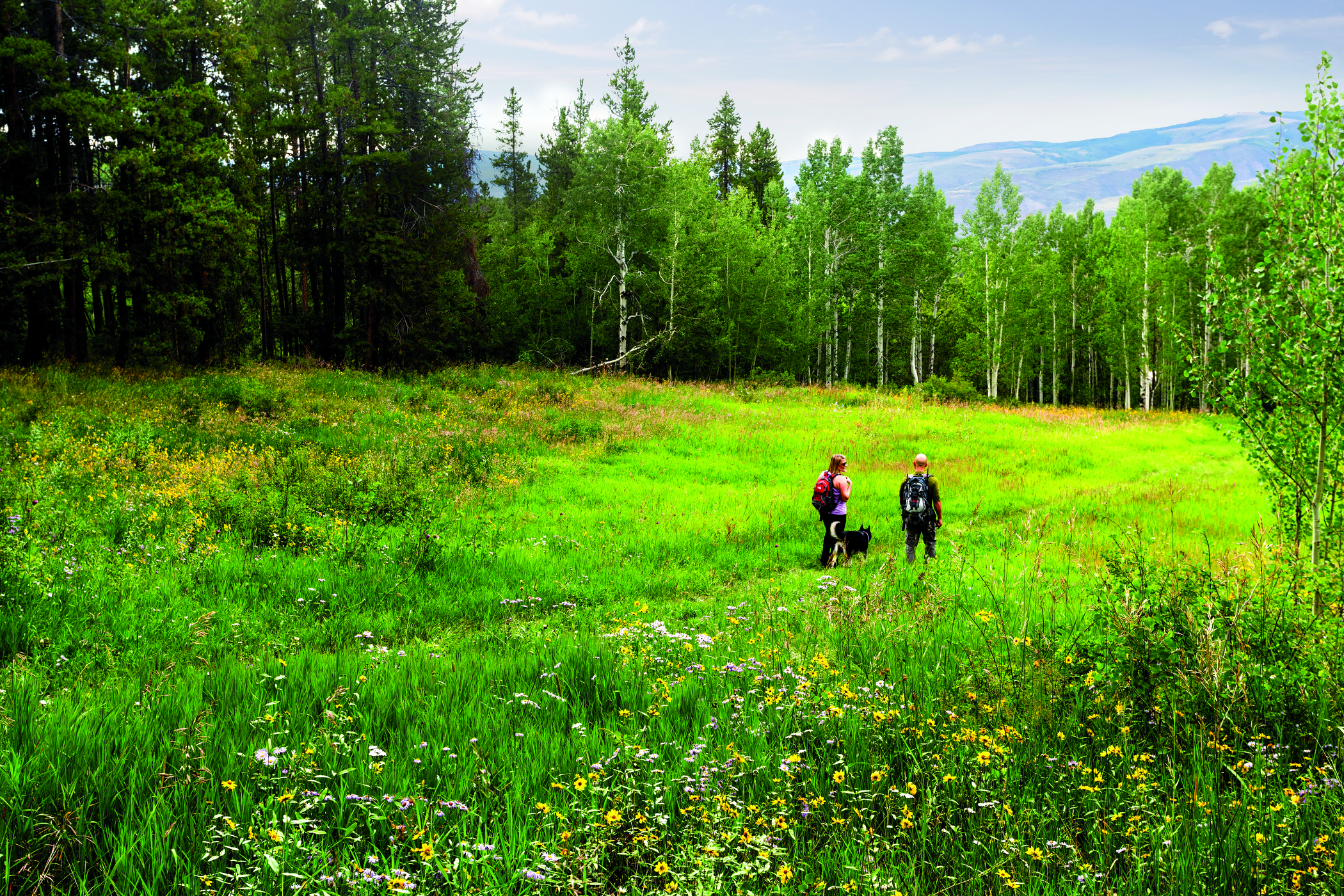 Drawing inspiration from its awe-inspiring Rocky Mountain backdrop, the Ritz hosts a special summer wildflower program – a nod to Colorado's abundance of vibrant wildflowers that bloom between June and August every summer. With hundreds of varieties spanning every color of the rainbow, the lush Colorado landscape is covered with pops of bold pinks, bright yellows, deep violets, clean whites, rich blacks and more.
During our nature hike, Jackie pointed out the first bloom of a Columbine flower, the state flower of Colorado. It was the first bloom she had seen this year, we were able to experience it along with her. You truly feel special and a part of nature while exploring the wildflowers.
5. There are New Culinary Experiences including Pop-Up Restaurants
The resort invites guests to indulge in a brand-new lineup of culinary experiences this summer. Through a series of interactive and tasty offerings – including a weekly gourmet pig roast, special winemaker series, wildflower-inspired cocktails and a summer pop-up restaurant concept. See the full details below.
Weekly Pig Roast
Held every Wednesday from 5 – 9 p.m. on the Mountainside Terrace, Chef Benjamin Christopher and his culinary team will become barbecue pitmasters and serve up a rustic, family-style feast of roasted pig, complete with craveable comfort foods on the side. Live music will cap off the authentic Rocky Mountain dining experience. $25 per guest.
Wildflower-Inspired Cocktails
Guests can enjoy the beauty of Colorado wildflower season in cocktail form with a trio of handcrafted floral cocktails, offered exclusively during summer months in Buffalos.
Sample cocktails include: a Lavender Cucumber Spritz (lavender, cucumber, lemon, Woody Creek gin, seltzer); Blossoming Bouquet (Ketel One Citroen, white wine, orange blossom water, lemon juice, simple syrup); and Rhubarb Bellini (Moët & Chandon Champagne, St. Germaine elderflower liquor, rhubarb syrup).
Pop-Up Restaurants at The Grill
On Fridays and Saturdays in The Grill, guests will be transported to the visiting chef's restaurant with a three to four-course prix-fixe menu. Guests can expect a wide range of cooking styles and cuisine:
July 22-23, 2016 – Chef Justin Brunson of Old Major and Masterpiece Kitchen in Denver
August 5-6, 2016 – Chef Jay Norris of Jack Dusty at The Ritz-Carlton, Sarasota
August 19-20, 2016 – Chef Lon Symensma of ChoLon in Denver
Grab a bite at Buffalos
The resort's signature restaurant embodies a sophisticated, yet casual atmosphere at Buffalos. The summer season is perfect for sipping on an iced-tea while dining outdoors on the terrace.
While guests frequently come in for mountain fare dishes like bison burgers or braised short ribs, it's hard to pass up tasty offerings like artisan trout dip or house tossed salads.
This slideshow requires JavaScript.
6. The Spa is a Great Reprive from the Sun
The 21,000 square-foot spa has 19 treatment rooms. Treatments range from manicures and pedicures to water therapy or river stone massages. Another killer reason to go in the summer is to enjoy a wildflower-infused spa treatment. Summer packages include:
• Scenic Serenity – after exploring vast meadows and winding trails with vibrant colors on a private 90-minute guided hike with an expert resort naturalist you can retreat back to the Bachelor Gulch Spa for a 90-minute signature massage infused with a choice of a wildflower essential oil, each containing natural restorative benefits.
• Bachelor Gulch Spa Signature Scrub – Let the refreshing power of the resort's antioxidant-rich blueberry sugar scrub reveal youthful, more radiant skin with a full body exfoliation. Next, enjoy a detoxifying hydration body wrap and refreshing Vichy shower. A warm Tahitian vanilla massage completes the invigorating experience.
• Après Sun Facial – Wind burned, sun-damaged or dry skin and lips will be transformed with products made for Colorado's unique climate. Skilled estheticians will repair and replenish skin, leaving it with a healthy, hydrated glow. It's perfect for the outdoor adventurist.
On a budget? Fret not, the spa itself is open to all guests staying at the resort— no additional charge required. Everyone is welcome to enjoy their gender-separated hot tub, cold tub, steam room, sauna, and calming tea rooms (pictured above). All rooms are stocked with cold lemon towels, fruit infused water and essential oil vapors. Couples can meet up in the coed indoor grotto pool, complete with a soothing waterfall.
7. Sipping Cocktails is Better Poolside than Slope-Side
When you close your eyes and imagine a relaxing summer escape, what is one of the first things you picture? If you are like me, sipping on some home-made sangria by the pool is on top of the list.
The resort hosts a large pristine blue pool, located behind the resort and directly in front of the chair lift—it's a perfect place for cool summer soaks. A friendly staff member is always around ready to pour a cool drink or bring you a fluffy white towel.
8. Summer Activities are Unique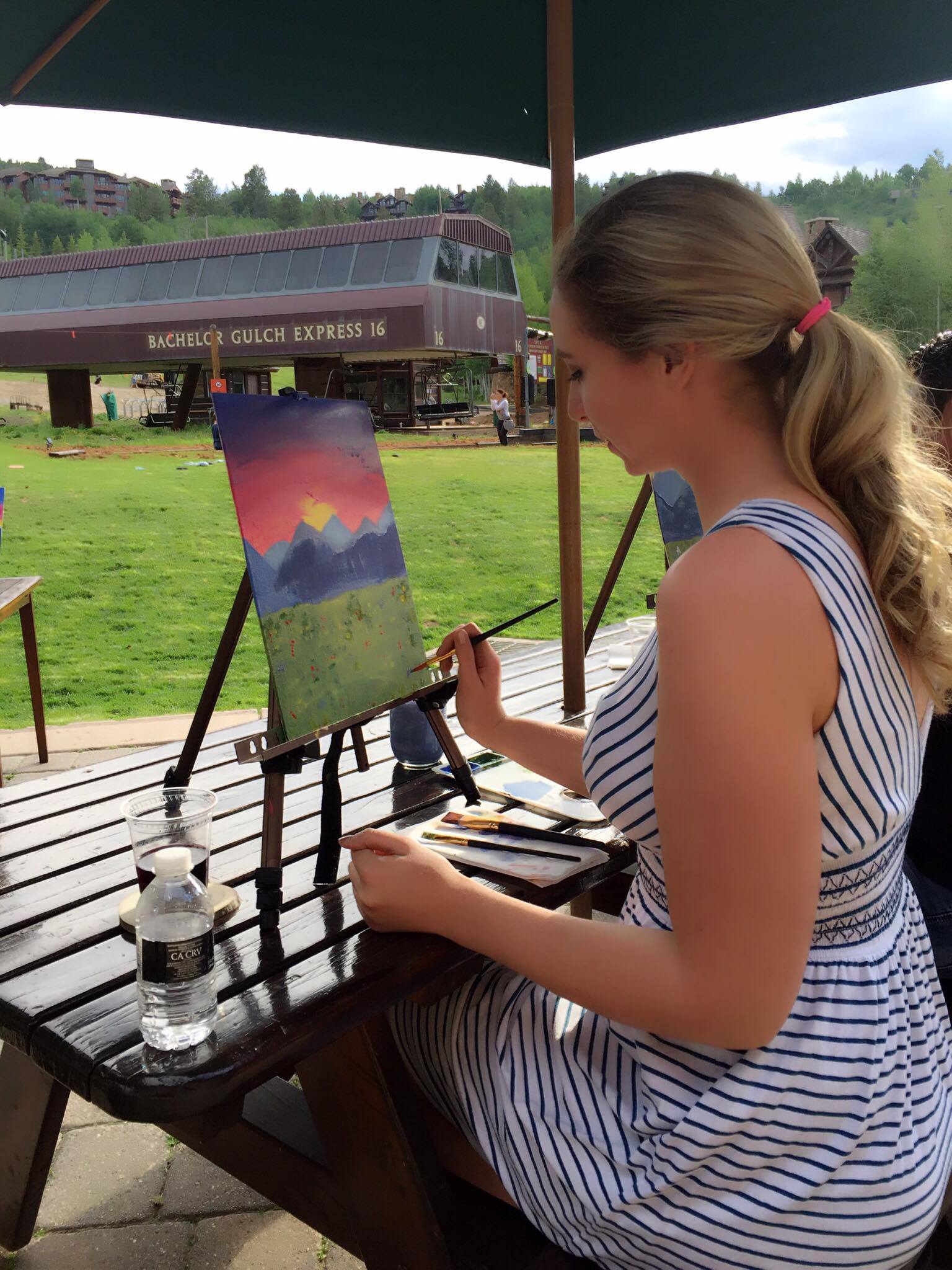 Wine friendly group painting classes are not a new thing, but have you ever done one at the base of a mountain? Grab your muse and attend a 'Painting and Pour' class – offered every Saturday evening in the summer. Led by a friendly staff member, you can unleash your inner Picasso while sipping on some merlot in the mountains. No luck getting your guy to jump into this one? Try the manlier version of the group class at a 'Whiskey and Wood Burning' session offered every Friday night during the summer season.
9. You Can Stop by the Fireplace for S'mores and Live Music
It's not a mountain getaway without some s'mores by the camp fire. Located on the back terrace of the resort, the large welcoming fireplace is always burning. Stop in Thursday through Sunday nights to hear a unique blend of live music from Austin's Rose, a husband and wife duo that guests cannot get enough of. Stay after the music for s'mores provided by the resort.
Pro Tip: Stay on the Eighth Floor
While every room at this resort is impressive, after experiencing The Club Lounge (available to those staying on the 8th floor), we can say that it is definitely worth it. Scan your VIP access card to unlock this intimate experience. With a roaring fireplace and access to unlimited savory cuisine and beverages (including those of the alcoholic variety), this lounge is well worth the upgrade. Enjoy a delicious breakfast spread before heading on a nature hike, then pop a glass of Champagne and chocolate covered strawberries while getting ready for dinner.
—
After our stay at the Ritz Carlton Bachelor Gulch, we could list thousands of reasons why staying here makes the perfect summer getaway, but we do not want to give it all away. Get out and explore Colorado!
The Ritz Carlton Bachelor Gulch
130 Daybreak Ridge Road, Avon
970.748.6200
To make a reservation or learn more click here