Bacon and booze seem to be a common theme among food events in Denver this week, and we're not the least bit upset about it. Before the weekend, stop by any Illegal Pete's to celebrate our beautiful state for 303 Day and snag a brew for only $3.03. When Saturday hits, head to the Fillmore for your dose of bourbon and bacon, or head out to Boulder for the Strong Ale Fest. You may find it difficult to plan your weekend with these choices, so choose wisely.
High West Oyster Fest
When: Wednesday, March 2. 6-9 p.m.
Where: Boulder Theater, 2032 14th St., Boulder
Tickets: $15-$35. To purchase tickets, visit any Jax Fish House & Oyster Bar, the Boulder Theater box office, or online here.
The Low Down: Craving oysters? Maybe some lobster? Well, this week you're in luck. Jax Fish House & Oyster Bar celebrates the culmination of its Oyster Month at 2016's High West Oyster Fest. Jax food favorites including oysters on the half shell, peel-and-eat shrimp, and crawfish are available for guests to sample. This evening of all-out oyster indulgence is capped with oyster eating and oyster shucking competitions. All proceeds benefit Blue Sky Bridge.
303 Day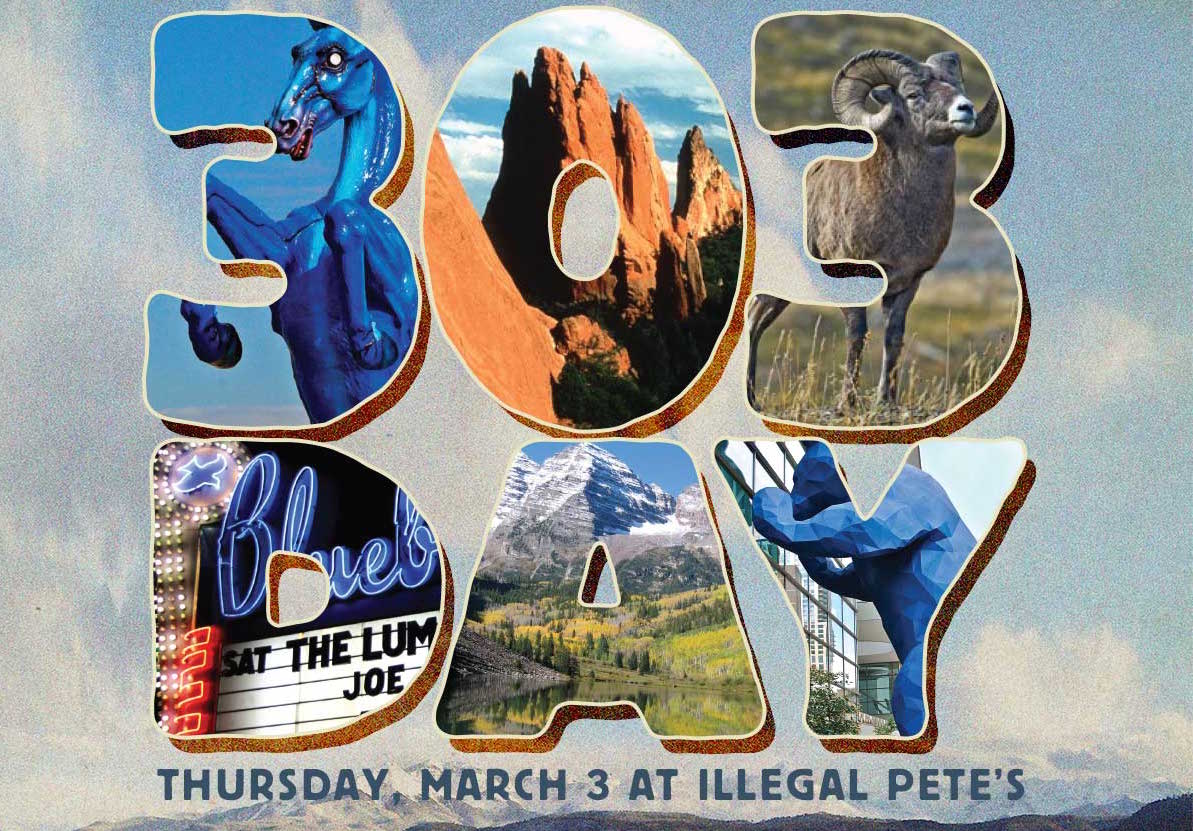 When: Thursday, March 3. All day.
Where: All Illegal Pete's Locations
The Low Down: 303 Day is back! 303 Magazine is once again partnering with Illegal Pete's and Channel 93.3 to bring you a statewide celebration of everything Colorado. Throw on your best Colorado gear and head over to any Illegal Pete's this Thursday. New Belgium drafts and Laws Whiskey are flowing for just $3.03 per pour. Snack on free chips and queso, then stay for the live local entertainment starting at 9 p.m. Don't miss the fun on this unofficial citywide holiday. Go here to see the full line-up of entertainment. 
Bourbon & Bacon Fest
When: Saturday, March 5. 3 p.m.
Where: Fillmore Auditorium, 1510 Clarkson St., Denver
Tickets: $55-$95. Get tickets here.
The Low Down: Bacon and bourbon lovers convene for a sweet, savory, and boozy afternoon. Munch on bites of bacon from Denver restaurants including the Lobby, Leña, and Baur's Restaurant & Listening Lounge while sipping on whiskies from Buffalo Trace Bourbon, Breckenridge Distillery, and more. Bask in the glory of hog heaven as you taste unique treats such as bacon mac and cheese or bourbon and bacon milkshakes. A portion of the proceeds benefits the Colorado Restaurant Association Education Foundation.
Work From Home Beer Breakfast
When: Saturday, March 5. 10 a.m-12 p.m.
Where: Cerebral Brewing, 1477 Monroe St, Denver
Tickets: $9.43-$22.09. Get tickets here.
The Low Down: Cerebral Brewing has added 165 pounds of Vermont maple syrup and 10 gallons of cold-brewed Sweet Bloom coffee to its Robust American Porter, and they want you to come celebrate its tapping. The Imperial Breakfast Porter features your favorite notes of breakfast with chocolate, coffee, and a slight maple sweetness. This Saturday, you can stay in your pajamas a little longer and pair your breakfast brew with waffles and bacon from Waffle Brothers. Let the Imperial Breakfast Porter be the perfect beverage to start your weekend.
14th Annual Boulder Strong Ale Fest
When: Saturday, March 5. 12-5 p.m.
Where: Avery Brewing Company, 4910 Nautilus Ct N, Boulder
Cost: $50. Get tickets here.
The Low Down: Avery Brewing Company is bringing the beers of brawn and this king of categories together once again. The 21-and-over festival features epic brews of 8% ABV or higher from craft breweries around the country including DogFish Head Craft Brewed Ales, Allagash Brewing Company, and more. A $50 ticket gets you 16 pours and a commemorative glass to take home. All proceeds benefit GOALS – Get Outside And Learn Something.
Cochon555
When: Sunday, March 6. 4 p.m.
Where: The Ritz-Carlton, 1881 Curtis St, Denver
Cost: $125-$250. Get tickets here.
The Low Down: Five chefs, five winemakers, and five pigs take center stage for Cochon555, a culinary competition tour. Each chef prepares a maximum of six dishes from whole, locally-raised heritage breed pigs, vying for the hungry crowd's votes, with one winner being crowned the "Prince of Porc." A ticket affords guests a sampling of the chefs dishes and the added culinary experiences of the Luxe Butter Bar, Artisan Cheese Bar, Seafood Shelf, New Ramen Bar, and more. A complete beverage program is also available for sips and samples. Cochon555 is an experimental food experience you won't want to miss.