Bryson Tiller. It's a name that, if not already familiar, will be soon.
It's a Wednesday night. Tiller is a silhouette on stage at the Ogden, slinking back and forth, a prowling backlit leopard in a baseball cap, commanding the stage with quiet confidence. Shrouded by light and fog, he's an ethereal black shadow.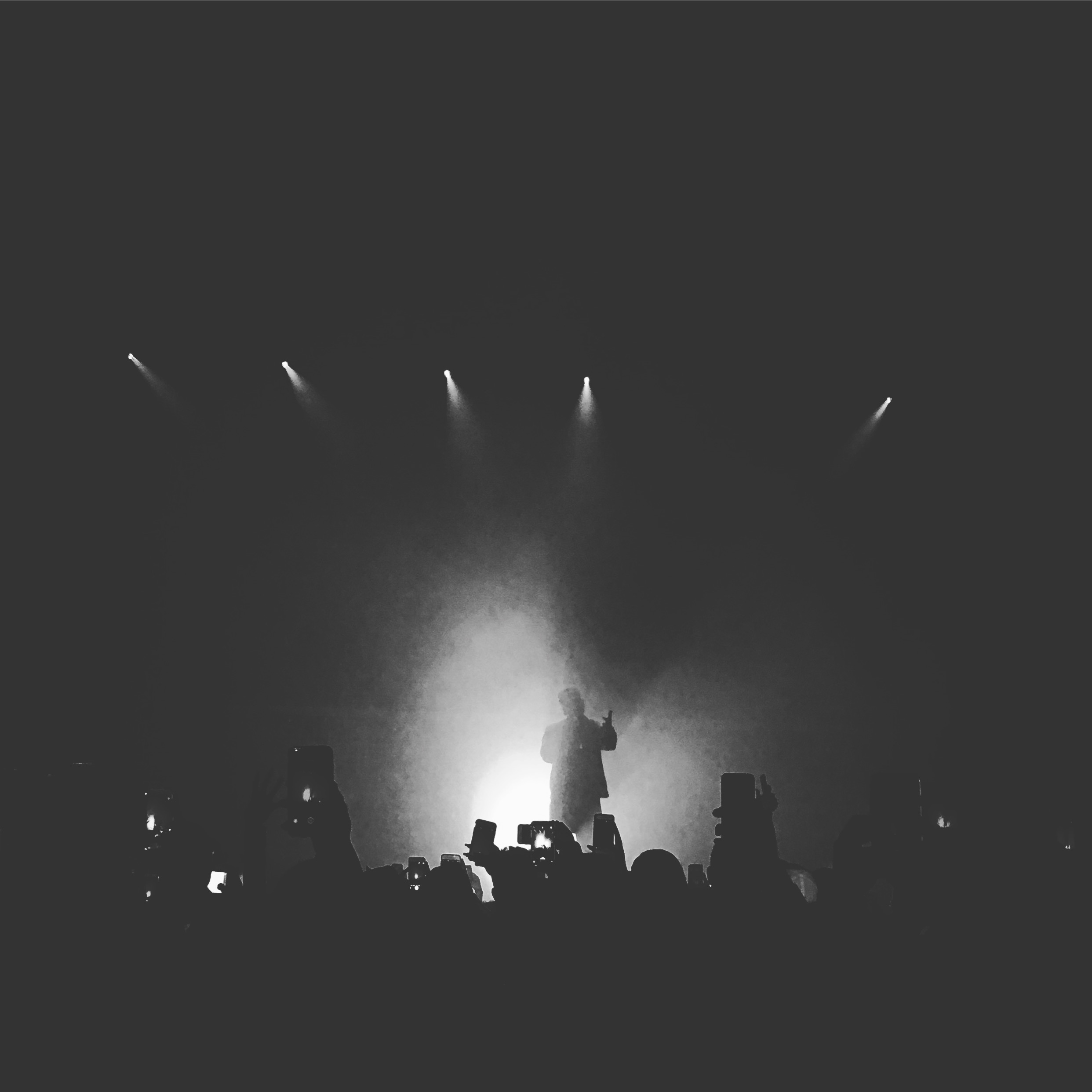 At many shows, especially in the realm of hip hop, such anonymity is rare. Spotlights abound. Rappers shout their own names into the mic like you forgot who you came to see. Not Tiller. He doesn't need lights on his face, so long as you can hear his voice. In photos, he's often looking down, or has a hand shielding his mouth—he's the first one to tell you that he's not yet used to fame. And how could he be?
But the name, Bryson Tiller, it's one you'll remember.
All eyes on a silhouette. Words spray like bullets, then fall like honey. He's a furtive assassin, an apex predator getting accustomed to his position in the food chain, a young master of his craft. He's refined yet instinctual, graceful and poised, despite being in the midst of a rise so meteoric it wouldn't have been possible even 5 years ago.
In the year after he dropped "Don't," a viral hit that burned through Soundcloud, Tiller got a record deal, dropped a debut album that's been streamed millions of times and has earned the respect of his new peers, from Justin Bieber to Drake and Timbaland (who helped produce and record a significant chunk of the record).
And as he performed songs from that debut album (TRAPSOUL), it's clear that Young Tilla's accolades are not for nothing. He has the intelligence and stage presence of an older artist. If you didn't know any better, you'd think Tiller was peaking; a creative genius on his third or fourth tour. Instead, this twenty-three-year-old is headlining and selling out his very first tour.
He humbly proclaims, "I've never been to Denver," and the city roars a welcome. A full house at the Ogden raps every word to "Just Another Interlude" and bangers like "Rambo," then sings along as Tiller croons R&B jams like "For However Long" and "Sorry Not Sorry." He drops "Don't" and people lose their minds. Teenage girls in the front row scream like their grandparents did for The Beatles—the only difference is that they yell things like "He's so lit!" and have their phones out to Snapchat the whole thing.
For someone with such a polished recorded sound – Tiller's album is meticulously edited – his live show was surprisingly brilliant. With the help of a live 4-piece band and DJ/producer J-Louis, Tiller's live performance strips down songs and builds them up from scratch. The songs waver between hip hop and R&B in a musical purgatory that he's so aptly coined "Trapsoul;" in this impassioned, emotional realm, Tiller is effortlessly king. Though he's new to the throne, he's not going anywhere. Nowhere but up.
There's a moment at the end of the show when the drummer riffs away, the keys player let's forth a barrage of bass-heavy chords, and Tiller stands still, as though the orchestral director of flashing lights and fog. He tinkers with a lyric from "Don't," singing "Denver got me feelin' so throwed/ H-Town got me feeling so throwed" and the crowd, for the thousandth time, loses their collective mind.
He's still that slinking silhouette, but every so often the lights flash bright and his face is focused and fierce. Soundwaves spread from his lips, catching the audience like a silk spider web, and the connection he has to the crowd is tangible and bright.
For a few moments, he looks and sounds and feels like a rockstar.
If he isn't now, he soon will be.
He says, ever humble, almost in a whisper, "My name is Bryson Tiller, thank y'all so much. J-Louis." As he gives the nod to his DJ, the lights finally fade and he walks off into the blackness as the sold out crowd howls and snaps pictures, realizing that they were just witnesses to a very rare moment: the meteoric rise of a true star.
Remember the name.
*All photos by Tommy Joyce