When it comes to giving back in the community, sometimes it takes a lot of work. There are fun ways, such as participating in a fundraiser, a 5K or by simply making an annual donation. But if you're really passionate about a cause or organization, there's now a super easy way to give back – simply by shopping or dining where you usually do.
It's called Givella and it's a game-changer in the "giving back" department. Givella was started by Chris Jensen last year. The whole idea is to shop or dine at a specific location, and then that retailer will give a portion to whatever you want to donate to, such as a school, local charity, etc., via an app on your smartphone.
303 Magazine is so excited about the work that Jensen and Givella are doing in the community, so we interviewed Jensen to learn more.
When did you start imaging Givella and what sparked the idea?
I came up with the idea for Givella while on an airplane at the end of summer 2014. The idea came out of my experience in retail marketing and payments, as I realized there was a tremendous opportunity to use new technology coming out of the payments space to address the pain of fundraising while driving tremendous value to merchants.
When was it officially launched?
We started building the first version of the app in February and launched at the beginning of July with a pilot in Northwest Denver.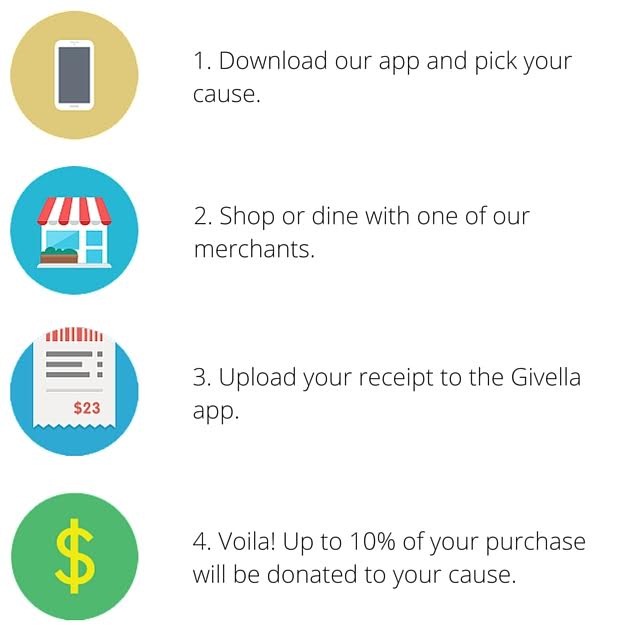 Tell us who the user is for Givella.
Anyone who supports a nonprofit or school. Our program allows them to extend their support of their favorite organization just by doing things they are doing anyways, and at no cost to them. Since we are mobile-first, our customers all have smartphones and therefore skew a bit more tech-savvy than the average population.
Do you think Colorado is a good market for this organization?
Absolutely. We have a tremendously strong community here, especially in the Denver/Boulder area. Coloradans tend to be passionate about their causes, whether environmental, social or education based, and we're also blessed with a great number of organizations and merchants based here in Colorado. Colorado fits Givella like a glove.
What is Givella's model?
Our model is built on serving the community. By creating the easiest way to raise money for schools and nonprofits, we alleviate some of the fundraising burden on these organizations so they can focus on their raison d'être, while also attracting new supporters so they can raise more money outside of Givella as well. On the merchant side, our platform provides the most efficient way to attract new customers. It is guaranteed to be more effective and measurable than other forms of advertising, which means we drive more business, and more jobs, to the merchants in our communities, while saving them time and money.
How does Givella give back?
Every time a user shops with a participating merchant, the merchant donates up to 10% of the transaction value back to the user's favorite nonprofit or school. This allows the user to give to their favorite organization through things they want to do – like going out to dinner or for a cup of joe – at no expense to them.
What does someone have to do in order to participate in the work Givella is doing?
All a user has to do is sign up in the app, select their favorite school or nonprofit, and then shop or dine at one of our participating merchants. We take care of the rest, though the user can see a detailed view of their donations history right in the app. We're also about to roll out a whole bunch of new merchants at which users can support their cause, and if a user wants to support a cause that isn't participating yet we can easily add them.
Why are you passionate about this?
I've always been drawn to companies that strive to be "conscious capitalists," meaning they operate their business with equal respect for all stakeholders -customers, employees, environment, community and shareholders – at the same time. I'm a big believer in the notion that a company can do well by doing good. Givella is an extension of that, where we try to create a win-win-win for our merchants, nonprofits and users alike.
Tell us a little about your history before Givella and how it turned into this.
Prior to launching Givella I was a director on the global marketing team at Whole Foods Market. In my last role there I led a team that focused on customer acquisition and retention, and which leveraged some of the payments technologies that drive Givella. During my time at Whole Foods I developed programs which had an enormous impact on the business and our communities, and realized that there was a great opportunity to take these tools to other merchants, so I left Whole Foods to focus on this full time.
Give an example of an exciting thing Givella is doing.
We are just about to launch V2 of our app, which contains a much better customer experience and more tools for our nonprofit and merchant partners. Along with that, we're launching a whole bunch of exciting new merchants who create more opportunities for users to support their favorite causes. We were also recently selected as a finalist for the Mobileys, which is a national award that seeks to spotlight and support mobile products that make the world a better place.