The holidays are officially here with Hanukkah behind us and Christmas occurring next week. Before we know it, the New Year will arrive. It's easy to get caught up in your usual winter wardrobe when the temperature starts to drop, but that doesn't mean you have to sacrifice fashion for function. "We think it's just as important to dress for comfort as it is to stand out. Wear something you feel good in…and your confidence will make the outfit." – Common Threads
Along with a little help from Common Threads, we created five holiday looks for the upcoming weeks ahead. From the working girl to a more laid back Colorado look, there's a little bit of everything, no matter what your style. After checking out these teasers, head to Common Threads Denver (1575 S Pearl St.) to update your holiday look.
The Prep
We love a good preppy look that stands out from the crowd. Stray away from the typical polo and argyle sweater to add some much needed flare to your style. We took inspiration from the 1950s but kept thing simple. A great sweater with some gems and jewels add shine to a simple look.
We found this great Rebecca Taylor button-up cardigan with a bedazzled collar – and we just fell in love it. We paired it with a much more updated version of the poodle skirt, which really made this outfit to-die-for. The pleats were not overdone and gave volume to an otherwise flat look. We finished it off with a great pair of two-tone strap pumps that brought back in the jewels from the sweater. An easy white bag helped clean up this outfit and popped against the dark colors.
Bag: Marni $700 // Cardigan: Rebecca Taylor $28 // Skirt: Blacktie $40 // Shoes: Marc by Marc Jacobs $64
Happy Hour
The happy hour look can take you from desk to dinner, or even to a holiday party with little to no effort. The key to not over doing this style is to keep things easy and classic.
We went for the statement pant to mix it up a bit. These Celine trousers in metallic gold give us major holiday envy that you can wear from spring to winter. To tone down the rest of this look we added this easy black tee. A wool sweater is a great substitute to help mimic this outfit while still keeping you warm.
We then threw on a simple Burberry tote that's perfect for any occasion. Your laptop, cosmetic bag and even a change of clothes can fit inside with ease. A cream scarf helped lighten up this outfit while being piratical.
The look was finished off with a great pair of Burberry heels that added some much needed print. The pointed toes make them great for work but the patient leather gives some flare.
Bag: Burberry $82 // Pants: Celine $100 // Shirt: J. Crew $14 // Scarf: J. Crew $10 // Shoes: Burberry $150
Working Gal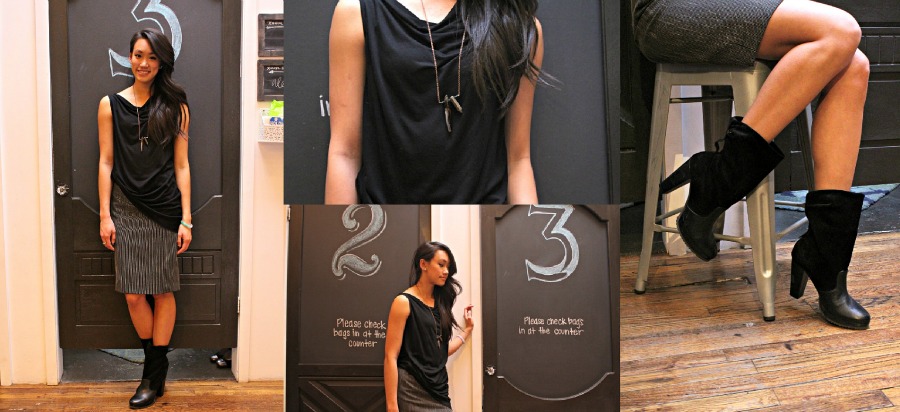 The working gals are going to have a harder time time showing that holiday spirit at the office. Ugly themed sweaters and flannel aren't really appropriate for her profession, so we wanted to keep it simple. A great drapery top will help add some texture and visual interest to a daily look. We love this Helmut Lang tank for its shape and asymmetrical hem. A printed skirt, with some flecks of gold, give that holiday sparkle while still keeping you under the radar.
Next, raw gemstones are extremely popular this holiday season but won't fall out of trend any time soon. Local jewelry designer Grey Tangerine created this simple yet effective necklace we can't wait to find in our stockings. Lastly, we wanted to find a heeled boot thats both cute and functional. These Robert Clergerie black boots will keep you warm and prevent slipping with a traction soles.
Top: Helmut Lang $38 // Necklace: Grey Tangerine: $72 // Skirt: Celine $82 // Shoes: Robert Clergerie $250 
Holiday Party 
The majority of shoppers are going to be looking for  holiday party looks that are original yet simple. But every season we charge our cards with dresses that will only be off the hanger for a few hours and forgotten about next year. So we love that Common Threads gives us designer looks at a great price – without the guilt.
For our take on the holiday party look we went with something simple yet luxurious. This Alice and Olivia dress caught our eye for its simple construction and effective styling. The shimmery band just screams holiday without being over the top or putting this look in a pigeon hole.
It's so fun to see sequins reign again this holiday season," said the ladies at Common Threads. "What better way to celebrate bringing in the new year than in something that sparkles!"
Next, the draping of the silk gives some flow and charm to the dress. We love that this dress can easily transition over to spring with a great pair of peep-toed heels for a night out on the town.
We then added some much needed glamour with this vintage fur coat reminiscent of the 1920s. It'll keep you warm during the winter snow and adds a punch of luxury to your closet. We found some great two-tone Chanel heels that kept the sparkle of the dress going. The black cap toe helped added some dimension to this look without being overwhelming or harsh. We then added this La Regale clutch that camouflaged with the entire look to keep focus on the main points.
Coat: Vintage $84 // Dress: Alice and Olivia: $203 // Shoes: Chanel $350 // Clutch: La Regale $24
The Tomboy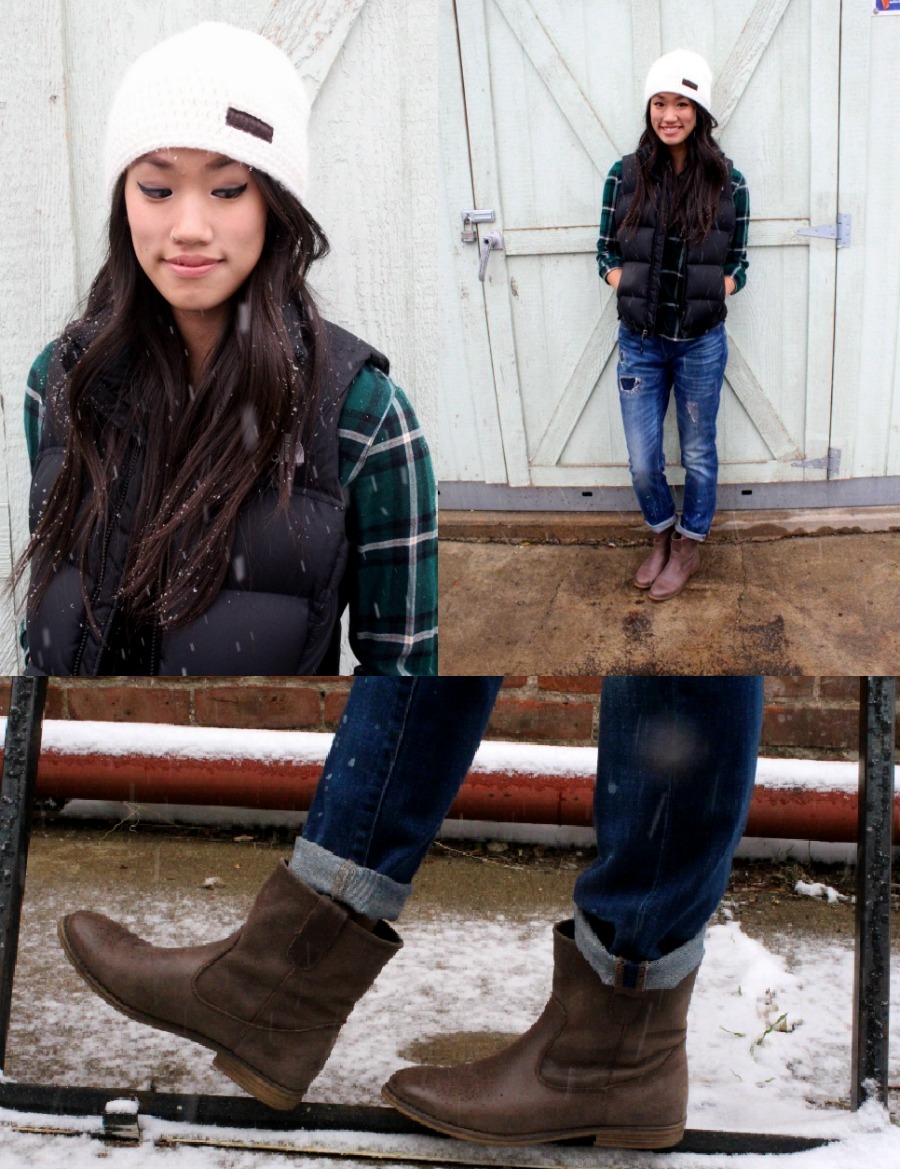 We know you Colorado girls will love this look that you can put together easily with what you have in your own closet. But we're straying away from basic look by adding accessories and details that will help make causal cool again. Three easy staples and a few accessories really made this look covetable.
A flannel is easy to find but look for something in green or red to get in the holiday spirit. Reserve pinks and purples for the summer while black and white tend to dull during the holidays. We found this great North Face vest that will keep you warm without the bulk of a full jacket. Consider an army green field vest to do something different or a long black blazer style vest to dress it up. We looked for simple jeans with good quality, because like it or not, you can tell.
And to finish off the look we added this white beanie from Chaos to brighten it up. The white helps draw out all the patterns in the button up. We then threw on a cool pair of boots from Crown Vintage in brown to stray away from greys and blacks.
Beanie: Chaos $18 // Jeans: Madewell $36 // Shirt: H & M  $12 // Vest: North Face $29 // Shoes: Crown Vintage $22