What: The second location for this tea lounge focused on making tea accessible and allowing the drink to transport you around the world
Where: 95 Lincoln St., Denver
Neighborhood: Baker
When: Sunday – Thursday, 7 a.m. – 9:30 p.m.; Friday – Saturday, 7 a.m. – 10:30 p.m.
"Tea is a geographic thing," said Jeremy Law, owner of Platform T, pointing out the metallic shape above the bar. "All of the lines represent topographic maps." Tea is supposed to transport you to a different place, even a different world, he explained.
Law and his partner David Wilkins, explained that they found their love of tea on business trips to China. Tea can make strangers friends and far-away lands feel like home. Though Law and Wilkins had known each other before their trip having tea made for them in a smoky, unfamiliar Chinese factory made their setting feel familiar. "In that moment, in that faraway place, where customs were unfamiliar, words inscrutable, men complete strangers, they were strangers no more."
With that in mind, Law and Wilkins decided to manifest the connective powers of tea in the U.S. with the creation of Platform T.
The Space
The Lincoln Street lounge is the second location in Colorado for Platform T. The space is design to create a platform for the community to connect and share, over pots of tea. With a communal table and more that seat one or two people, Law and Wilkins wanted to design a space that was not only easy for grab-and-go service, but for people to sit and be comfortable.
With bar seating on one side of the lounge, which Law likened to a sushi bar, where you can come and taste multiple teas, similar to ordering a flight at a brewery, Platform T hopes to encourage conversation. Though this new location of Platform T is part of a larger chain of locations as evidenced by the decor, the calm nature of the space that goes hand-in-hand with a nice pot of tea is sure to attract neighbors at all hours.
They want the space to function with an educational community element to it. "Part of what we want to do is add some value, not just serve some tea," said Wilkins. "We want to educate people to be as excited about tea as we are."
The Fare
Platform T is proving to the masses that understanding tea is easier than you think. By separating the tea into six flavor categories, it is easier to narrow down the choice. Between fruity, chocolate and spices, tropical, classical, herbal, and pure, there is an entrance for everyone. "There is no right way or wrong way to drink tea," said Law, and he wants to make it accessible to everyone. They also made it so that you can smell and touch any of their teas before tasting. "Tea is very tactile," he said.
Platform T wants to be a combination of catering to the overly-sweetened american taste-buds without losing the integrity and tradition of tea. To avoid alienating customers, Law and Wilkins are striving to educate the community. To ease this conflict, Platform offers multiple brewing methods to appease the to-go crowd and the tea purist.
"As opposed to many other beverages, tea is a hospitality beverage," said Law. "All around the world, when you go to somebody's house, they make you a cup of tea."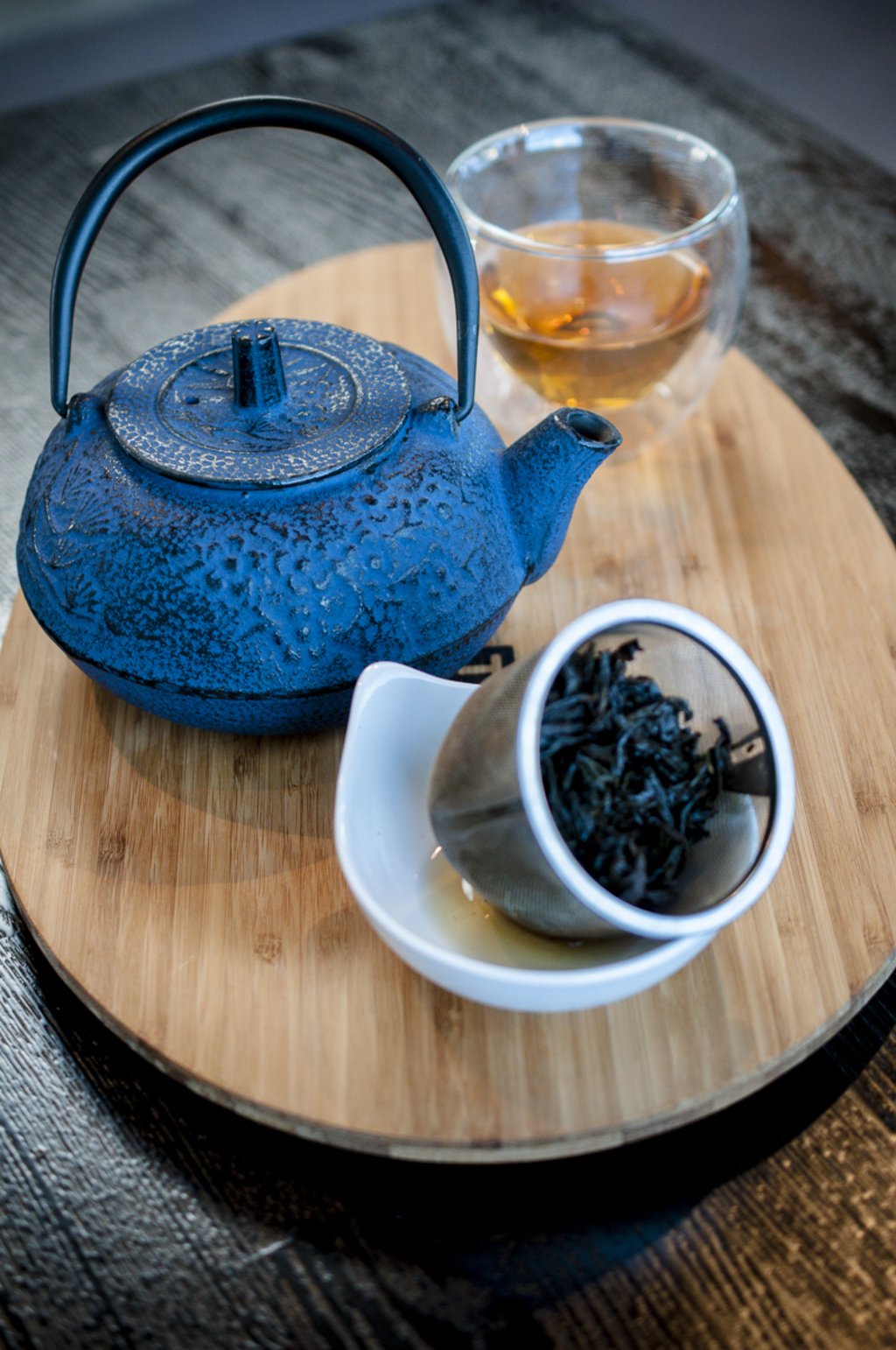 "As opposed to many other beverages, tea is a hospitality beverage," said Law. "All around the world, when you go to somebody's house, they make you a cup of tea. It's not the tea that's important, it's the making the tea that's important." As an ode to this process, Platform wants to foster "pot service" where you steep your own tea in a teapot with a timer and they have the pots to do it.  
In addition to the more traditional style tea pots, Platform T has invested in two BKON Craft Brewers, which hold settings for each tea on the menu and cut the brewing time down to less than two minutes using a vacuum to infuse the tea. With a setting for water temperature, time, and the amount of tea, Wilkins said, "It makes it very consistent. It's the exact same, every time."
Wilkins explained that Platform T is your in-between spot. For when you're not hungry enough for a full meal, you're already overly caffeinated, or it's too early to go home, Platform has what you need. The small plates like flatbreads or prosciutto wrapped dates, tea infused cocktails, and beverages to linger over, allow the slowing down that can be so hard to find in the intermediate hours of the day. And don't fear, if you bring along your coffee-fiend friend, there is an espresso bar that serves Corvus Coffee.
One thing not to be missed is the Hong Kong tea latte ($4.25) made in the traditional style of tea cooked in the streets of Hong Kong. In this drink, it seems that Platform T has perfectly curated their mix of traditional and modern.
—
As shown by the origins of Wilkins and Law conception of Platform T, tea has the power to connect space and time. It can serve as a reminder or a platform to the future.  "Connecting with people, connecting with places" is what Platform T is all about, said Law.
All photography by Candace Peterson.