I once bought a $3.00 pink ballerina top in the hopes of finding an event where I could wear it in all it's glory. I don't mean with a Halloween costume or a themed birthday party either. Some of the best pieces seen on celebrities at huge fashion shows are classic, unique garments that only work at these types of shows and I wanted my own version. Lucky for my ballerina top, finding such an event in Denver is rather easy.
Next Wednesday begins Denver Fashion Weekend at City Hall Event Center, with four nights of runway amid some of Colorado's most talented designers, boutiques, hair stylists and models. It's not only a great opportunity to rock your favorite heels or mingle with like-minded folks over a few drinks but that favorite piece you've been waiting to wear is ready for a night out. No matter if you like to keep it simple like Anna Wintour or prefer a plunging neckline, the options are endless. Below are six looks inspired by some of our favorite front row fashion show celebrities and how to rock them throughout the whole weekend.
6 Outfits Inspired by Fashion Show Front Runners
The Cara Delevingne
Mixing a funky pattern and a hat exudes a casual class that Delevingne has become known for on and off the runway. This effortless look can be put together with anything from a matching pattern two-piece to a favorite dress. The addition of a trademark hat or beanie is anything but under dressed, especially when paired with a favorite pair of booties or heels.
The Alexa Chung
Preppy glam has been all the rage for Alexa over the years and has made her into one of the top trendsetters in the fashion world. Her effortless style offers up outfits that include feminine details with a twist and easy to put together pieces. Make the most of your look with a favorite touch whether it be a peter pan collar, lace accent or fun hair accessory.
The Anna Wintour
The saying "a sun never sets on a bad ass" was written for this posh queen of the fashion world. Anna Wintour's style has remained the same over the years with front row shows in beautiful Chanel pant suits, tailored jackets and perfectly cut dresses. She knows what she likes and keeps to it each year. Try working with your favorite pieces in your closet and keep it a few colors max. It's not out of the question to have your sunglasses be your favorite accessory of the night either.
The Kim Kardashian
This is the time to pull out your favorite sheer top and take a sexy approach to a night out on the town. Keeping it to an all black ensemble, like Kim, creates a sophisticated edge that is perfect for a chilly night out when layered the right way. A sleek hair style and pumps will finish the look and you are also guaranteed to feel great in it all night.
The Olsen Twin
Mary-Kate and Ashley Olsen's hippie meets grandma style is anything but frumpy. Opting for materials with a relaxed fit still exudes a chic style and, conveniently enough, comfort. Furs, shift dresses and a bold lip will go a long way and a wavy hair style is the perfect way to top it off.
The Nicki Minaj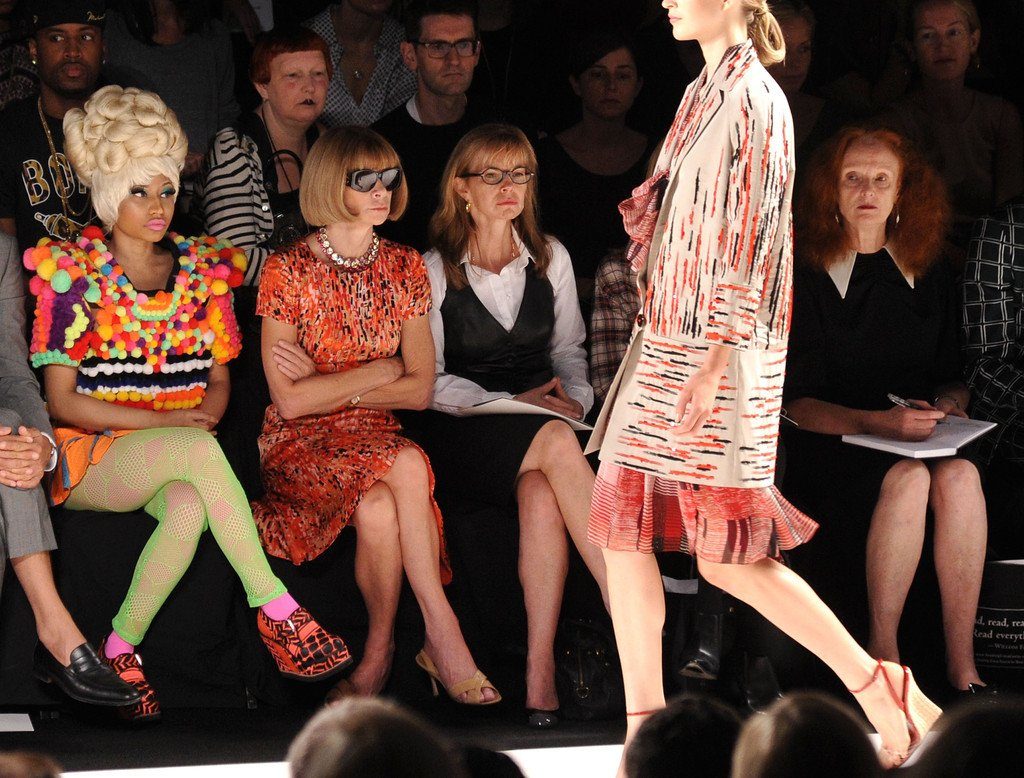 If you're looking to take your look to a new level of fun, Nicki's style is definitely a good twist on a normal going out piece. A fun wig or costume-style frock can be just as easy to wear and will most likely involve a few compliments. Bold eye shadow, neon tights and platforms are easy additions to any outfit as well. Don't be afraid to up your color palette and accessories each night.