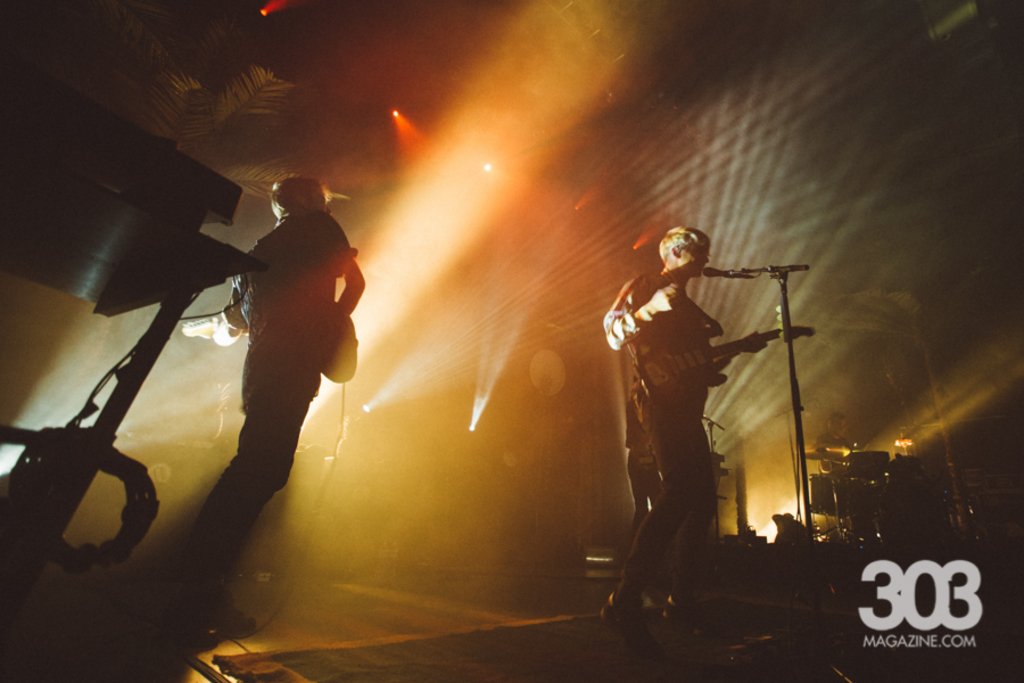 Well, Dave Bayley, thank you for allowing all the girls to fall in love with you. Your dance moves on stage—from jumping on the drum set, to shaking it down into the crowd—ensured that the audience at the Ogden Theater on 9/30 was all yours. The Oxford based band, Glass Animals, is currently on an American tour, and their psychedelic indie melodies mesh well with both the alternative and electronic scenes here in Denver. Opening with their song "Walla Walla," I was quickly pulled into their mystical rain forest. Purple and blue lights with heavy smoke floated through the auditorium and I kept thinking we were in a spiral of sounds, and the tribal beats were keeping our bodies on the correct path.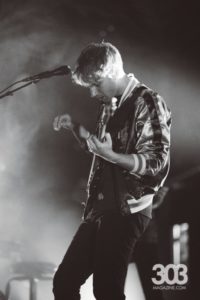 Before they created this musical project, Bayley was actually a medical student. You can see this world of biology in some of his lyrics, "What'll it be now, mister mole / Whisper sloth in curls of smoke…Slow down / It's a science," he croons in "Black Mambo." His words feel lush and full, the lyrics playing charades with rhyme and syncopated syllabics. Some of the titles also have a home in the jungle; the song title "Pylla" is actually the name of a genus of insects. It's these little attributes of Glass Animals that make me a fan because they take the time to think about their art to create a rich performance. Many trip-hop bands are there only to create funky beats, and while Glass Animals do provide plenty of dance opportunities, they do so with layered meaning and movement.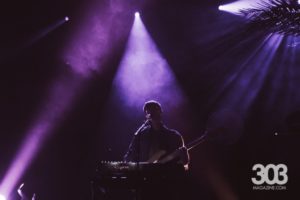 The group collaboration was thickly tied. The guitarists, Drew MacFarlane and Edmund Irwin-Singer, were often strumming with one another, known dance moves coursing through their bodies. Jam sessions rang throughout their performance, and in the middle of their set, they played their most well-known song "Gooey." From the first strike of drum, the audience instantly knew the wonderland that they were about to enter. I am sure all the snapchats of Denver's geo-location featured ten seconds snippets of the chorus, "I can't take this place, no I can't take this place / I just wanna go where I can get some space." The lyrics slid in and out of the bouncing rhythms, mirroring the bodies on the crowded floor.
Towards the end, they took a departure from their sultry sounds and did a cover of the Yeah Yeah Yeah's and Kayne West. During the Kayne cover, Bayley dived into the crowd, dangled his microphone and strutted from one end of the front auditorium to the other. He then stated they were drawing near to the last song, and their short (1 hour and half) performance left many (and myself) yearning for more liquid vibes. The guitarists and Bayley began to hum together and it enhanced their jungle theme. They soaked up their entire performance, enjoying the crowd's attention and their blissful art. They ended with "Pools," and the lyrics summed up the warm fall night, "I smile because I want to."