This week offers up some pretty cool metal shows to check out, from a Led Zeppelin cover band with a local heavy rock group opening up to a special appearance in town by the legendary Coliseum. Whatever your brand of metal is, check out the list of upcoming shows below, and get out their to enjoy the greatness that is the Denver metal scene.
 
Kyng @ The Black Sheep –

Wednesday, July 22
Up-and-coming stoner rockers Kyng just played The Marquis in Denver this past week, but for our southern brethren who live down in the Springs and didn't get a chance to come and see them, I have good news: they're essentially making a big loop on their current tour and hitting The Black Sheep
this Wednesday
. As my partner in crime wrote last week, Kyng are influenced by the likes of the Foo Fighters and Queens of the Stone Age, and their catchy brand of stoner rock is as infectious as it is upbeat. Joining them once again will be melodic death thrashters Exmortus as well as local openers Zahar and Woolgather. If you missed this show last week, don't miss it again!
Who: Kyng, Exmortus, Zahar, Woolgather
Doors: 7PM

Cost: $10 in advance, $12 the day of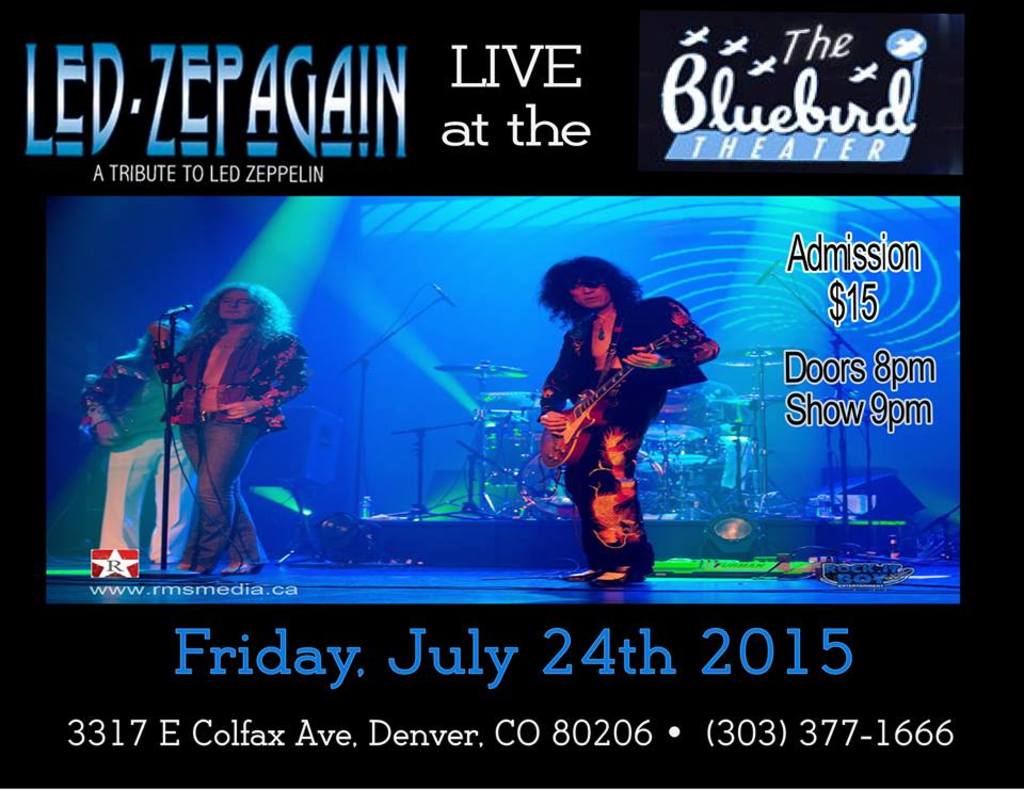 Led Zepagain @ The Bluebird –

Friday, July 24
If I could go back in time to see one band, there's no question it would be Led Zeppelin. Unfortunately, scientists have yet to crack the conundrum of time travel, so it would seem that Los Angeles-based Zeppelin tribute band Led Zepagain is the closest I'm going to get. They're hitting the Bluebird Theater
this Friday
night and, according to their Facebook page, "will be presenting the 'Song Remains the Same,'" and if that means they're reenacting Led Zep's legendary performance at Madison Square Garden in '73, you can so count me in. For an extra treat, local rockers Cloud Catcher are opening the show, adding to the '70s ambiance of the evening. If there's one show to catch this week, I'm putting my money on this one. Don't miss it.
Who: Led Zepagain, Cloud Catcher
Doors: 8PM
Cost: $15 in advance, $20 the day of

Coliseum @ The Marquis – Saturday, July 25th
One of the first awesome heavy rock bands to be picked up on the Relapse roster and given major l0ve in the metal community, Coliseum have been playing music together since 2003, and made a name for themselves touring the country and the world with all kinds of awesome bands. This Saturday night, we are lucky enough to have them here in Denver, headlining a show at the Marquis. The night will be opened up by local punk group Hawking, and this should be a really good party, so try and make it out if you dig heavy rock and metal.
Who: Coliseum, Hawking
Doors: 6:30PM
Cost: $10 in advance, $12 the day of
By Aaron Lambert and Addison Herron-Wheeler
All photos courtesy of Facebook
Want to be featured in the Metal Meltdown? Contact [email protected] or [email protected] with metal tips and news.