Well, here we are, mid-way through July, and there is absolutely no shortage of great concerts hitting our great state of Colorado. From indie rock to more EDM than you can shake your glow stick and blow your whistle at, there's something for everybody this week. Check in weekly for your dose of the best music Colorado has to offer with 303 Magazine's The Get Down. Let's get to it, shall we?
Tuesday, July 14
Wilco @ Red Rocks
Chicago alt-rock outfit Wilco are gracing Red Rocks with their presence this Tuesday as part of a brief stint of dates they're playing in celebration of their 20th anniversary as a band. Having been dubbed the "American Radiohead," Wilco are known for their eccentric and diverse brand of rock, drawing from a variety of styles, and this is definitely a show not to miss. Tickets cost $45.50 – $65.50 and are still available but going fast, so get on it before they're gone!
3 Doors Down & Seether @ 1stBank Center
Are 3 Doors Down still a thing? Apparently so, as they're playing the 1stBank Center along with fellow still-a-thing band Seether. These two bands were once big names in hard rock, with hits such as "Superman" and "Fake It," and maybe they still are big names in hard rock and I'm just too jaded to know. Either way, this show ought to be a good time full of songs even most casual of fans knows the words to, so if radio rock is your thing, check this show out! Tickets are $35 – $55.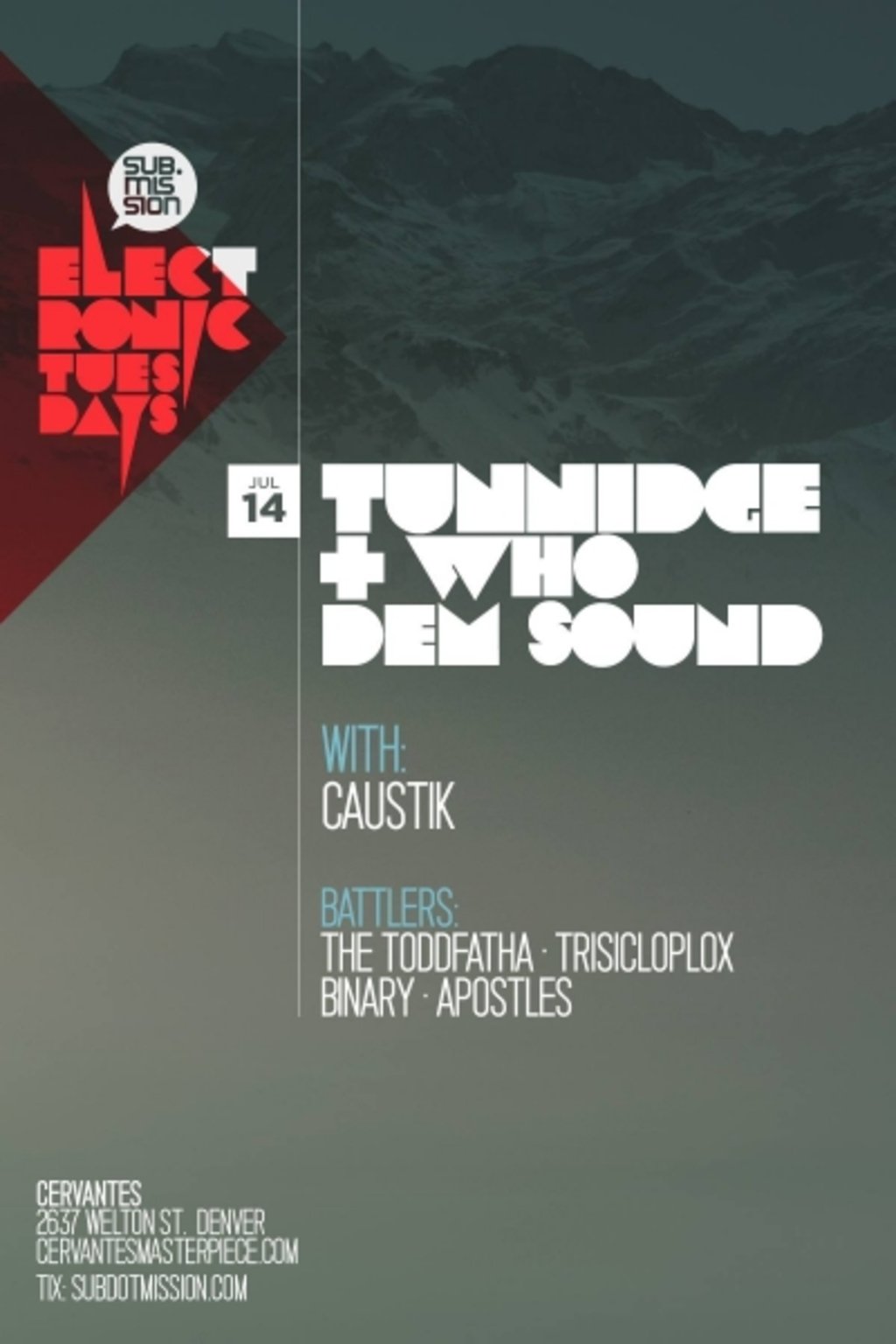 Electronic Tuesday @ Cervantes
Every Tuesday, local dubstep promoters Sub.mission bring you the music you've been craving, both from awesome local talent and international acts. This time around, the night is getting headlined by big name acts Tunnidge and Who Dem Sound. Opening the night will be Apostles, Binary, Trisicloplox, The Toddfatha and Caustik. Tickets are $5 before 8PM, $10 before 9PM and $15 for the rest of the night.
The Ataris @ The Marquis
With five full-length albums under their belt and a sixth on the way, The Ataris are still going strong and are one of the few bands around still bringing pop-punk to the masses. The band is currently on a U.S. tour honoring their 1999 album "Blue Skies, Broken Hearts…Next 12 Exits," and that tour is hitting the Marquis on Tuesday evening, with support coming from local acts Black Dots and Arliss Nancy. If you miss the '90s when pop-punk reigned supreme, or you just want to see that band who does a pop-punk cover of Don Henley's "Boys of Summer," then be sure to catch this show! Tickets are $15 in advance, and $17 the day of the show.
Wednesday, July 15
Death Cab For Cutie @ Red Rocks
America's favorite indie rock band Death Cab For Cutie are hot on the release of their latest album Kintsugi, and Red Rocks will be hosting them on Wednesday. Following the recording and release of Kintsugi, founding Death Cab For Cutie guitarist and producer Chris Walla left the band to pursue other musical endeavors, but in spite of this, Death Cab is definitely still worth catching live. Tickets are $38.50 – $48.50 in advance, and $50 at the door.
Thursday, July 16
Morrissey @ Red Rocks
Legendary English indie-rock artist Morrissey is still very much alive and kicking. Don't believe me? Go see Morrissey in Morrison (see what I did there?) at his show this Thursday at Red Rocks and see for yourself. Joining him will be indie pop up-and-comers Future Island, who have caused quite the stir in the music world with their live show. Oh, and because Morrissey is an outspoken PETA and animal rights activist, no meat will be served at this show. And no, I'm not joking. Vegetarians and vegans, you're going to want to get in on this. Tickets range from $45 to $89.50.
Friday, July 17
Darius Rucker @ Fiddler's Green
Former Hootie and the Blowfish frontman and current country superstar Darius Rucker is coming to Fiddler's Green this Friday in support of his new album, Southern Style. Supporting him will be Brett Eldredge, The Brothers Osborne and A Thousand Horses. This would be a great show to take the family to, and it's supposed to be 90 degrees on Friday, making this show the perfect setting for a memorable summer's night! Tickets range from $22 to $100.

Global Dance Festival @ Red Rocks (Three Nights)
The widely-loved, hotly attended annual Global Dance Festival is happening this weekend at Red Rocks, and the fun starts on Friday. This year features tons of EDM artists from all over the globe, including Flosstradamus, Kaskade, Datsik, Kill the Noise, Benny Benassi and way too many more to name here. Global Dance Fest is likely the very reason the residents of Morrison are demanding a noise ordinance statute to be put in place; in other words, it's always a good time. The only tickets left are $210 general admission three day passes or $90 one day passes, so if you mean to go, you best get on it before tickets are gone!
Jurassic 5 @ The Ogden (Two Nights)
Famed alternative hip hop group Jurassic 5 reunited two years ago after breaking up in 2007, and this weekend they'll be performing live at the Ogden for not one, but two nights as part of a summer headlining tour that kicked off on July 9 in L.A. and will wrap up on July 19 for our fellow Colorado mountain friends in Bellevue. The band is fresh off of a headlining trek through Australia, New Zealand and Japan, and they plan to keep the momentum going after this U.S. tour by heading off to Europe and bringing their beats to the masses there. Don't miss this rare opportunity to catch this legendary hip hop group live and in the flesh. Tickets are $35 in advance and $40 the day of the show.
Saturday, July 18
Train & The Fray @ Fiddler's Green
Radio mainstays Train are teaming up with Colorado's musical claim-to-fame The Fray this Saturday at Fiddler's Green as part of their "Picasso at the Wheel" summer U.S tour, also featuring special guest Matt Nathanson. The name of the tour is, of course, allusion to both bands' latest albums Bulletproof Picasso and Helios, which were released last year. This is another show that would be great to take the whole family to, so call all of your angels and go learn how to save a life with Train and The Fray this Saturday! Tickets range from $30 to $100.
Meghan Trainor @ The Fillmore
Bubblegum pop sensation Meghan Trainor has been teaching the nation that it's all about that bass and no treble, and you can get a firsthand lesson from her live and in person this Saturday at the Fillmore. Her debut album Title came out of nowhere and became a hit practically overnight, and since its release she's been taking over the airwaves with her hit singles "All About That Bass" and "Lips Are Movin'." Gentlemen, this would be a good one to take your ladies to (hint hint), so take one for the team and show her what your bass can do this Saturday night; I mean, Meghan Trainor's not that bad, right? Tickets range from $56 to $66.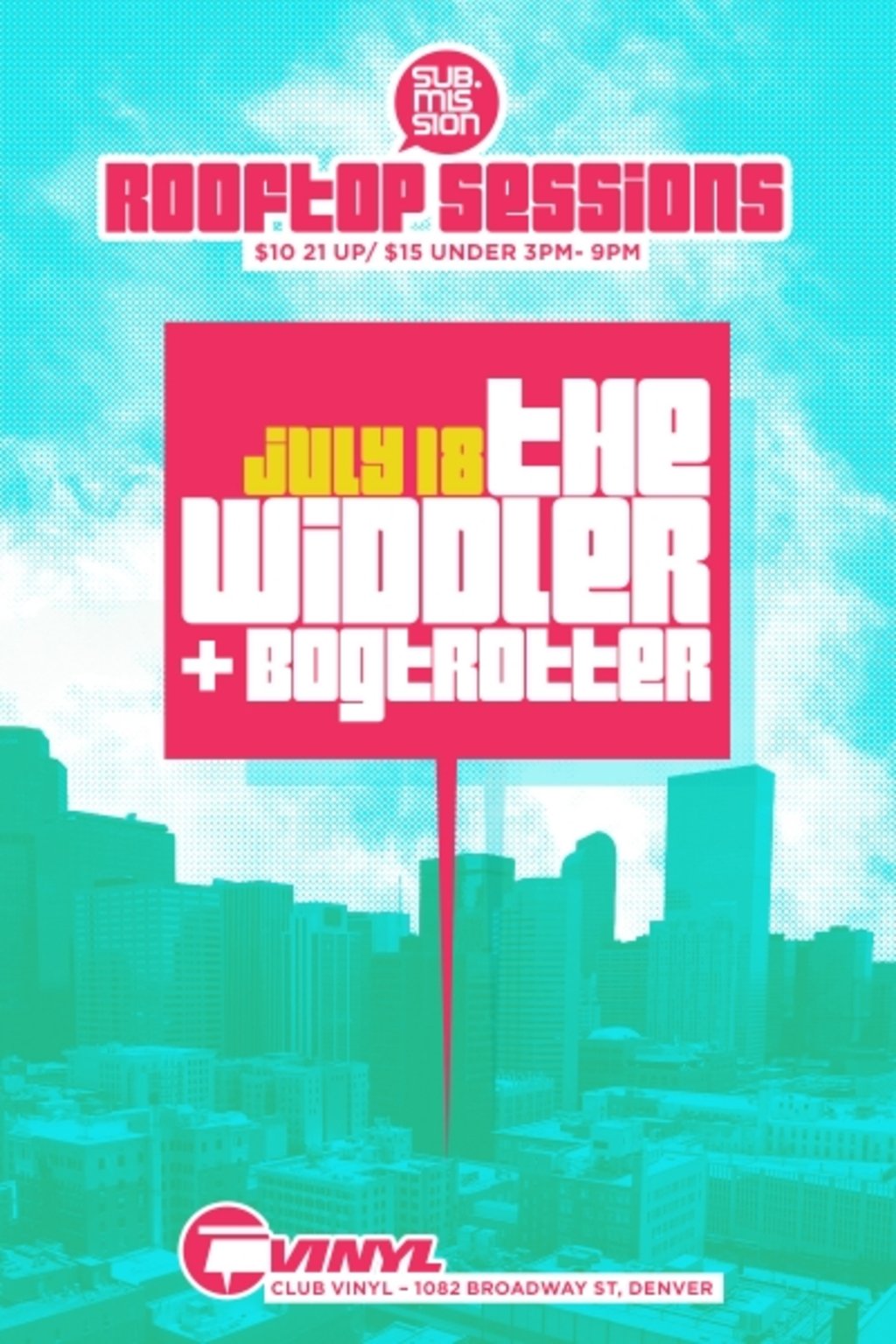 Sub.mission Rooftop Sessions @ Club Vinyl
Sub.missions special summer-only show series, the parties on the roof of Club Vinyl, kick off with special guest The Widdler headlining the show. BogTroTTer, Cloud-D, RumbleJunkie, CurlyOnE and Myxed Up will be playing as well, and dancing the day away on the rooftop is the perfect way to spend summer. This one kicks off early, at two in the afternoon, and tickets are between $10 and $15.
Sunday, July 19
Ryn Weaver @ The Bluebird
Ryn Weaver made a big name for herself with her debut smash hit, "Octahate," featuring infectious melodies and Weaver's poignant lyrics and flowing vocals. The song was a welcome reprieve from the mundane pop music lately and Weaver burst into a space in the genre created just for her. The first video that accompanied the single was artsy, colorful and visual eye-candy that you definitely watched at least four times in succession. Sadly, the video was reshot, replaced and taken down from the labyrinth of the interwebs. Weaver released her first full-length, The Fool, in June and has been touring to promote the album ever since. It's chock-full of the summer pop anthems we hoped for, with standouts like "The Fool," "Promises," "Pierre," "Sail On" and "Runaway."She will be at the Bluebird Theater this Sunday, so don't miss this edgy pop-Athena. You won't be disappointed.
Tickets are $18 ahead and $20 day of the show.
By Aaron Lambert and Addison Herron-Wheeler