Another month, another slew of summer-centric activities. Narrowing down which to attend can be difficult, so let us help you out. Head on over to The Riviera at The Breakers next Friday for a FREE show featuring Em Possible and her band The Possibles. Emily Geeves, an up-and-coming local singer-songwriter has been playing music in and around the Denver scene for a few years now. Slated to play the Riviera next week, we caught up with Em and asked her about her music, her inspirations, and her experience playing festivals. Don't miss out on an awesome summertime show!
When/how/why did you start playing music? How did you get your start?

I've been singing since before I could talk. I was in choir at church and in school every year, and then I played piano for a couple of years in grade school. I picked up guitar when I was about 15 and have played on and off since then. I started playing because I knew friends who played different instruments and wanted to be able to accompany myself. I also wanted to start writing music and I knew being able to write, sing, and play myself would be easier than depending on someone else. As far as my "start" I would have to thank my friend Callie Belo who is also a local Denver singer. She invited me to play at one of her shows a couple of years ago and that got me into the mindset and work mode of wanting to have my own show. Mike Knopping also reached out to me not too long after my first show with Callie and asked if I wanted to work as a vocalist with some of his Party Guru Productions groups.
Some of your music has a soulful, almost jazzy quality to it, you write acoustic tracks, and you work with electronic artists – how did you find your sound?

I think I found my sound after I started recording in a professional studio. Being able to really hear what I sounded like as well as getting feedback from people who had never heard me before definitely helped. That and getting comfortable with my vocal range, knowing my limitations, allowed me to hone in on a "genre" that works best for me. As far as applying my sound to electronic artists and acoustic tracks, there is the same underlying tone and style that I apply to anything I do. I think the addition of the EDM tracks with my vocals, or the simplicity of just a guitar with my voice, are what make it sound a little bit different.
What is your songwriting process like?

My songwriting process….well it's not really a specific process. It changes depending on the song. I wrote every song on my album, Check Mate, that I released last year. Because I have a couple of different band members depending on who is available for a show or studio time, a lot of the writing I do myself and then I bring them in to put their touch on their part. I will say I have a lot of journals full of one or two sentences that I puzzle piece into songs. When I actually start to put a song together, I like to have it done from a lyrical standpoint in at least a day, maybe two. I also write a lot or seem to be inspired a lot when I'm in my car – thank goodness for Siri keeping me hands free haha.
You've covered everything from Amy Winehouse to Passenger to Ella Henderson – who inspires you the most? Who are some of your favorite artists?

I like to challenge myself as an artist in who I cover, and I think that plays a part in my working with artists/groups who do the polar opposite of what I do. I would have to say growing up I listened to anything from Frank Sinatra to Nora Jones to The Rolling Stones. All said and done though, Fleetwood Mac is my favorite band, I love Stevie Nicks!! I also love K Flay, John Legend, Twenty One Pilots, The Weeknd, Drake, Boombox, Of Monsters and Men…. I listen to everything. That makes it difficult to narrow down my inspirations, but I guess I would have to say one of my biggest, or current, inspirations are ZZ Ward and Amy Winehouse.
You work with electronic artists like Gangstaz on Acid and Dirty Little Thieves. How did you get hooked up with those guys, and what is working with them like?

Mike Knopping got me started with those Party Guru Artists, and added me in to put a different spin on some of the current tracks those guys had in place and to change it up a bit moving forward. I've been working with them for a couple of years now, and I will say they are a rowdy group. I love them though, they're like my brothers, and as Knopping likes to say – "they needed someone who would keep up and put up with their shit." Haha. But they have taught me a lot and I'm thankful I've been able to expand myself as an artist by working with them.
You played Sonic Bloom with Gangstaz on Acid the past two year. How would you describe your experience performing at a big festival like that?

The first year honestly was kind of a bummer because we had a tornado cloud over our stage five minutes into the set, so we didn't get to perform all of our songs. That's Colorado weather for you. But Sonic Bloom is awesome. I love being on stage, and being on stage at a festival like that is exciting. It also allows me to reach a crowd that I maybe wouldn't get too with just my music. Being the vocalist for GOA – I came on after they'd established themselves and their fans – so it's always a good feeling getting off stage at a festival and having people ask who you are and where they can hear more of your music.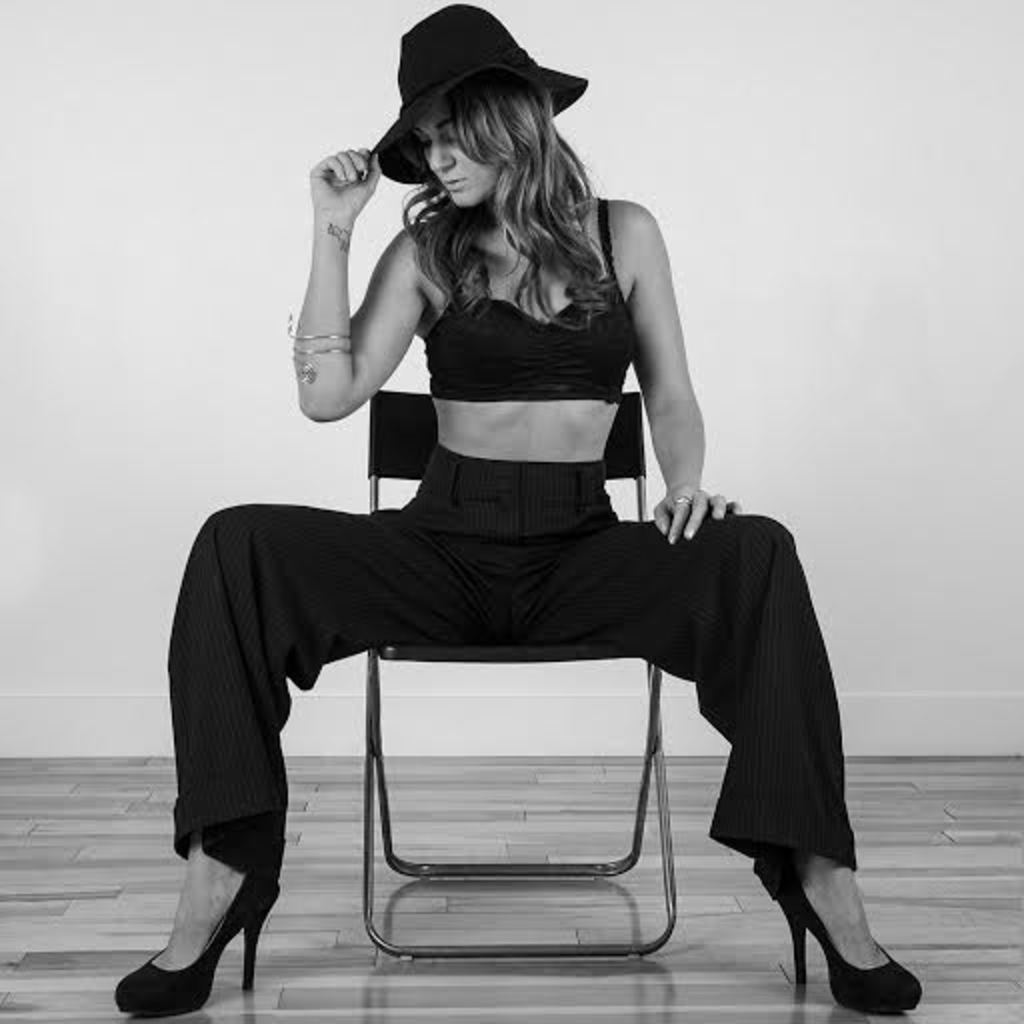 Other than music, what else in the world inspires you?

I love to travel and I love to meet new people, especially artists. I was just in St. Thomas and my waitress told me she was a singer. At the end of my meal her and I exchanged a verse and chorus of a song, a cappella, in the middle the restaurant. It was one of the coolest things ever. Everything else that inspires me in this world always circles back to music.
What's the best thing about playing and performing music?

The best thing about playing and performing is being able to share something with someone or a crowd of people; knowing that in some way you're evoking an emotion in them. And there is no better feeling than looking out into a crowd of people who are singing along to every word of one of your original songs.
What would you like to accomplish with your music?

I want my music to reach as many people in as many places as humanly possible. I want my music to reach people on a level where they can draw a parallel between something in their own lives to what I'm singing about. One day I'd love to headline Red Rocks. But even if that doesn't happen, I'll never stop playing or putting music out there. As long as people continue to share with me that they love my music, that I inspire them, and they can't wait to see me perform, I'll feel like I've accomplished a lot.
What can your fans expect to see at The Riviera next week?

Next week you can expect to see myself and five incredibly talented guys put on a show. I'll be attempting to rap a little bit for the listening humor and pleasure of the crowd, but they will also get a more developed me. I've grown a lot as an artist in the last year, even the last couple of months, and as I'm finding my groove, my confidence is growing. I'll say the fans will be pleasantly surprised!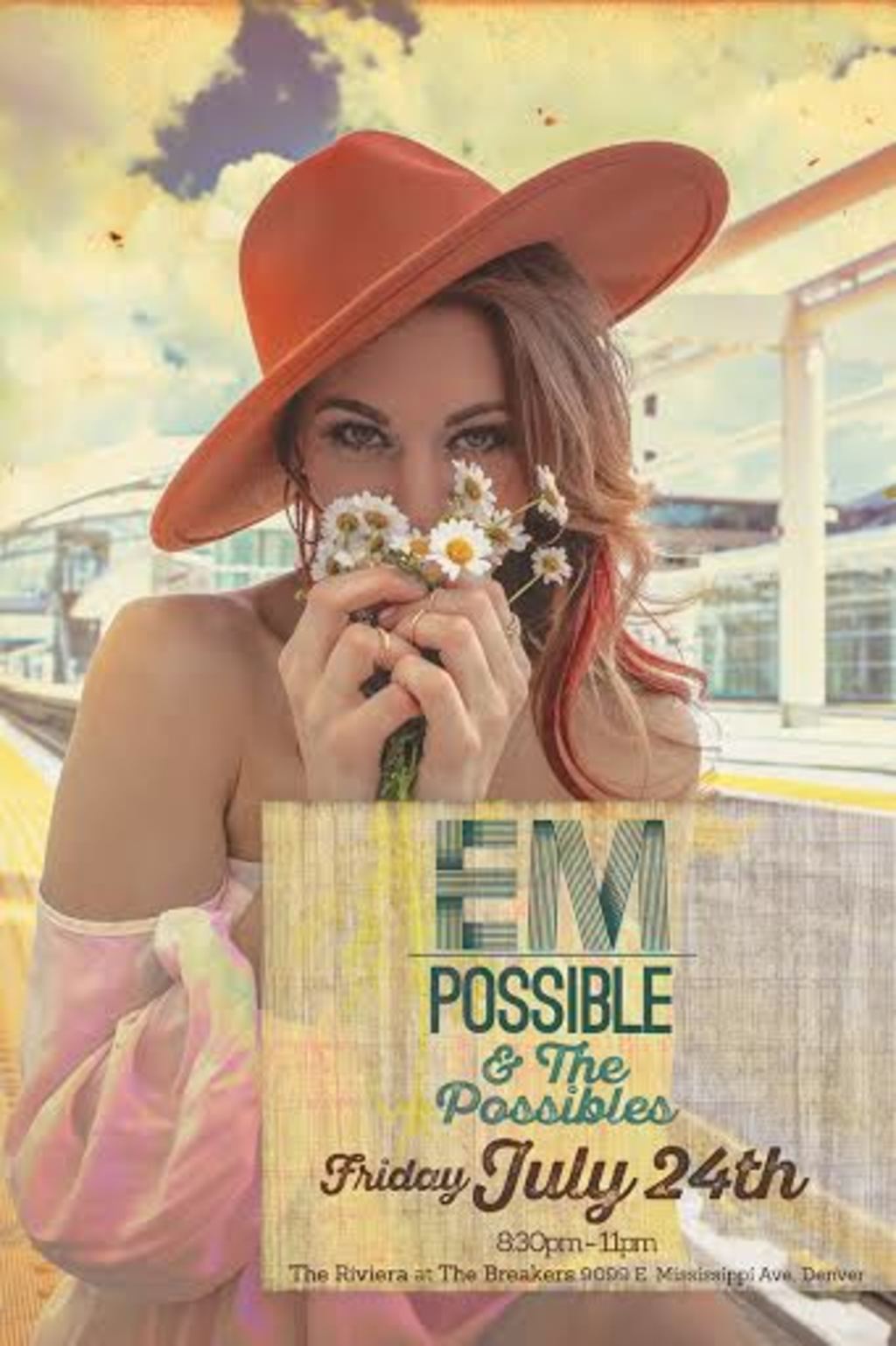 Em Possible and The Possibles are: Emily Geeves – Vocals + Guitar, Joe Lilly – Sax, Tate Ignelzi – Drums, Chris Cook – Bass, David Majeras – Guitar, and Johnny Bosbyshell – Keys. You can catch their free show next Friday, July 24th at The Riviera from 8:30 – 11pm.