What: A patio with a view and a happy hour with plenty of food and drink options.
Where: 1691 Central St., Denver
Neighborhood: LoHi
When: All day on Tuesdays; Wednesday-Friday, 4-6 p.m.; Saturday & Sunday, 2-6 p.m.
*You can also enjoy the Sunday Music Series featuring live acts and an extended happy hour (2-8 p.m.) every Sunday through the end of July.
Pro: A stellar view of downtown Denver.
Con: The restaurant is closed on Mondays (the one day we often need happy hour the most).
Pro Tip: The patio at Central Bistro is a prime spot for Fourth of July fireworks viewing. Make a reservation now and spend the holiday enjoying happy hour from 2-6 p.m. and score the boxcar burger and fries for $15 all night long. 
It's officially summer, which also means it's officially patio season. Because when you live in a state as beautiful as Colorado, you've got an obligation to fit in as much time outdoors as possible. Central Bistro agrees, which is why this restaurant's happy hour menu has been specifically designed for optimal patio enjoyment. When it comes to summer dining in Denver, this spot should be on the top of your list. 
The Space
By balancing modern elements with a classically comfortable feel, Central Bistro has an atmosphere that's just right for any diner. Warm details like the rustic wooden tables and flowers lining the patio mix with more contemporary touches like the metallic, spherical light fixtures hanging from the ceiling resulting in a space that's stylish without being overly trendy. On a recent visit, every guest, from young professionals unwinding in the bar area to a family sharing a meal with several generations at one table, enjoyed their meals with ease (and smiles).
The centerpiece of the space in summer is the patio. With the Denver's ever expanding skyline as the backdrop, you can catch the sunset while getting in some prime-people watching. But even if you chose not to sit on the patio, the space's large windows and open bar area work to bring the outside in. Earlier this year, the interior was updated with the addition of several fresh new accents including new paint and upholstery and improved acoustics to cut down on noise – though one well-known focal point remains the same: the "HOT" sign that hangs above the kitchen.
The Drinks
No matter what your favorite libation is, Central Bistro's happy hour beverage selection truly has something for everyone. Beer lovers can get a $3 Coors Light or chose from the selection of drafts like Declaration's session IPA for $4. Prefer wine? Select glasses are available for $5 with options changing regularly, but the focus always remains on easy-to-drink, patio-friendly selections that'll have you ordering a second (and maybe even third) glass.
The craft cocktail option ($6) also rotates, giving you a deal on original creations like the Boardwalk Bullet, a fruity, bourbon-based concoction complete with champagne bubbles, and old school classics like Central's version of the G&T with Cap Rock gin and house made tonic. For $5, score a selection of more basic offerings like the seasonal champagne cocktail (currently a blood orange mimosa) or the Horse's Neck made with Dickel whiskey, ginger ale and bitters. Premium well spirits are also on special for $4.
The Food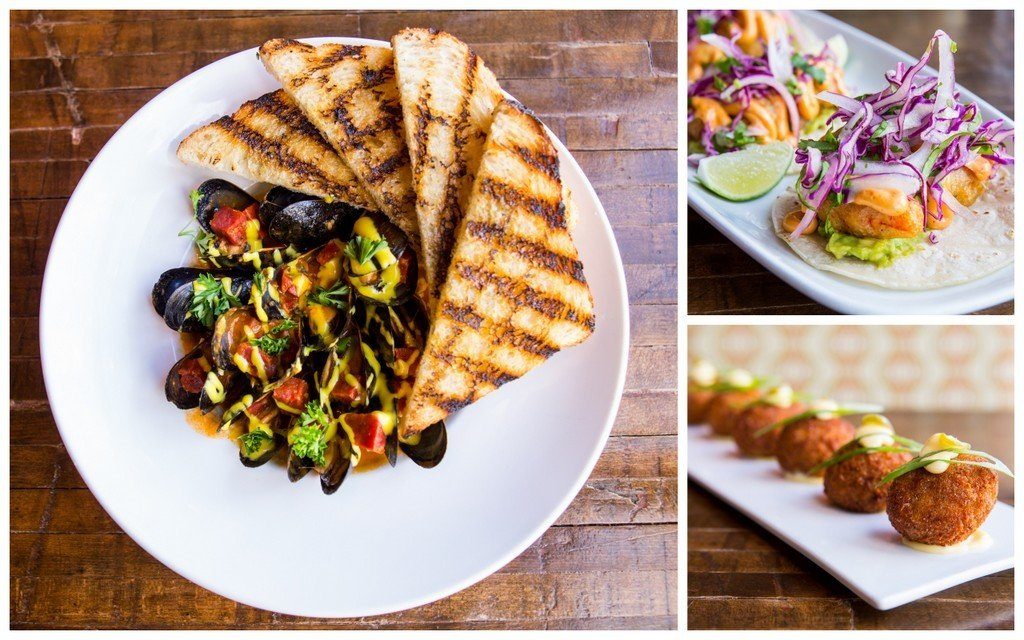 Described as "contemporary American," the food here covers a broad spectrum of dishes. But every item follows a common theme: taking something easily recognizable, and then exceeding expectations with a combination of fresh, clean flavors, impressive presentation and consistent execution from the entire kitchen staff.
If you're a fan of seafood, you're especially in luck because the two stand-out happy hour items here are fresh-from-the-ocean treats. The Baja shrimp tacos ($3 each) have been on the menu here for a while, and with good reason. Plump shrimp is fried perfectly in a light batter and served with red cabbage, onion, cilantro, avocado, and a chipotle mayo which adds just the right amount of kick.
It's the Spanish Mussels ($9), though, which had me literally cleaning my plate. A heaping pile of these tasty bivalves is served with large cubes of chorizo and grilled bread for sopping up the sofrito broth. Every bite of this dish explodes with the salty, spicy bites of sausage and the richly flavored broth punctuated by the aroma of onion and garlic. This dish paired with and a glass of white wine would make any afternoon instantly special.
Not a seafood fan? Not to worry. Snack on selections like the artisan cheese plate ($12) or confit chicken wings ($7) with a choice of three sauce options. Giving new life to the uber-popular Brussels sprouts are the pork belly sliders ($3 each) which are served on a soft bun with beer mustard, smoked gouda, tart apple slices, and just a few crispy Brussels sprouts leaves giving you the flavor of this prevalent ingredient without subjecting diners to yet another take on a Brussels sprouts-centric dish.
With nine items to choose from, Central Bistro's happy hour eats have a little something for everyone. So whether you've never been into Central Bistro or it's just been a while since your last visit, summer is the ideal time to experience this Highlands staple.
All photos by Camille Breslin.