This week in fashion has been truly international with shows in Korea, red carpet looks in New York and one of the most fabulous events of the year, the New York city Met Gala. This event brought out international celebrities all coming together for one cause.
See below for our top looks of the night. Chanel took it to Korea this year for its resort wear 2016 collection. The show offered up some exciting looks for spring we can't wait to see on the streets. And finally the Maison Martin Margiela documentary is out for streaming.
This Week in Fashion: The Met Gala, Chanel in Korea, and FIT's Graduating Class
The Met Gala
The largest fashion event of the season was just here with looks from the red carpet that we're falling head over heels for. The Met Gala is an annual fundraising ball for the benefit of the Metropolitan Museum of  Art's Costume Institute in New York City. Each year the institute celebrates a different theme in fashion, and each guest is expected to match that theme. This years theme is China: Through the Looking Glass. The event brings out the hottest names in fashion and was hosted last year by Anna Wintour and Sarah Jessica Parker. This year the spotlight is back on the girls and while some celebrities did not seem to get the memo about the theme, others blew our mind.
Chanel Korea
Karl Lagerfeld has made quite a name for himself in fashion. So much so that stars are willing to make the thousand-mile trip to attend one of his spectacular shows. His Korean show had more then just K-pop stars in the audience. Some more recognizable faces included Gisele Bundchen, Kristen Stewart and Tilda Swinton.
The collection was playful with colors being used left and right from bright lips to multicolored garments. Tweed suits were, of course, part of the mix but had a fresh look with short hems. Crazy colorful jump suits made an appearance that we're sure will be a hot trend for spring next year. The hair was full of volume, meant to mimic "traditional hairstyles worn by ancient Korean nobility."
FIT New York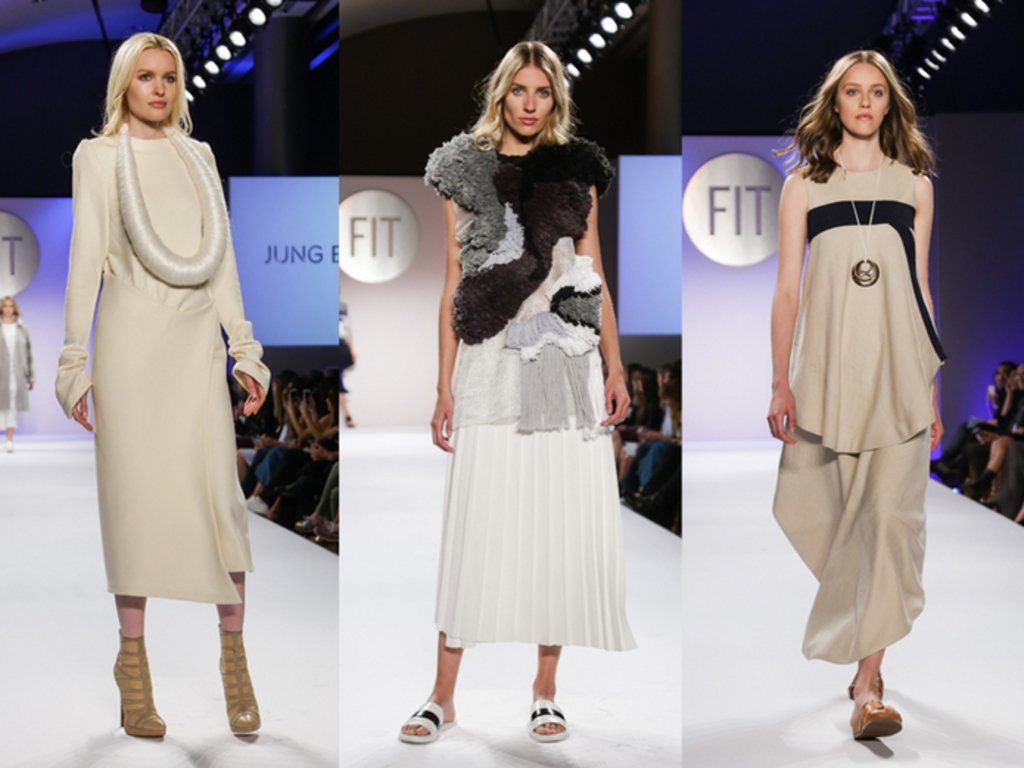 The Fashion Design students over at FIT New York are putting an emphasis stability for the future. The theme of each piece was chic wearability with agenda-pushing innovations. Each garment is meant to have a lasing feeling with good quality fabrics and production. The show started with a variety of black and charcoal tones. There were hints of color but mostly muted tones in yellows and oranges. Overall the theme of the show was commercialism. While the looks were not ground breaking or avant garde, garments were great for retailers.

Maison Martin Margiela
Maison Martin Margiela has always frosted a sense of mystery around this infamous brand. Little is known about the Belgian fashion and designer. Margiela rarely allowed photography backstage and only deals with communication via fax. After graduating from university Margiela worked as a freelance designer for five years. He's created relationships with designers such as  Jean Paul Gaultier,  Rei Kawakubo and Haider Ackermann. Fashion was suprised when John Galliano was appointed to take over the creative director of Maison Martin Margiela in 2014.