Sue Ye Kuang is a young designer, originally from Shanghai, ready to paint the world black. She started studying in the U.S. at Academy of Art University and is on her way to New York after graduation.
Growing up, Ye Kuang was interested in drawing clothes ever since elementary school. This interest stayed strong until high school when she realized she wanted to be a fashion designer. "I chose to study fashion abroad, and I was very glad that I made this decision," she said. She said that her unique sense of taste and style will set her apart from her young designers. She also extremely proud of her laborious design process.
303 Magazine recently sat down with the up-and-coming designer to discuss aesthetic, living in San Francisco and her love for the color black.
Ones to Watch: Sue Ye Kuang
303 Magazine: Can you tell us a bit more about your personal design aesthetic?
Sue Ye Kuang: My design aesthetic focuses on silhouette, but I also add details to make my designs look more interesting. I like extracting the silhouette from architectures and then transform them into the shape of my design. My design is kind of neutral, but always mixed with feminine elements.
303 Magazine: What major influences have affected your design?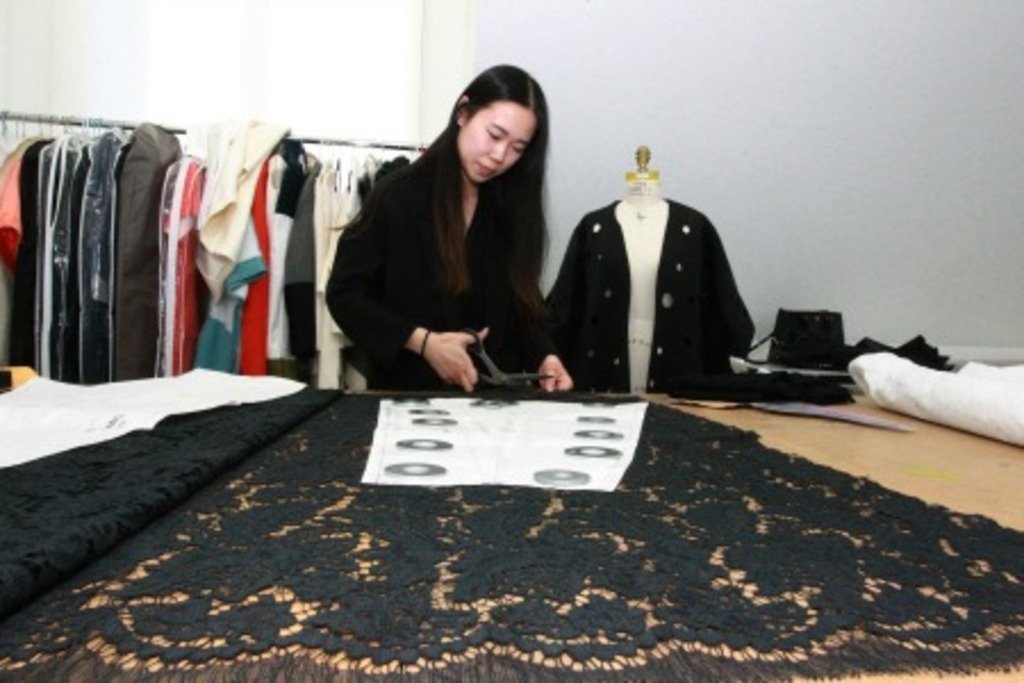 Sue Ye Kuang: Because of my love for black, I use black nearly every time. But this is my first entire black collection, and I'm very glad that I tried it. Also, I'm very inspired by architectures and sculptures, because I like playing with the structure of cloth. So my design always end up in a geometrical shape.
303 Magazine: Your collection consists of mostly blacks. Is there a reason behind this? Do you plan on using more color in the future?
Sue Ye Kuang: At the beginning I didn't mean to do a whole black collection, but black was still my major color. After hearing my instructor Gary's advice, I decided to combine the feminine fabric – lace with the neoprene and leather. This is still connected with my inspiration, because the lace can show the skin. This fabrication will give people a neutral feeling at first, but a feminine feeling after they notice the lace behind the laser-cut holes. Also, I definitely plan to use more color in the future to let people know that I have the ability to create a collection in color without losing my style and attitude.
303 Magazine: Do the large perforated holes in the garments have a specific message or are they simply for aesthetic reasons?
Sue Ye Kuang: The perforated holes are inspired by architecture – a waste incinerator by Erick van Egeraat. There are a lot of irregular holes on the architecture for diffusing the smoke during incinerating. I convey this detail to my design, so it definitely has a specific message.