Springtime is always a great time for doom, and this week packs a serious doomy punch with both Inter Arma and Conan playing here to start the week off. There are also some great death metal and metalcore shows happening, as well as some other events worth checking out. So head there and celebrate the brutality of springtime in Denver with some awesome metal events!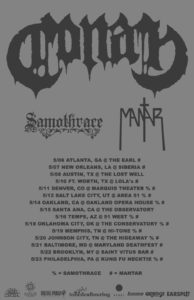 Conan @ The Marquis – Monday, May 11th
The three-piece that is Conan is gracing Denver with their presence this Monday and getting the week off to an epic start. If you aren't familiar with this group, think doom that manages to be droney and groovy at the same time, with the added bonus of an awesome theme: the Conan the Barbarian story series, better know because of the film based on those stories starring Arnold Schwarzenegger. The awesomeness of this show will only be added to by the fact that doom greats Samothrace and Mantar are opening up and local band Wayfarer is providing the first act.
Who: Conan, Samothrace, Mantar
Doors: 7:00PM
Cost: $12

The Contortionist @ The Black Sheep – Monday, May 11th
Last week we previewed this awesome prog tour staring heavies The Contortionist in Denver. Well, if you missed out, they are playing in Colorado Springs this Monday, so you can drive down and catch them. It'll be worth it if you're a big prog fan – opening the show are Chon and Auras, as well as the local ICEDKING.
Who: The Contortionist, Chon, Auras, ICEDKING
Doors: 7:00 PM
Cost:  $10 in advance, $12 the day of

Inter Arma @ Lost Lake Lounge – Monday May 11th
If you like your metal slow, sludgy and full of doom, then you're not going to want to miss Inter Arma and Yautja destroy Lost Lake Lounge
on Monday
night. Inter Arma will be performing their entire, 46-minute song "The Cavern" which appeared on their eponymous EP from last year, and Yautja are an absolute force to be reckoned with live, with their sludge-infused brand of groovy grind. Joining them will be doombringers Usnea and local heavyweights Call of the Void. If you want to see some of underground metal's best bands, be sure to catch this show.
 Who: Inter Arma, Yaujta, Usnea, Call of the Void
 Doors: 8:oo PM

 Cost: $11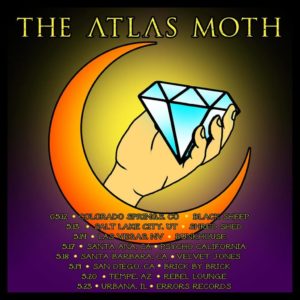 The Atlas Moth @ The Black Sheep – Tuesday, May 12th
The Atlas Moth have been sending shockwaves through the underground and beyond for several years now, and why wouldn't they be? They totally rule. Lucky for those who live in the Springs and those willing to make the drive, they'll be hitting the Black Sheep in Colorado Springs
this Tuesday
alongside local acts Khemmis, Alone and The Sleer. Their sludgy and highly emotive sound continued to develop on last year's excellent
The Old Believer
, and they're known for putting on a killer live show. If you live in Denver, they'll be worth the hour and a half drive!
 Who: The Atlas Moth, Khemmis, Alone, The Sleer
 Doors: 7:oo PM

 Cost: $10 in advance, $12 the day of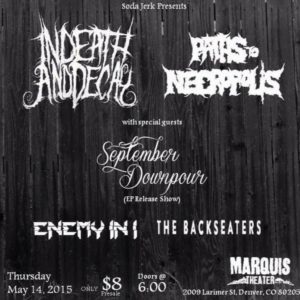 In Death and Decay @ The Marquis – Thursday, May 14th
Local metalcore act In Death and Decay will be headlining the Marquis
this Thursday
evening along with several other local metal bands, including Paths to Necropolis and September Downpour, who will celebrating the release of their debut EP
Misconceptions
at this show. In Death and Decay have been generating a good local following, and it's always good to see a metal show comprised entirely of local acts. If you're looking for something to do
on Thursday
night, check this show out!
 Who: In Death and Decay, Paths to Necropolis, September Downpour, Enemy in I, The Backseaters
 Cost: $8 in advance, $10 the day of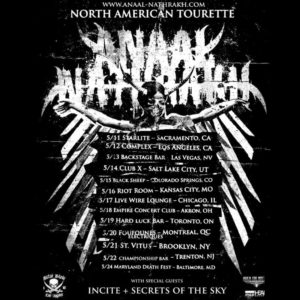 Anaal Nathrakh @ The Black Sheep – Friday, May 15th
The extreme assault that is Anaal Nathrakh is going to blasting the Springs this Friday. AN blend the intensity and brutality of death metal and grindcore with the atmosphere of black metal and industrial music, and pull it off well – they were fusing genres long before many of the newer bands to try this. Opening the bill will be Incite, Secrets of the Sky, and Nybbas.
Who: Anaal Nathrakh, Incite, Secrets of the Sky, Nybbas
Doors: 7:00 PM
Cost: $12.00 in advance, $14.00 at the door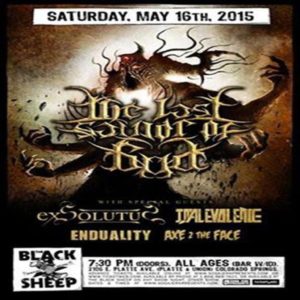 The Last Savior of God @ The Black Sheep  – Saturday May 16th
The Black Sheep will play host to an all metal showcase this Saturday, with a headlining performance by The Last Savior of God, local extreme metal, and opened by local acts Exsolutus; I, Malevolence; Enduality and Axe 2 the Face. Come out to see what's going on in the local scene and show some support.
Who: The Last Savior of God, Exolutus; I, Malevolence; Enduality; Axe 2 the Face
Doors: 7:30 PM
Cost: $5 in advance, $8 the day of
By Aaron Lambert and Addison Herron-Wheeler
All photos courtesy of facebook or event pages
Want to be featured in the Metal Meltdown? Send all inquires to [email protected] or [email protected] com