What: Fiction Beer Company, a book themed brewery. 
Where: 7101 E. Colfax Ave., Denver
Neighborhood: Park Hill
Pro: Amazing beers, with a wide range of flavors.
Con: Location is a little small.
Standing like a bookend at the edge of a bright corner mall on East Colfax, Fiction Beer Company is one of the few brewpubs to grace this neglected side of Denver. Owners Ryan and Christa Kilpatrick have done an excellent job giving their brewery the great atmosphere and delicious beer variety that puts them on the map as a classic stop in the scene of Denver micro-brews.
The Owners
Fiction Beer Company started as a collaboration between Ryan Kilpatrick, and his wife Christa Kilpatrick. The couple described themselves as a beer geek and a book nerd, that combined their passions into a family made brewery. Ryan Kilpatrick is a self taught brewer, with over six years of experience in the laboratory classroom of his garage.
Christa Kilpatrick is the book nerd who comes up with the titles for Fiction Beer Company's beers. Each name comes from the combined inspiration of a literary source, and the style/ flavor of the beer. Names can come from an a novel like Kerouac's "On the Road" or "The Princess Bride," but can also come from a literary theory as well. The beer menu gives a detailed explanation of each name/ beer pairing that is both interesting, and entertaining.
The Atmosphere
Fiction Beer Company's design gives off the feeling of the comfort found in a coffee bar, but with a deliciously alcoholic twist. Lofted ceilings around the entire brewery give the building a sense of open space. Comfortable couches nestled near a fireplace are great for relaxing and socialization while tables around the rooms can house larger groups —all lit by warm natural light from the large windows.
Their greatest feature of all has to be the bar. A long slab of laminated pine wood that spans halfway across the brewery, and is held up by hundreds of reclaimed books that were specialty crafted by a carpenter to make a stable base.
The Beer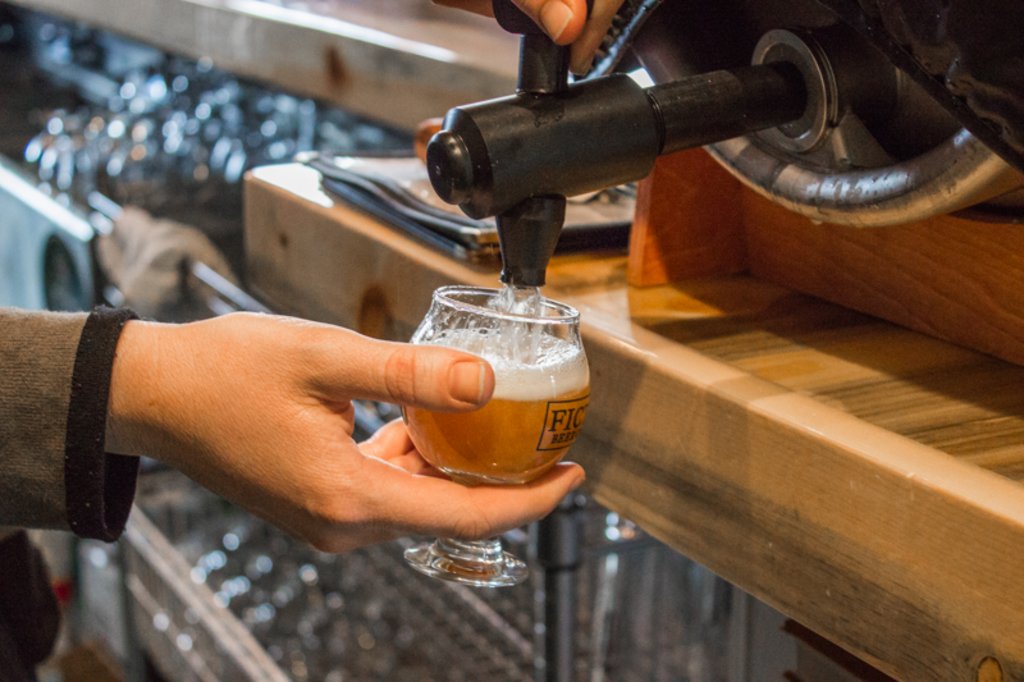 Fiction Beer Company has a large variety of beers to choose from. Largely influenced by the West Coast hopping style, many of the beers have a floral nose, and citrus flavor that stands out from the typical Rocky Mountain style of Denver micro-brews:
Feely Effects is a complex stout to review. The body has all of the characteristics of a stout, most notably with an initial taste of chocolate and thick roasted grains. The green tea is noticed as a secondary flavor, when the refreshing flavors wash away the typically thick after taste, making this beer oddly refreshing.
Old Bums and Beat Cowboys Pale Ale is Fiction Beer Company's take on the pale ale. A light caramel flavor is paired with a hint of biscuit, and is finished with a west coast style hop finish of citrus taste and floral nose. The result is a delicious, unique, and easily drinkable pale ale.
Denouement is a raspberry Belgian quad with brettanomyces. The most dominant flavor was a sweet raspberry, that blends well with the traditional candy finish of a Belgian quad. Using Brettanomyces as the fermenting yeast results in a slight bread flavored after taste to the sweet body of a traditional Belgian quad.
Ruse Czech Pilsner is very unique, which is a rare adjective to use for a pilsner. Subtle ruse maintains the traditional light grainy flavor of a Czech pilsner, but also adds the flair of a west coast style citrus and floral hops. This small tweak of the traditional pilsner adds more flavor to the grain body of the beer, and taste just enough like fruit to make it stand out in any summer beer lineup.
All photography by Kim Baker