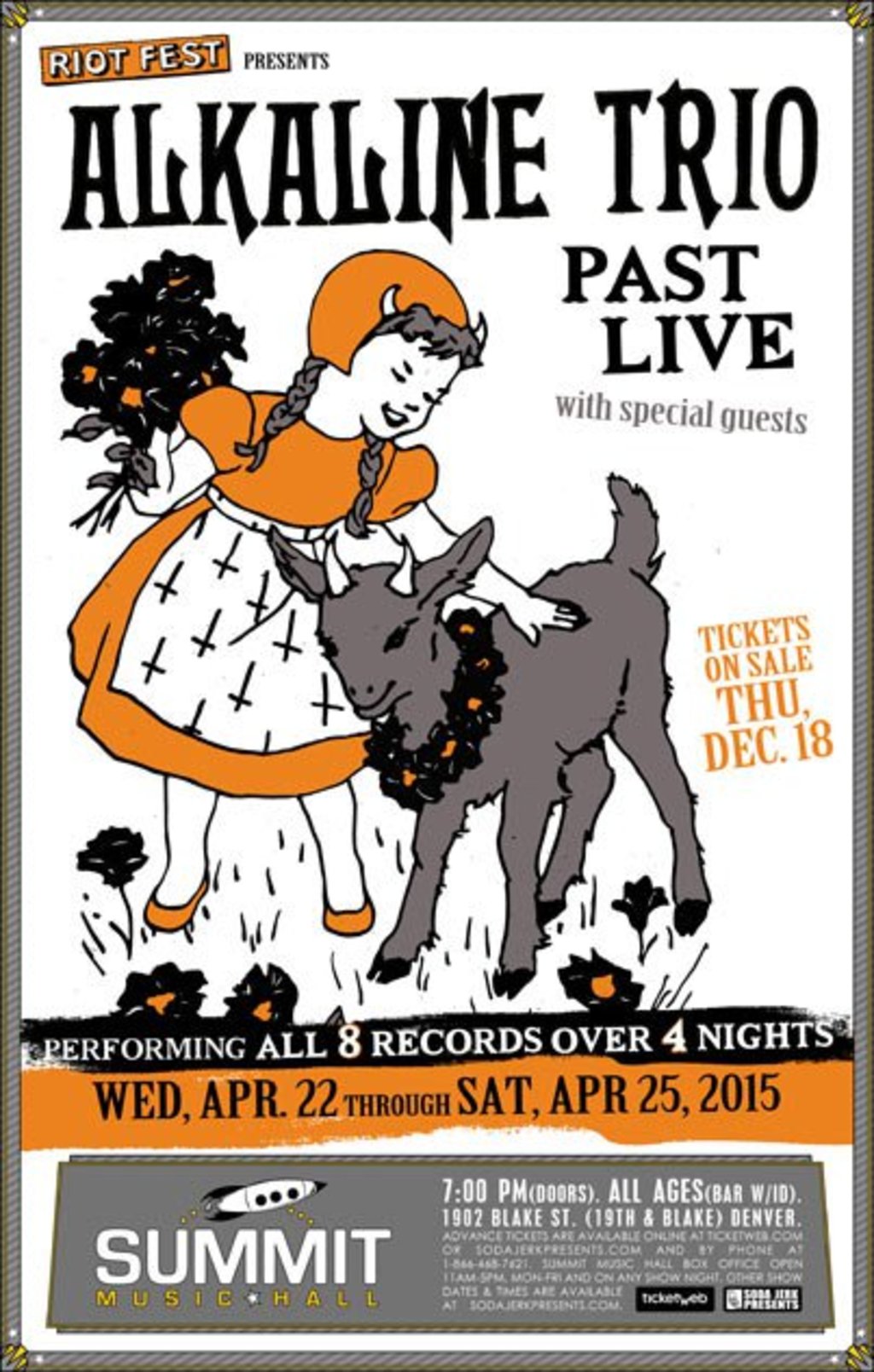 One of Chicago's finest in punk rock outfits, Alkaline Trio, will be stopping by Summit Music Hall this week for a whopping 4-night residence, beginning Wednesday, which will see them playing their entire discography (8 full-length albums to be exact) over the course of the long weekend. Denver is the first stop on their summer run of the Past Live tour, which will cover 7 subsequent cities across the nation, each stop lasting 4 nights.
8 records, 4 nights:
Goddamnit (1998, Asian Man Records)
Maybe I'll Catch Fire (2000, Asian Man Records)
From Here To Infirmary (2001, Vagrant Records)
Good Mourning (2003, Vagrant Records)
Crimson (2005, Vagrant Records)
Agony & Irony (2008, Epic Records)
This Addiction (2010, Epitaph Records)
My Shame Is True (2013, Epitaph Records)
But don't expect the Trio to bust through their discography in a linear fashion, as the setlist for each night, at this point in time, is undisclosed … Expect the unexpected. It is expected though that they will be playing two full records each night; it's simply unknown as to which records will be played. You may get a taste of Crimson followed by My Shame Is True, or Maybe I'll Catch Fire preceding Good Mourning — you'll just have to wait and find out.
For Alkaline Trio's lead vocalist/guitarist, Matt Skiba, this will be quite the change of pace. Matt has been making recent headlines in the punk rock world, playing as the lead guitarist/vocalist replacement for Tom Delonge in Blink-182. Skiba and Blink-182 bassist Mark Hoppus have been quite vocal since the changing of the guard, and have even hinted at the possibility of a future Blink record in the works.
And don't think the other two members of the Trio haven't been hard at work, as both Dan Adriano (bassist/vocals) and Derek Grant (drums) have released solo efforts under Dan Adriano In The Emergency Room and Derek Grant respectively. Both have also toured extensively with and without Alkaline Trio.
But for now, Skiba, Grant and Adriano have returned back to their Trio mainstay.
Regardless if you're a fan of Alkaline Trio previously or not, this is an unprecedented event covering a massive discography that comes once every blue moon … to Denver, maybe never again.
The last two nights (Friday and Saturday) of their Denver sojourn are now sold out, so get your tickets for Wednesday and Thursday right now.
Doors (Wed-Sat): 7pm
Tickets (Wed-Sat): Advance – $25 / Day of Show – $29
Written by Samuel Lang of 303 Magazine.
Photo courtesy of Alkaline Trio and Epitaph Records.