Colorado is getting pummeled with tons of great metal shows this week! From mathematically precise virtuosity to white-knuckle beat downs, there's a little something for everybody this week. Let's get right to it!
Fallujah @ The Marquis Theater – Tues., March 3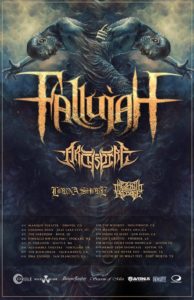 The Marquis will be reduced to a pile of ashes on Tuesday when California tech-death stalwarts Fallujah kick off their North American headlining tour alongside fellow tech-death death wizards Archspire, The Zenith Passage and Lorna Shore. Both Fallujah and Archspire released dizzying new albums to critical acclaim last year, and they are quickly becoming some of underground metal's hottest names. If you like your metal as complex and mind-numbing as a calculus equation, then you're going to want to catch this show!
Who: Fallujah, Archspire, The Zenith Passage, Lorna Shore
Cost: $12
Doors: 7:00 p.m.
Cult Leader @ 7th Circle Music Collective – Tues., March 3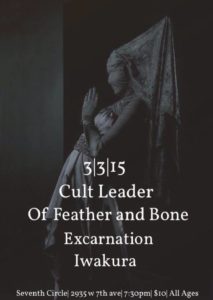 7th Circle Music Collective, formerly known as Blast-o-Mat, will be hosting a good ol' fashioned hardcore show on Tuesday featuring the excellent Cult Leader, a crust metal band based out of Salt Lake City that was formed from the ashes of Gaza. Cult Leader are on their way to Massachusetts to record their new album with Kurt Ballou, playing shows along the way, and this is the first show of the tour. The bill also features local acts Of Feather and Bone, Excarnation and Iwakura. This show is sure to be a wild and chaotic good time, so if hardcore is your thing, head on down to 7th Circle!
Who: Cult Leader, Of Feather and Bone, Excarnation, Iwkura
Cost: $10
Doors: 7:30 p.m.
Retox @ The Hi-Dive –

Weds., March 4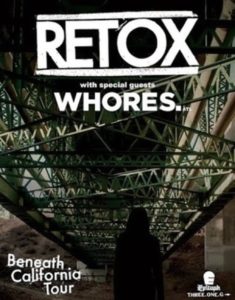 This Tuesday, punk meets heavy metal-tinged rock in the form of a powerhouse show at the Hi-Dive. The show will be headlined by the aggressive noise punkers Retox, and they will be joined by noise rocker guests Whores, as part of the Epitaph Beneath California Tour. The show will be opened by thrashy Viking punkers Muscle Beach. Check this out if you like a little bit of experimentation in your metal, but you still want raw and aggressive music.
Who: Retox, Whores, Muscle Beach
Cost: $10.00
Doors: 8:00 p.m.
Chelsea Grin @ Summit Music Hall – Sat., March 7
Utah deathcore pioneers Chelsea Grin will be bringing obscene amounts of mosh and breakdowns to Summit Music Hall this Saturday along with fellow breakdown-centric bands Carnifex and Sworn In. Offsetting the bill's deathcore theme is The Family Ruin, a UK-based hard rock band evoking the spirit of bands like Def Leppard with the attitude of Avenged Sevenfold. If you've had a long week and just need some ignorant music to get rowdy in the pit to, then this is the show for you!
Who: Chelsea Grin, Carnifex, Sworn In, The Family Ruin
Cost: $16 in advance, $18 the day of
Doors: 6:30 p.m.
Anvil @ The Marquis Theatre – Sun., March 8
This Sunday
, prepare to have your faces melted by Anvil, the classic metal band who star in the genre-defining documentary entitled
The Story of Anvil
. They will be joined on the Hope in Hell tour of 2015 by an unlikely group of bands, Lord Dying, the doomsters who hail from Portland, Ore., Sunlord, a metal band from New York City, and Lotus Gait, a metal-influenced punk band who took their name from a Propaghandi song. If you are a metal lover at all, this is not one to pass up. Bonus for those who live south of Denver: this tour will hit the Black Sheep on Sat., March 7 with Colorado Springs death metal natives Sinister Creed instead of Lotus Gait, so if you can't justify driving up to Denver on Sunday, you can still catch this show closer to your neck of the woods the night before!
Who: Anvil, Lord Dying, Sunlord, Lotus Gait
By Aaron Lambert and Addison Herron-Wheeler
Want to be featured in the Metal Meltdown? Send all news and inquiries to [email protected] or [email protected]