Have no fear, 303 Magazine is here with The Get Down–your weekly round-up of concerts and performances in the Mile High City and beyond. And with Valentine's Day right around the corner, we've got you covered with ideas for the perfect music-infused date night. Whether you're looking to impress a new special someone, get your hunny all hot and bothered or take it to the dance floor with your single friends, there's a show for every taste this V-Day. So rev those engines and get to mackin' because it's that time of year.
Monday, February 9, 2015
Billy Idol @ Paramount Theater
If you couldn't get enough of Billy Idol and Adam Sandler serenading the first class airline patrons in The Wedding Singer, here's your chance to catch Idol f'real. The seasoned rocker will hit the stage with Desert Noises and Broncho today. Hopefully his frosted tips have withstood the test of time—oh and his musical talent too.
See, Billy Idol gets it!
Price: $49.50 – $79.50
Tuesday, February 10, 2015
St. Paul and the Broken Bones @ Boulder Theater
Catch Alabama soul-sextet St. Paul and the Broken Bones in Boulder on Tuesday. This band has made a big name for themselves with their earth-shaking vocals, searing guitar riffs and harmonious melodies. The band will really make you feel as though you've stumbled into a boisterous church gathering. Their impressive debut album, Half the City, has already penned these guys down as a band you need to see live.
Price: $20 ahead, $22 day of show
Tuesday, February 10, 2015
  MiHKAL @ Cervante's Other Side

This weeks' Electronic Tuesdays, put on each week by local promoters Sub.mission, will feature producer MiHKAL from Oakland, CA as a headliner. He will be joined by Skymatic and Meta-Digital. The local DJs battling it out at this show will be Trisicloplox, Bloodhound, Bossilator, and Milky Dubz. Tickets are five dollars before nine and ten or twelve after, and women who arrive before nine get in free. Come check out a night of beats on the Other Side.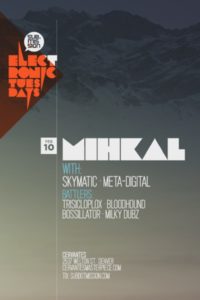 Wednesday, February 11, 2015
Marilyn Manson @ The Fillmore Auditorium
He's back ladies and gentlemen in all of his gothic glory. Supporting his "Hell Not Hallelujah" tour, this devil-worshipping superstar will command your attention on the stage. As one of the most well known current punk-rock stars, Manson has led a controversial career. But his talent is undeniable and albums like Antichrist Superstar and Mechanical Animals propelled him to stardom. Catch Manson in his hair-raising makeup Wednesday at the Fillmore Auditorium.
Price: $63 – $100
Borgore @ Ogden Theatre
Borgore is the alias of Israeli dubstep producer, Asaf Borger. He has come off of a great year, releasing music on labels like Shift Recordings, Terminal Dusk and Mad Decent. He is in the process of a massive US tour—much of which has already sold out—and garnering positive reviews wherever he goes. Don't miss him at the Ogden with Ookay, Jauz and Sikdope.
Price: $21 ahead, $25 day of show
The Suffers @ Lost Lake
Ten-piece soul and rock band from Houston, The Suffers, are a band you need to see to believe. Any band comprised of ten members touting strings, brass instruments, percussion (even bongos) fronted by the deep sultry voice of lead singer and songwriter Kam Franklin is a band I can get behind. Both aesthetically engaging and melodiously inventive, The Suffers are redefining the landscape of current soul music in America. They've shared the stage with the likes of the Wailers and Alabama Shakes and have been hitting the Texas festival circuit hard this past summer. You don't want to miss this show.
Price: $10 ahead, $12 day of show
Thursday, February 13, 2015
Body Language @ Larimer Lounge
The Brooklyn foursome Body Language is hard to define. While their music is often dub-heavy, bass-laden tracks, their live show is propelled by drums, bass, vocals and more. From indie-electronic to disco to pop, this group does it all. Their bassey, groovy fall EP Social Studies encompasses the band's inability to be encased in one genre. While some may say pick your poison, I love the ride this group takes you on with their leaning, swooping synth and bass pop. Check them out at the Larimer Lounge on Thursday.
Price: $13 ahead, $15 day of show
Friday, February 13, 2015
The Love Shack @ Cervantes
Cervantes wants people to feel the love this Friday at The Love Shack, a sexy, grooving superjam featuring some of the best artists around. Sharing the stage will be Dominic Lalli and Jeremy Salken of Big Gigantic, Aron Magner and Allen Aucoin of The Disco Biscuits, Dave Watts, Ryan Jalbert and Gabe Mervine of The Motet, Bridget Law of Elephant Revival and David Murphy from Seven Arrows with DJ Russo. This is sure to be an early Valentine's Party you won't forget, so head over to Cervantes and kick your weekend off on the right (and left) foot.
Price: $23 ahead, $28 day of show
Exmag, Gibbz and Branx @ The Fox Theatre
Heat up your Valentine's weekend with the sexy sounds of Lowtemp-labelmates Exmag, Gibbz and Branx. The slow, rhythmic R&B sounds of Exmag coupled with the soulful falsetto of Gibbz and the low, bass-heavy tracks of Branx will make you pull your lady tight and sway all night. Prepare for heat, because this show is sure to serve you up some tight, sweaty swerves until the sun comes up.
Price: $12 ahead, $15 day of show
Saturday, February 14, 2015
DeVotchKa @ The Fillmore with Nathaniel Rateliff and A. Tom Collins
Denver locals DeVotchKa will heat up the Fillmore Auditorium on Valentines Day with local favorites Nathaniel Rateliff and A. Tom Collins. Pair DeVotchKa's unmistakable ability to create some rad film scores (Hello, Little Miss Sunshine) with their unbelievable live show and you've got a Valentine's night your date will be gushing about for months to come. Coming off a sold-out Red Rocks run with the Colorado Symphony, DeVotchKa is back to take over the Fillmore and give Denver a very special Singles Awareness Day performance. Whether you have a date or are bringing a gaggle of your angry, single friends, you're guaranteed to have a great time at this show.
Price $25 – $30
Ron Miles Trio @ Dazzle
Don't miss the soulful, jazz sounds of Ron Miles Trio at Dazzle with Brian Blade and Bill Frisell. Though Valentines Day night is already sold out, you can grab tickets to Sunday's shows and have a lovely evening a day later. In the hands of these amazing musicians, the sounds of jazz will permeate your heart and soul and leave you begging for more. Your bones will quiver and your insides will melt as you get a taste of some of the best jazz music around. Don't miss this show!
Price: $25
Giraffage @ Larimer Lounge
San Francisco-based producer Giraffage blends ambient instrumentals to create a unique brand of electronic-pop. He's toured with chart-toppers like Phantogram, Flume and Porter Robinson and his albums have been called 'beyond sexy' by listeners everywhere. So if you've got a date you're really looking to impress, take him or her to Giraffage at Larimer Lounge on Valentine's Day.
Price: $10 ahead, $15 day of show
*Check back every week for your list of shows not to miss in The Mile High.