There's a lot that we can forget by the end of the year and some things we want to forget. But a year in fashion is much harder to keep up with than the normal world.
For example, what exactly is "Normcore," the buzz word that took the fashion industry by storm? Or how exactly did Nicolas Ghesquiere's first collection for Louis Vuitton really change the industry? Also, we can't forget to remember designers Oscar de la Renta and L'wren Scott for their priceless and original contributions to the the world of fashion.
So with the beginning of 2015, here's a look back on fashion's best and worst moments of 2014. From designers that killed it to the trends we can never forget, let's recap.
A year in fashion as reported by 303 Magazine:
Normcore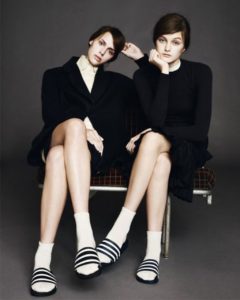 Normcore was the big trend of 2014. It was seen on the runway by design houses such as Chloe, Celine and Hermes. Women's Wear Daily and Vogue reported on this easy to wear trend as "the go-to combo" of the year. Some of us hope it's here to stay, while others think this trend needs to stay in the past.
Normcore is basically this: a unisex fashion trend where the garments are unpretentious and average looking. It consists of straight leg jeans, plain sweaters, and white adidas sneakers.
Role models for this trend include the 90's styling of Jerry Seinfeld and Julia Louis-Dreyfus. Now that 2015 is here, we'll really get to see if this is a passing fashion trend or something thats here to stay.
Nicolas Ghesquiere for Louis Vuitton
Marc Jacobs left his reign at Louis Vuitton after serving as the label's head designer for about 20 years. Nicolas Ghesquiere, having just left his post at Balenciaga, stepped into this position with a lot to live up to.
Jacobs dreamt up amazing sets and colorful collections for the fashion powerhouse. He was known for his dramatic display of fashion. Feathered mohawk headdresses and dizzying prints dominated the Louis Vuitton house, however, Ghesquiere completely changed the aesthetic.
His collections have relied heavily on the purity of fashion and style. He went back to basics. Ghesquiere focused on quality, color and, most importantly, the bags. His first collection was as simple as it could get showcasing dull colors alongside a 70's style palette. It seems like Ghesquiere could have had a leading role in the development of normcore for 2014.
Oscar de la Renta and L'Wren Scott
It wasn't all fun and games in 2014. We want to take this time to remember two extremely influential designs we lost this past year.
Oscar de la Renta died at the age of 82 after battling cancer since 2006. He was known for many things including dressing every first lady since Jacqueline Kennedy to the infamous pant suits worn by Hilary Clinton. He really made his name in the fashion industry, interning under Cristobal Balenciaga and becoming a couture assistant at Lanvin in Paris at a young age. His collection launched in 1995 and the rest is history.
De la Renta left a huge legacy behind him that we're sure will still continue to impact fashion for years to come.
L'Wren Scott's cause of death was self-inflicted with an air of mystery to the entire situation. On March 17, she hung herself in her Manhattan apartment.
L'Wren Scott was born Laura Bambrough and reached six feet by the age of 12. As a result Scott had to sew her own clothing which would teach her about fabrics, clothing construction, and fashion at a young age. After being spotted by a photographer she tried her hand at modeling until she became a stylist in the early 1990s.
During her time as a stylist she dressed and styled Madonna, Julia Roberts and even Tom Hanks. She then turned to fashion design, where she really built her empire.
Known for her luxury dressing Scott's designs had a high attention to detail.
"I like a very sexy silhouette, and I like to feel like when you put something on, you zip yourself into it, and you're secure in there."
2015 Trends to Look Forward To
It's all about looking ahead so why not get a jump start on 2015 by looking at the best trends?
*Suede looks like it may be making a comeback as presented by many designers in their 2015 collections. Not only will it come in the form of shoes but everything from suede skirts to trenchcoats should be in your closet.
*Clean, dark denim is also in line to be a big hit this 2015 season. It won't just be your "dressy jeans," but this pristine look will help elevate your wardrobe from drab to fab. And our favorite trend for 2015 will have to be the it bag.
*A square-like "puzzle" bag creates a chunky silhouette we're loving for year. Maybe go crazy with a basket fringed clutch or go simple with a small wallet bag. Whatever you choose just remember, a statement bag is the it bag for the new season. They're currently a bit harder to find at affordable prices but once this fashion trend picks up we're sure everyone from J Crew to H&M will have a bag for the masses.
 Happy New Year from the Fashion desk at 303 Magazine!