Gone are the days when women wear all black pantsuits to work with a terrible pair of heels and muted makeup. There are plenty of ways to get the point of professionalism across without being bland and trying to blend in.
Instead, stand out at your workplace for being fashionable. Plus, it'll give you confidence when you look and feel great, and you'll be a powerhouse. These days, it's fun to get dressed up for work – but what's appropriate?
From a boardroom meeting to working from home, here's how to be fashionably professional no matter where your workplace is. 
What to wear to your day job – part I
Coffee/Lunch Meeting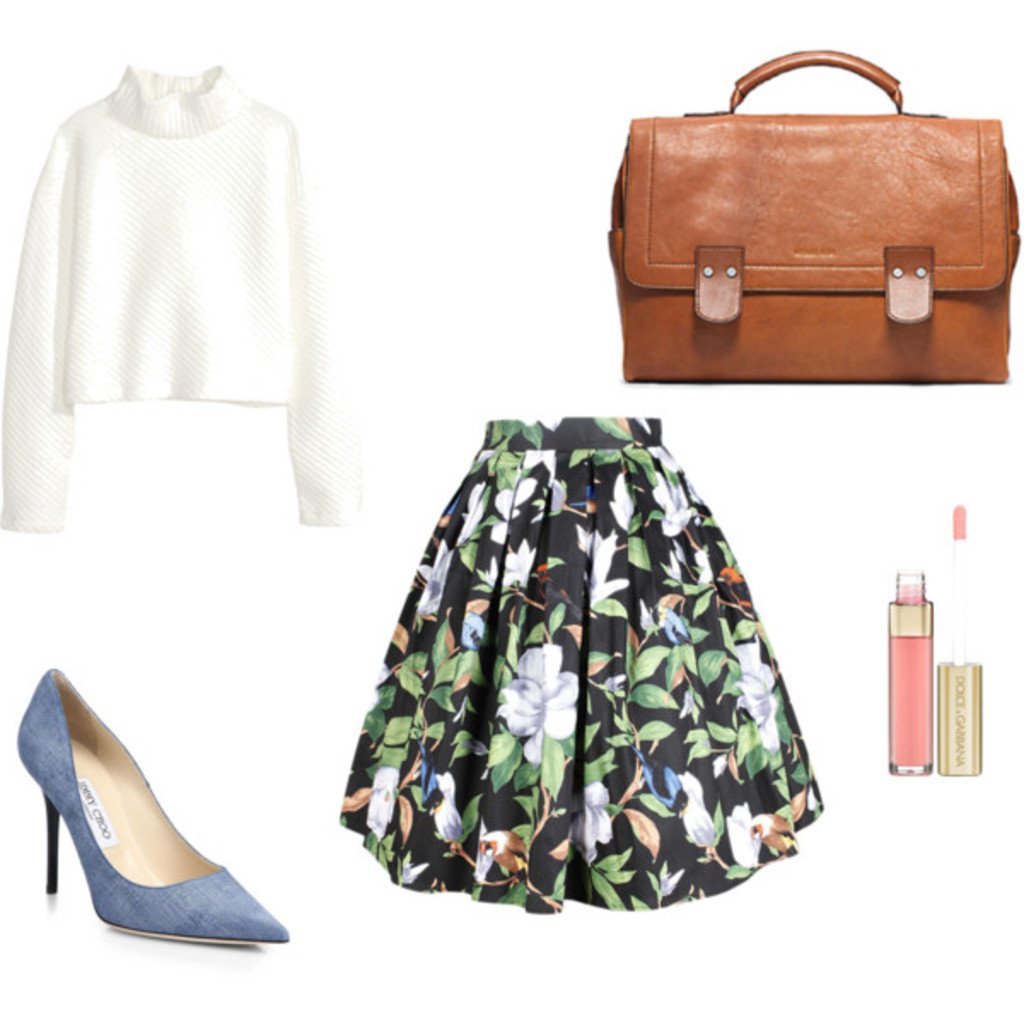 H&M Textured polo-neck top / Blackfive Vintage Skirt / Jimmy Choo Abel Pointed Denim Pumps / Dolce & Gabbana The Lipgloss Ultra-Shine Lipgloss
If you're planning a meeting with a potential client, business partner or peer in your industry, stay away from stuffy business style and show a bit of your personality. You'll want to keep your look professional, but that doesn't mean you have to wear black head-to-toe. Add a pop of color or go for a fun pattern.
Shoes: Chances are that you won't be doing too much walking at your lunch/coffee meeting. Wear some heels you'll feel confident in – as long as you can actually walk in them.
Lipstick: Don't go too bright or dark with your shade of lip color. Simply wear a comfortable, non-sticky gloss that will be perfect for your casual day meeting.
Boardroom Meeting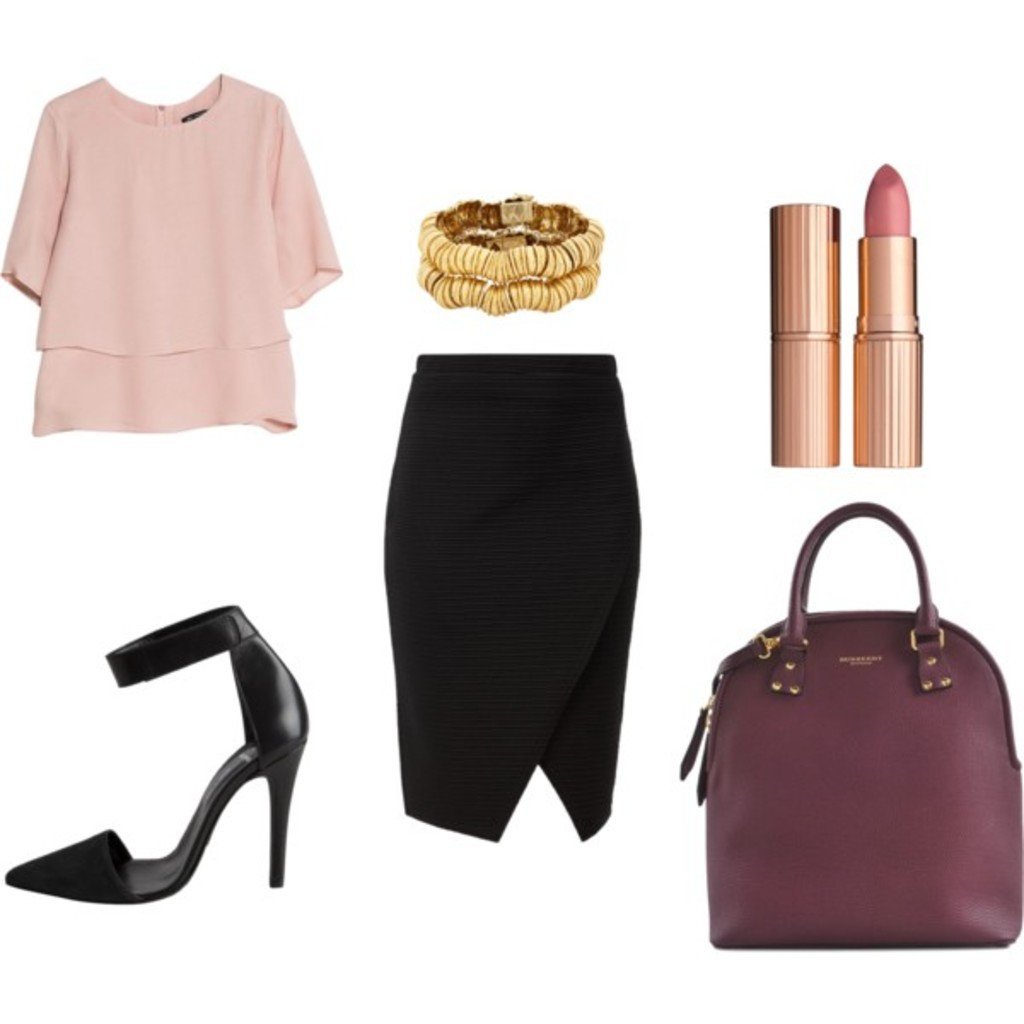 Mango Double Layer Blouse / Black Ribbed Wrap Pencil Skirt / Mahnaz Ispahani Vintage Gold Ribbed Bangle Set / PIECES Leather Pumps / Burberry Prorsum Bloomsbury Medium Bag / Charlotte Tilbury K.I.S.S.I.N.G Lipstick
If you're the youngest at your workplace, everyone wears a suit, and/or you deal with important clients that you have to make a professional and very business-esque impression on, you can be classy without wearing a poor-fitted black pantsuit. Go for a pencil skirt that goes beyond your knees. You can have a slight slip, but don't show too much skin. Add a muted color like this cotton pink top.
Shoes: Your heels don't have to be basic pumps, so feel free to be playful, although not too crazy with color.
Lipstick: A muted pink or light rose would be great for a look like this. You don't want your lipstick to do the talking, but you also don't want dry, basic lips.
Working From Home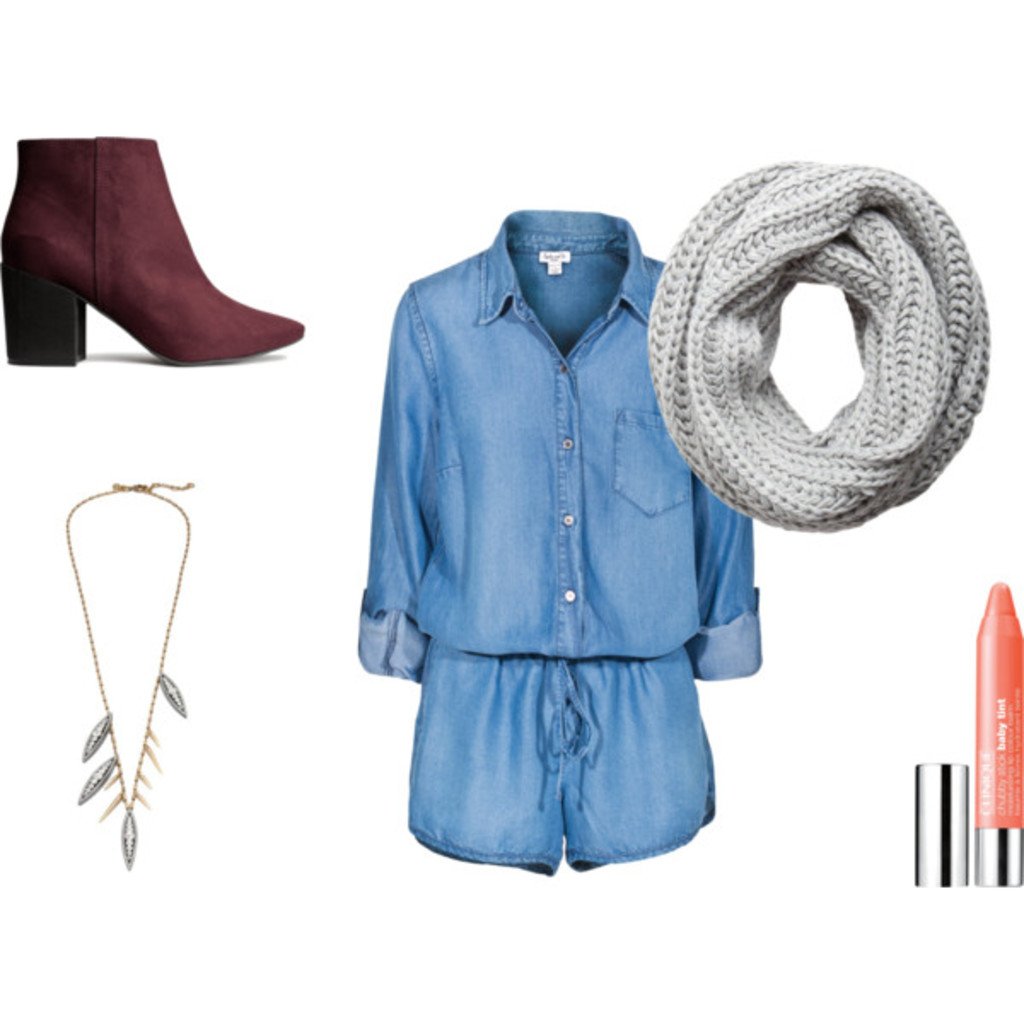 SPLENDID Romper Chambray Chambray playsuit / H&M Ankle boots / J.Crew Long crystal floret necklace / PIECES Knitted Tube Scarf / Clinique Chubby Baby Tint Lipgloss
Working from home can be tough. Sometimes you sleep in longer than you should, you don't usually shower right when you wake up, and you end up wearing leggings all day. From now on, get ready in the mornings, even when working from home. Chances are that you'll get more work done after a wake-up shower. Plus, you'll feel better about yourself with a great outfit on and you can accomplish your daily goals. A romper or cotton jumpsuit is comfortable and fashionably killer.
Shoes: Whenever I work from home, I put some sort of shoe on. Flat booties or moccasins, and I feel like I have to get up and work. I take the dog out, clean in between emails, and my day is way more productive.
Lipstick: You probably won't wear lipstick if you work from home. But you should still gloss your lips. A balm is a great way to keep your lips smooth and moisturized.
Casual Workplace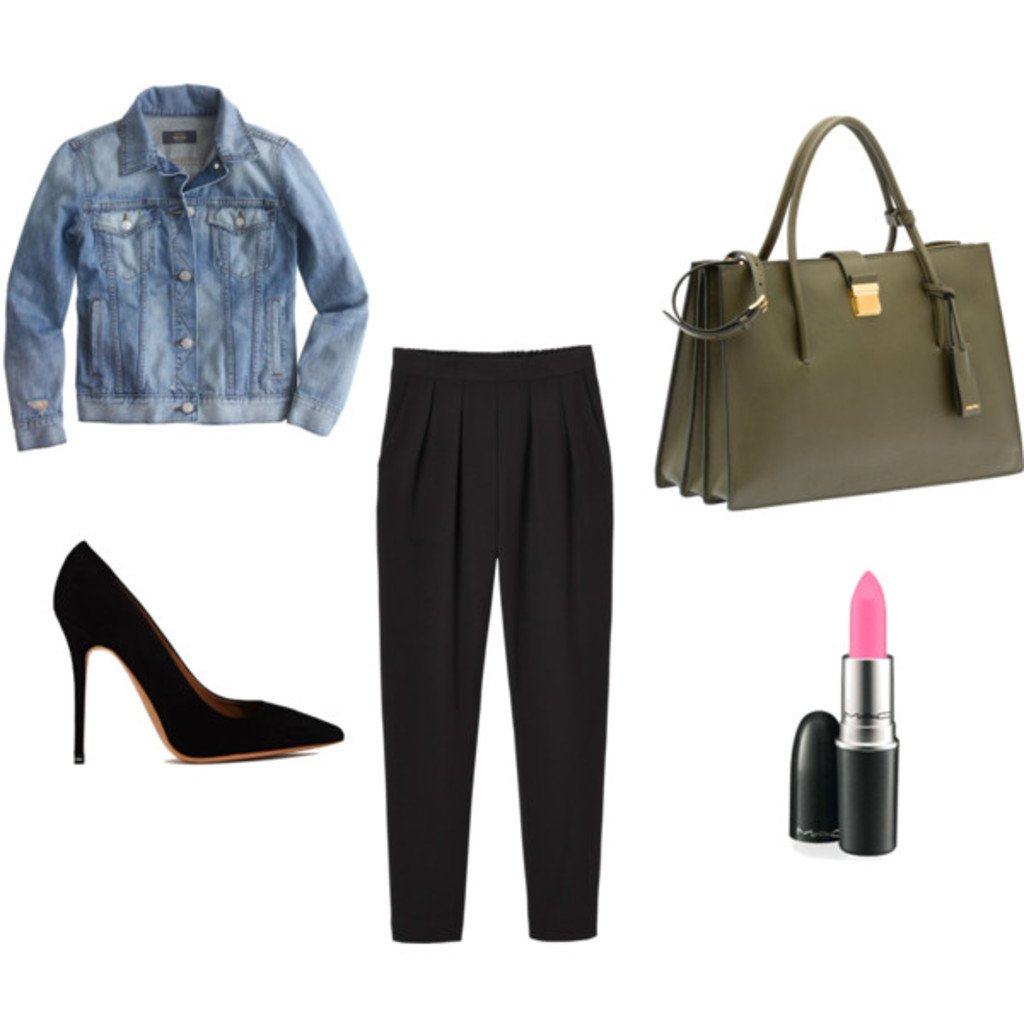 J.Crew Broken-in jean jacket in Gregson wash / Monki Simone trouser / Acne Studios Womens Alivia Suede Heeled Pump / Miu Miu Tote / MAC Candy Yum-Yum Lipstick
Maybe you work in a boutique, do marketing for a fun company, or work in some type of creative environment. Have fun with your outfit, like you do with your work. You might be able to wear jeans, so dress them a little with a pair of heels. Or wear a denim jacket with some tapered black pants like above.
Shoes: If you do a lot of running around, wear heeled booties, knee-high boots or some wicked flats. If you stay at your desk most of the day, feel frisky in a pair of pumps that give you that extra oomph.
Lipstick: If you're wearing a look like the one above without a ton of color, go for a bright shade of lipstick. Minimal makeup and bright lips is a big makeup trend for 2015.
Desk Job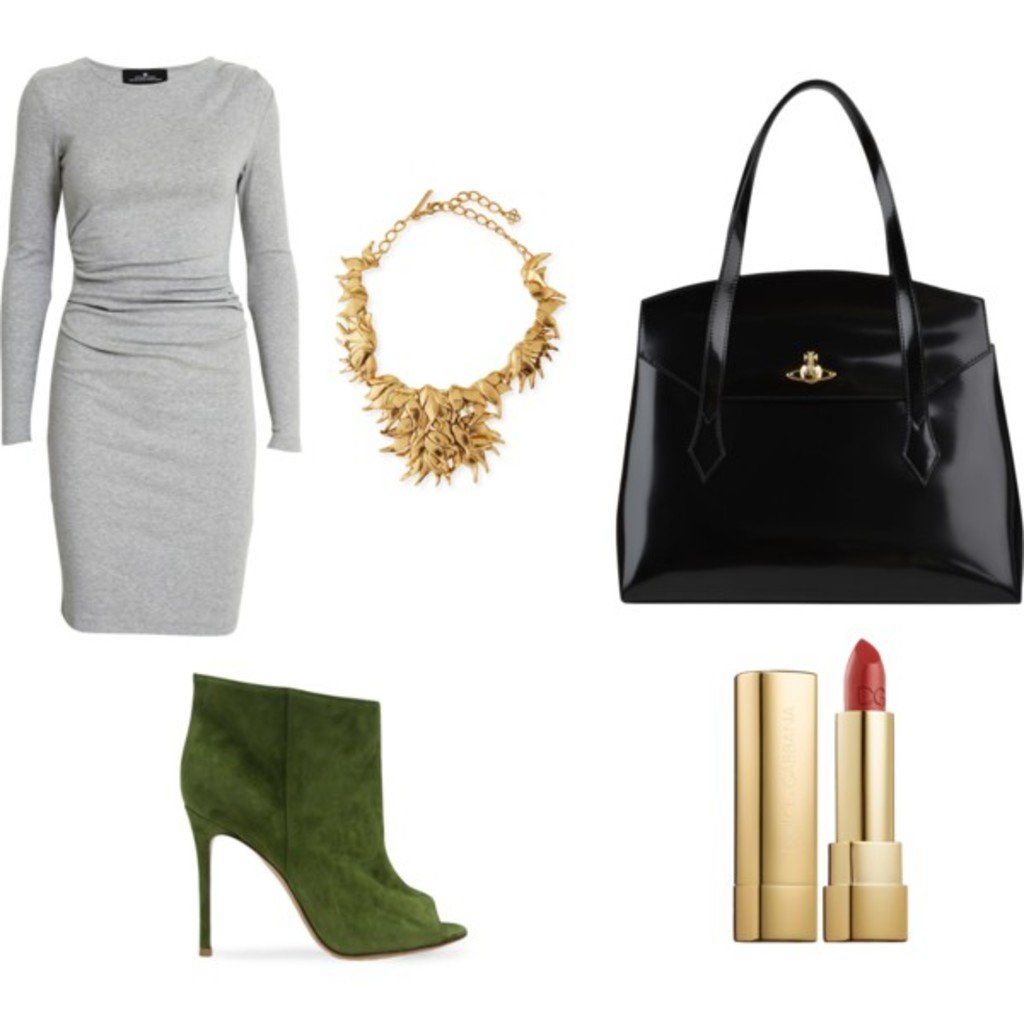 Draped jersey dress / Gianvito Rossi High Heel Booties / Oscar de la Renta Golden Wavy Leaf Necklace / Vivienne Westwood Monaco Leather Tote / Dolce & Gabbana The Lipstick Classic Cream Lipstick
Sitting at a desk all day sucks. It's uncomfortable to wear tight pants, a short skirt can slide up, and style can get annoying. I suggest a comfortable jersey dress. It won't ride up, you won't have pants digging into your waist (especially after lunch), and you can still be fashionable.
Shoes: Since you don't have to do a lot of running around at a desk job, wear those heels you can only pull off for 10 minutes at a time. Your feet will look great and they won't hurt while sitting there all day.
Lipstick: Just because you're sitting in front of your computer, that doesn't mean you can't look and feel pretty. Wear some bright red or pink lipstick. I suggest long-wear so that you don't have to reapply during the excruciating hours at the desk.