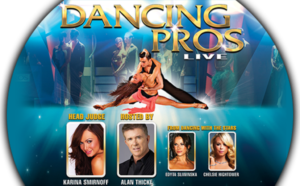 The art of ballroom dance has not only marked its place on the map in recent years, it's taken the U.S. by hip-shaking, glitter-sparkling storm. And the storm passed through Denver's Buell Theatre this past weekend in the form of Dancing Pros: Live, starring some Dancing with the Stars favorites, such as Karina Smirnoff and Edyta Śliwińska, along with other professional dancers who performed for the audience in a competition-like setting, with the audience voting for the best couple at the end of the show.
Smirnoff and Chelsie Hightower, two of the judges on the panel, gave their expertise advice after the competing couples performed, and Smirnoff even treated the audience to a performance. Hightower sustained an injury that prevented her from performing, but Śliwińska, who co-hosted alongside Alan Thicke (of Growing Pains), also performed several numbers with husband and partner Alec Mazo.
The show, full of what's come to be expected of a ballroom spectacle, shone with talent, shimmer, and entertainment. From group numbers to the couples' competition rounds, the audience got to see everything from the aggressive Paso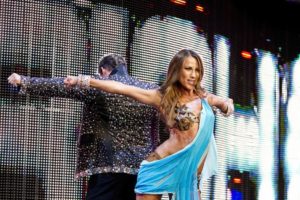 Doble to the sexy Samba to the fun freestyle, during which one of the competitors, Benji Schwimmer (Season 2 winner of So You Think You Can Dance), showed off his West Coast Swing skills. Thicke added the comical commentary (often at the expense of our very own Denver Broncos), Angel Taylor (of The Voice) provided the vocals, and the audience got to cast their vote via an electronic device that calculated results almost instantaneously, making for an enjoyable interactive experience.
Denver lucked out with multiple performances during the show's two-day run last Friday, January 23rd and Saturday, the 24th. For additional information on Dancing Pros: Live, visit DancingProsLive.com.