Jewelry is oftentimes an afterthought. You get completely dressed, head to toe, then throw something on right before walking out the door. But big, bold jewelry piece – whether you realize it or not – is what makes the outfit. It shouldn't be the last item you match to your ensemble. It should be the starting point of your look.
Fall fashion is all about boots, leather, layers and warm tones. But it can also showcase your jewelry by starring in your fall outfit. If you've never really thought about what to pair a bold necklace with, we've put together three looks that start with a gorgeous, bold necklace and match with fall fashion pieces.
Here's how to wear bold jewelry this fall:
LOOK 1: All about that metal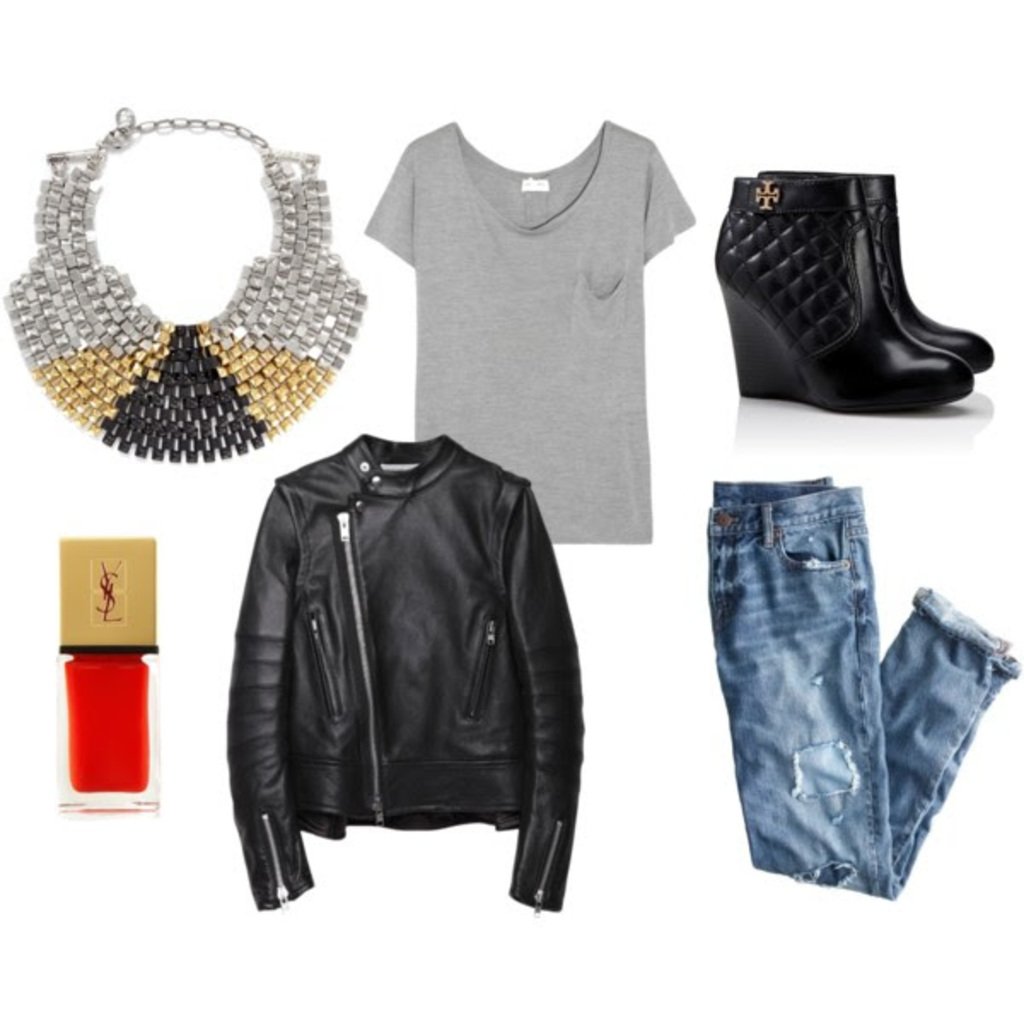 Ela Stone Freja pyramid chain plastron necklace / Saint Laurent Silk-jersey T-shirt / J.Crew Broken-in boyfriend jean in harbor wash / Sacai Luck Leather Jacket Vest / Tory Burch Leila Wedge Bootie
Maybe you're going out with friends, you're running errands, or you're going on a casual date. This look focuses on that incredible chain necklace and accompanies it with comfortably cool style. Yes, you can wear jeans and a t-shirt and style it up with a great pair of booties like these Tory Burch Leila wedges. TIP: add that splash of red nail color for a hint of color.
LOOK 2: Sweet, yet Badass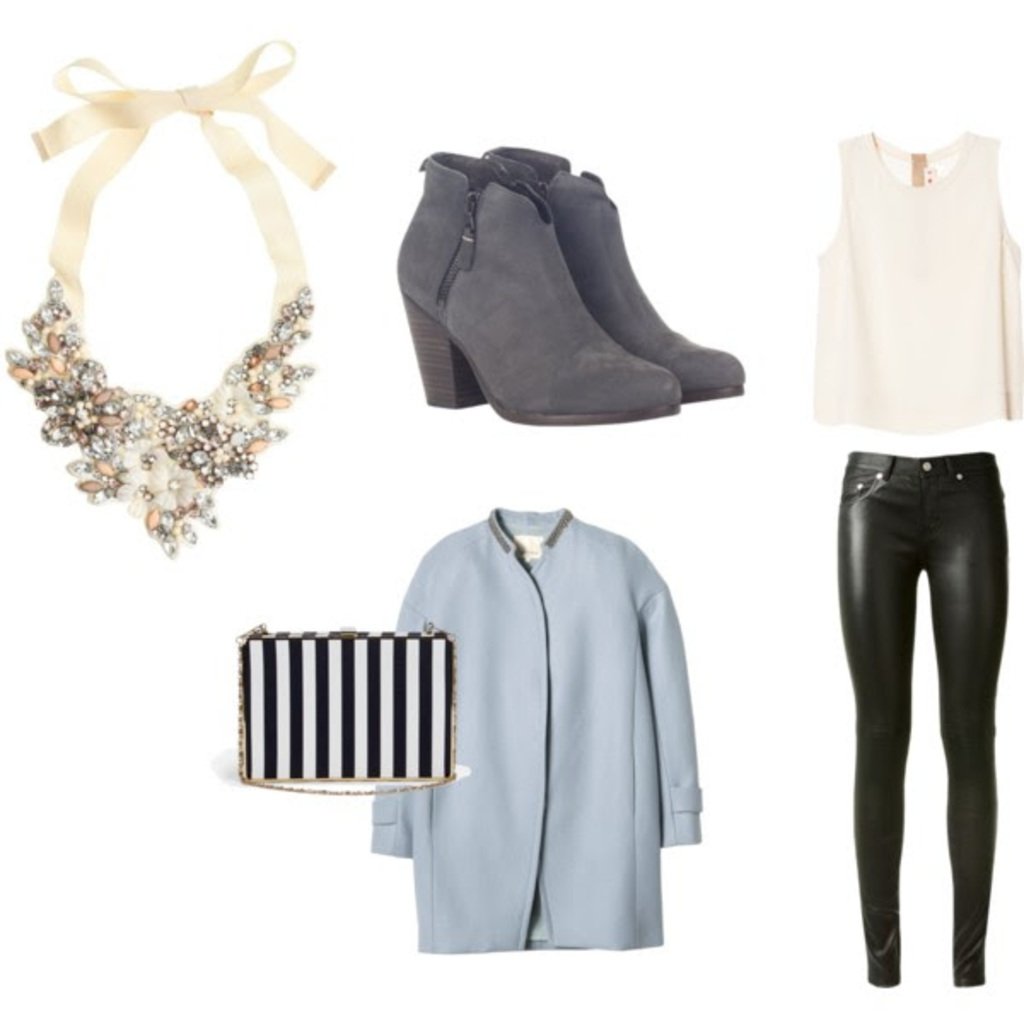 J.Crew Crystal and flower bib necklace / Saint Laurent Black Leather Pants / Marni Top / Rag & Bone Margot Ankle Boot / Sole Society Mischa stripe box clutch / Rebecca Taylor Melton Cocoon Coat
For this look, you can sport it at a work meeting, brunch with the girls, or a holiday party. The crystal and ribbon necklace from J.Crew will accentuate the baby blue Rebecca Taylor Melton Cocoon coat and the stripes will give this look a little punch. The leather pants are comfy, while dressing up the flat top.
LOOK 3: Business confidence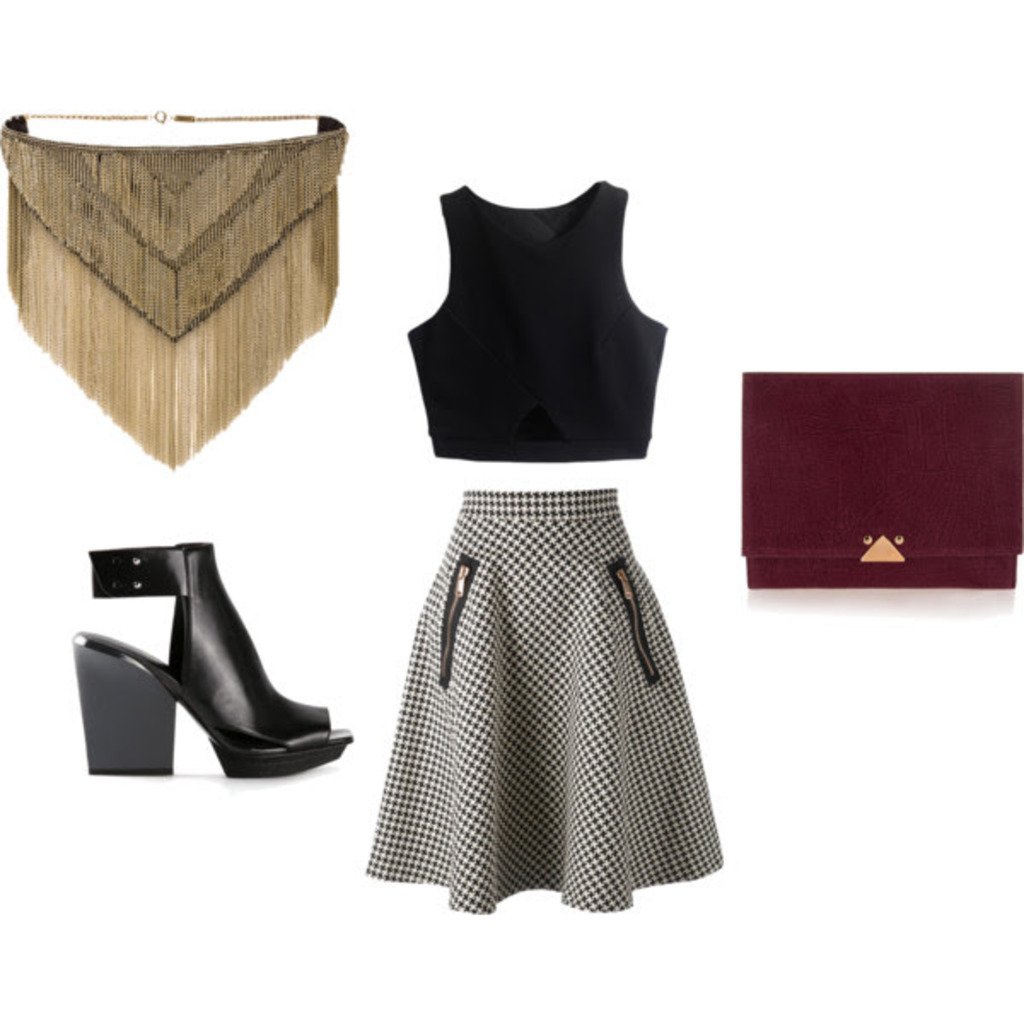 Isabel Marant Linares Fringe Mesh Necklace / Sleeveless Solid-color Crop Tank / Coast+Weber+Ahaus Full Midi Houndstooth Skirt / Emporio Armani Medium Push Stud Clutch / 3.1 Phillip Lim Juno Sandals
If you work in an office or attend formal business meetings, that doesn't mean you have to sacrifice style, pattern and this season's trends. The Isabel Marant Linares fringe necklace sets the tone without taking the emphasis away from the houndstooth pattern on the skirt. The Armani clutch will add a pop of color without pushing away your professional look.
All of these looks can be rocked at 303 Magazine's upcoming fashion event of the year, Denver Fashion Weekend on November 13, 15-16.