The 2014 Mercedes Benz Fashion Week kicked off last week in Lincoln Center with Spring 2015 collections from some of fashion's best designers. Spring 2015's trends come alive in runway segments by Ralph Lauren, Tory Burch, Donna Karan and more.
If you haven't been watching the multiple shows taking place throughout New York City, we're highlighting a few of our favorite collections, as well as some headlining appearances.
NYFW 2014 Highlights and Headlines
Kendall Jenner walking the runway at the Donna Karan show
Victoria Beckham's Spring '15 collection
J.Crew
J.Crew is known for its affordable wardrobe of tees, chinos, fitted blazers and dress collection, but we weren't impressed by its Spring '15 collection – of clothing, at least. J.Crew's accessories on the runway stole the show for sure. Chunky clutches, glittery texture, and heels for days are all we saw while watching this runway show.
Badgley Mischka 
Practically every Badgley Mischka collection demands the runway, but we're in love with this Spring '15 collection. BM is bringing back pastels, but not going noticeably overboard.The gowns are fabulous from the studded neckline to the dip-dyed floor-length skirt. And we want to add that it seems each of the silhouettes would accommodate every figure. This collection screams sexy, while maintaining BM's dainty color palette.
Lela Rose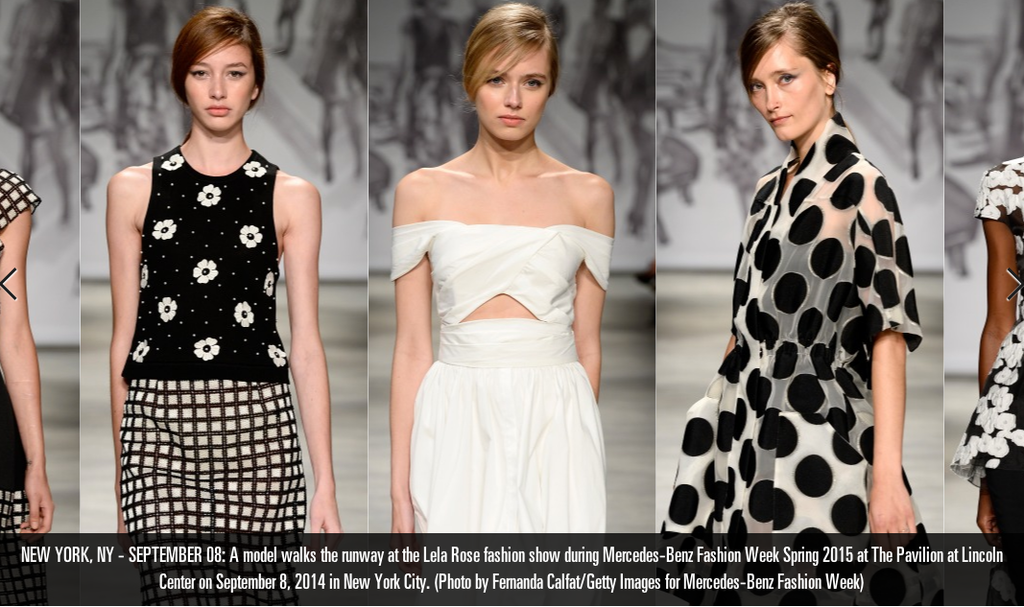 If you aren't familiar with Lela Rose, you might want to make some room in your closet. This collection is full of fun patterns like floral and polk dot, and incorporates textures and layering supremely. Cut-outs make a appearance in this collection, as does a few rose pinks. But we are loving this black and white segment. Lela Rose teaches us that you can mix patterns and get away with it. The patterns, different textures and simplicity of colors makes us blush at this Lela Rose collection.