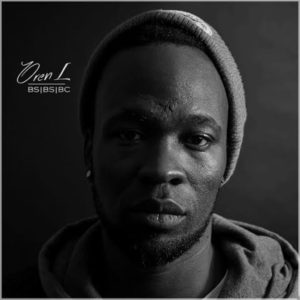 We know very little about Oren L., the MC known as ChampSoundKillaBlack of The Foodchain, one of Denver's hottest live bands.  You've seen him, tall, dark and mysterious, leading his band of sound-bearers in the most rhythmic instances of live performance. As with many artists, we only see one side of his personality, and in Oren's case this is entirely on purpose. We know his rhymes, his creative stamina and his enthusiasm for the rap word. His latest album BS|BS|BC, ("Blood Stains and Brush Strokes on Black Canvas") though, is revealing, deeply subjective and wildly impressive.
The project opens with "Prickly," a track that is sonically further ahead than much we've heard coming out of Denver. He talks about being a wandering soul, the hell he has caused women, not being a bad guy but  one who "could use some counseling." It's personal, and so much so that you'll feel like you're reading his journal, or listening to a pious man pray his sins away.  As the album unfolds we see the MC open up even more and the rhymes become more succinct and creative than somber.
"Clavius" features stunning steel drums, an obvious throw to Oren's Caribbean ancestry and Catch Lungs' flow adds an ethereal presence to the production. For Oren's part, he employs a couplet pattern that is chock full of punchlines you won't get on a first listen. The verses are more mantra and affirmation of life than whimsical musings in poem form.
Oren is a disciplined man of principle. On "Weather" he discusses those who bite the hands that feed them and is indignant rather than angry, measured and controlled instead of bitter. He eases out of this heady space of thoughtful reflection on "Losers" and lets his flow run away with the twinkling beat in combination with a deep 808. He laughs off being bad at promotion while boasting of his real passion for his work.
Thematically, BS|BS|BC is of gorgeous concept. The album opens with personal sobering confessions about the evolution of a man. By the time we get to "Change of Scene," Oren's got that swag we know and love in perfect rotation. A brilliant storyteller, he takes us all the way into "Los Angeles," the most digestible (and "radio ready") track on the album. Featuring his Foodchain brethren F.L., the two MCs take us on a trip Denver style; extra high. Oren sounds more confident and pleased to be alongside his fellow rhymeslinger on "Los Angeles" and the chemistry is palpable.
BS|BS|BC is Oren's latest solo project and it's clear he's taking some risks with this one. He's vulnerable, cautiously confident and riveting. "ThriftWorks" is found on the second half of the record and it is an elegant moment of darkness. Check for the raps in chopped and screwed form here while he brags just enough to keep you interested but not enough to seem cocky.
It seems too easy and cliché to make this comparison, but Oren L. is having a Kanye West moment before the Kanye West moment. This is a time of pulling all of his demons out of the closet, slaying the ones who have disparaged his spirit and polishing others to perfection. He speaks with articulate emotion about his mother on "Eraserhead" in a way that proves words and music heal. Oren closes the book and leaves us on BS|BS|BCwith "NightStreets," (also featuring the best verse we've ever heard from F.L.) a track built for driving late at night when the moon rides low in perfect conclusion.
BS|BS|BC will be released on July 10th and will be accompanied by a live show at Larimer Lounge featuring F.L., AP, and GypdaHip. Tickets are available here. In keeping with the organic intricacies of being an independent artist, Oren has launched a Kickstarter that will support his tour efforts. Check out more information on how to donate here.