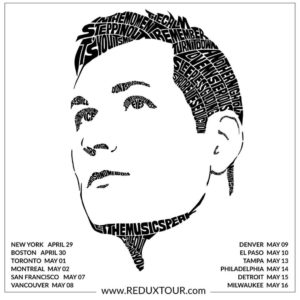 It's an unprecedented move in today's festival-driven music world to have a superstar producer with a proven record of selling thousands of tickets at the world's biggest events opt to instead plan a tour of small, intimate clubs in select cities — in an homage to the way house music used to be before the explosion of "EDM." But that's exactly what Ryan Raddon — better known as Kaskade — did when he announced this year's Redux tour, and Denver was lucky enough to be included in his plans.
"When I do the Redux tour the whole point of it was — last year my first album (It's You, It's Me) came  out 10 years ago — now it's 11 years, but anyways, I was like, I'm going to do a tour and play the original venues I used to play, and play for very reasonable fees. Like $25-$30 — the way it used to be 10 years ago," Kaskade explained on a recent episode of Deadmau5's YouTube sensation "Coffee Run."
Also innovative is the ticketing method for the Redux tour, which all but eliminates opportunity for scalpers to buy up tickets before fans have a chance. Instead, Kaskade worked with the clubs on the 12-city tour to implement a will-call only method where no hard copies of a ticket ever exist. Buy the "ticket" online, show your credit card at the door, and get inside. It seems almost too logical to be true.
On the flip side, this model is bad news for the legions of Kaskade fans who didn't get the memo on the Denver date before it was too late. Tickets for the Redux tour went on sale the same day it was announced and sold out in mere hours. For those who were left out, few options exist, and if any scalping does occur, the man himself may bust it up.
Those who were lucky enough to get tickets will be rewarded with one of the most anticipated shows to date — and a fitting way to send the beloved NORAD into its nomadic state. Friday's show will also be preceded by the 5k "Spark Run" at Dick's Sporting Good Park, for anyone who's into working out before hitting the dance floor.
Watch Kaskade explain the Redux (pronounced as if you were French) concept while sitting in the passenger seat of Deadmau5's Ferrari as the two drove through Toronto before his Redux show last week. He also tells the story of busting a scalper on a similar tour last year. Skip to the 7:35 mark for the start.