Jazz Fest in New Orleans is an overwhelming experience. There is nonstop music night and day for two weeks straight. Not to mention the food. And the heat.

The actual festival takes place at the sprawling Fair Grounds Race Course, which hosts about five stages, four tents (blues, jazz, and gospel), a kid's arena and a ton of food and art vendors. Then there are all of the underground clubs and bars and music venues that NOLA is notorious for. The actual festival runs from 11am until 7pm on Thursday through Sunday, but the club scene doesn't really get hot until 11pm and carries on well past sunrise.

Jazz Fest in New Orleans is the only festival you'll go to where you won't actually recognize any of the names of the groups playing, but you'll know every member in the band. New Orleans Jazz Fest brings musicians together, forming supergroups of explosive talent. Plus, I guarantee that you won't encounter more sousaphones at any other festival.

I could easily write an entire thesis paper on the magical ins and outs of Jazz Fest- all of the clubs, the all-night parties, the sunrise sets, the French Quarter shenanigans, festival big-shot headliners, fancy "Fess" hats, super group collaborations and covers, mouthwatering fried seafood. Dancing in the streets. The parasol umbrellas and the feather boas. The endless parades and the blazing sunshine. The sweet tea and the soul.

But I digress.

I've narrowed down an all-encompassing list of highlights for y'all to give you a feel for the Fest, minus the sunburn:

Most Crowded Stage: Bruce Springsteen at the Acura Stage, Saturday

I attempted to brave the crowd during Bruce's "Badlands" in a valiant attempt to meet up with my dad, but quickly abandoned that plan. It was too damn hot to be smashed amongst so many people during Bruce's THREE HOUR SET.

Being from New Jersey, it is pseudo-sacrilegious not to pay homage to "The Boss" when given the opportunity, but I did witness him cover "Ride Sally, Ride" that time with Phish at Bonnaroo in 2009, so whatever.

I therefore missed Bruce bring out John Fogerty to play CCR's "Green River," which I was later very butt-hurt about. I did, however, listen to some Zydeco band in the shade and eat a Mango Freeze (winning).

[youtube:https://www.youtube.com/watch?v=wiH1MXrcWaA]

Female Artist MVP: Nikki Glaspie, The Nth Power

You don't see many ladies of Jazz Fest. But when you do, they're often a show stealer. Nikki Glaspie is the drummer in Nigel Hall's new(ish) band, The Nth Power. She drums like a champ and sings like an angel. Glaspie also can hold her own during sassy banter with the king of the keys himself, Nigel.

Her resume boasts of touring with Beyonce for about five years and playing with Ivan Neville's Dumpstaphunk. The Nth Power is one of those NOLA supergroups that plays sweet and soulful music, comprised of a talented cast of musicians who have previously toured with the Warren Haynes Band, John Brown's Body, Lettuce, and Toubab Krewe.

Best French Quarter Buskers: Todd Day Wait's Pigpen

While inhaling breakfast at Cafe Beignet on Royal Street, we had the pleasure of overhearing these sharp dressed gentlemen-vagabond hybrids playing charming folk ballads from our patio table. At the time, it was just two guys alternating between a fiddle, banjo, and guitar and both singing. We saw them again later in the week down on Frenchman Street with a full band- stand up bass, accordion, harmonica, and tambourine. Needless to say, I bought them coffees and told them to come to Colorado ASAP.

[youtube:https://www.youtube.com/watch?v=6wUcuhsj4Vw]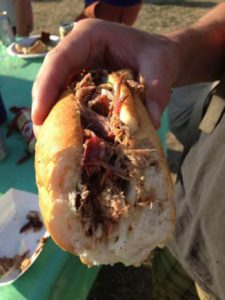 Most Addicting Festival Food: Cochon de Lait Po-Boy
Of all the fried oysters, Crawfish Monica, peach cobbler, homemade ice cream sandwiches, catfish po-boys, fried alligator, and crawfish bread being vended at Jazz Fest- the Cochon de Lait Po-Boy takes the cake.
The friendly competition between my boyfriend and my brother of who could consume more of these savory sandwiches- juicy pulled pork with spicy mustard and coleslaw- left my brother with the new nickname "Pork Bitch." (He lost, 5-3)
Most Ridiculously Expensive Hat Shop: Fleur De Paris Ltd on Royal Street

Lots of hat shopping takes place at Jazz Fest. The best and most reasonably priced place to purchase some new headgear would probably be the French Market (especially if you're in the market for tiny hats). Goorin Bros. Hat Shop on Royal Street would be a good option for more upscale, quality hats.

But the most absurd place that you'll never actually buy a hat from is Fleur De Paris Ltd, where the hat Nazi saleswomen will snatch your cell phone out of your hand if they think you're taking photos in their store and swat at you like a fly if you even consider trying on any of their merchandise. In all fairness, their hats are truly works of art, boasting "vintage" this, that, and the other thing.

But they do give out free champagne while you browse (and scoff at the price tags, which range from five to eight hundred dollars).

Most Popular 2014 BayouWear Uniform: The Watermelon Shirt

Since 1981, Jazz Fest has been vending its famous BayouWear patterned apparel. Red beans, crawfish, umbrellas, gators, horns, birds, hot peppers- they've all been designed by local NOLA textile artist, Kathy Schorr. This year's What-a-Melon pattern is available, as usual, on sundresses, aprons, button up t-shirts, skirts, umbrellas, and camisole- all ranging from $35-50.

Best All Night Party: "Bayou Rendezvous" at Howlin' Wolf featuring "The New Orleans Allstars" (Ivan Neville, Sonny Landreth, Johnny Vidacovich, Theresa Andersson and Nick Daniels), Pimps of Joytime, The Motet, Raw Oyster Cult with Bonerama Horns, Hot 8 Brass Band, Good Enough For Good Times, Turkuaz, Polyrhythmics, Eric McFadden and a Sunrise Breakfast Jam

This party was simply outrageous. The Howlin' Wolf provided the main stage, while The Den right next door filled its swampy little back room jammed full of afrobeat tunes from alternating sets. The Polyrhythmics put on a hell of a show, since it was the last stop on their tour, all smashed onto The Den's modest stage. The highlight, in my humble opinion, was Raw Oyster Cult with the Bonerama Horns. Raw Oyster Cult, featuring members of the Radiators, played this jam called "Work It" and it was one of my favorite moments of the entire week. Plus, Colorado's very own Motet funked out til sunrise.

[youtube:https://www.youtube.com/watch?v=AdM3l1igH3U]

Best Not "New Orleans Jazz & Heritage Festival" Festival: Fiya Fest at Mardi Gras World

Fiya Fest is like a festival within a festival. Not actually affiliated with Jazz Fest, Fiya Fest is thrown by Fiyawerx Productions and all proceeds benefit The Roots of Music, which gives money to programs to promote musical education for children in NOLA. The mini-fest and crawfish boil is only one day long, but features nearly 100 artists on three stages at Mardi Gras World. Pretty much every artists and their mom played this event, which carried on into the evening with the Fiya Water boat cruise. So when you want to take a break from the Fest but don't really want to take a break at all, Fiya Fest is the move.

Best Colorado Shout-Out Moment: String Cheese Incident played "Colorado Bluebird Sky" at the Acura Stage, Thursday

Best Place to Get Out of the Sun: Gospel Tent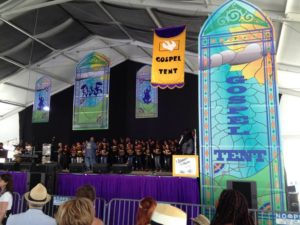 When you want to see some sharp dressed folks- and escape the brutal NOLA sunshine- pop into the Gospel Tent and give praise for the all of the good music that has been bestowed upon us.
Also, this is easily the best place to clap along to Pharrell Williams' "Happy" covered by a choir of children. Classics like Hallelujah, Down by the Riverside, Amazing Grace, and When the Saints Go Marching In are also popular in this venue- along with anything having to do with the Jesus.
Best Frenchman St. Art Vendor: Pippin Frisbie-Calder
Not only does this charming local have a contagious laugh, but her prints are exceptionally colorful and a kick ass, one-of-a-kind artsy souvenir that you'll be sure to cherish for years to come. Plus, you won't quickly forget a name like Pippin Frisbie-Calder, which she attributes to her hippie parents.
Toughest Overlapping Lineup Decision: Trombone Shorty vs. John Fogerty, Sunday
If I hadn't witnessed Fogerty kill it at Telluride Blues & Brews a few summers ago, I probably just would've picked Shorty. But I did- so I didn't. I divvied up my time between both sets, making the mad dash across the festival grounds after Fogerty played "Midnight Special" in time to catch about forty minutes of Trombone Shorty closing out Jazz Fest.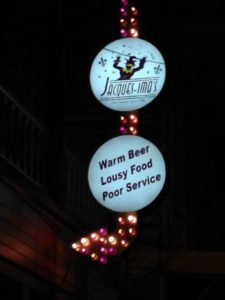 Best "Real New Orleans" Restaurant Menu: Jacques-Imo's Cafe on Oak St.

Not only can you enjoy a pleasant and refreshing street car ride into the heart of the Garden District on your way to Jacques-Imo's, but you can also indulge in a delicious Abita next door at the Maple Leaf while you're waiting for your table.

This cramped and adorable restaurant has an impressive menu. Just when you're sick of eating gumbo, jambalaya, red beans & rice, and all things fried, Jacques-Imo's offers items such as sesame encrusted tuna, grilled duck breast, alligator sausage cheesecake, blackened redfish, mashed sweet potatoes, carpet bagger steak, pan fried drum, and pecan halibut. And you get a spinach salad with your entree.

Favorite Abita Beer: Strawberry Lager

Band I Thought I'd See, But Missed Entirely: Arcade Fire

Most Horns: Midnite Disturbers, Jazz & Heritage Stage on Saturday

Galactic drummer, Stanton Moore, and just about every horn player in NOLA took the Jazz & Heritage Stage on Saturday in a whirlwind of brass that had the crowd twirling and stomping in the afternoon heat.

[youtube:https://www.youtube.com/watch?v=zriL0WbdPh4]

Best Cover: Soul Rebels Brass Band, Eurythmics "Sweet Dreams."

[youtube:https://www.youtube.com/watch?v=KcfAqKogSKk]

All Around Best Band: Preservation Hall Jazz Band

Talk about a real feel good band. We saw these guys once at their home base, Preservation Hall, and then again as "PresHall Brass" in the People's Health Tent on Sunday… and we would've gladly seen them again if we had the chance. They play all the classic NOLA jazz songs with a charismatic flair and gusto that is unrivaled. They play music nonstop, touring for over 150 nights out of the year and playing several shows per night when they're home at Preservation Hall- and they have been doing so since the 1960s. If you have a chance to see them, don't miss out. They'll leave you smiling and humming their tunes for days.

[youtube:https://www.youtube.com/watch?v=PY2I0ml1xL8]