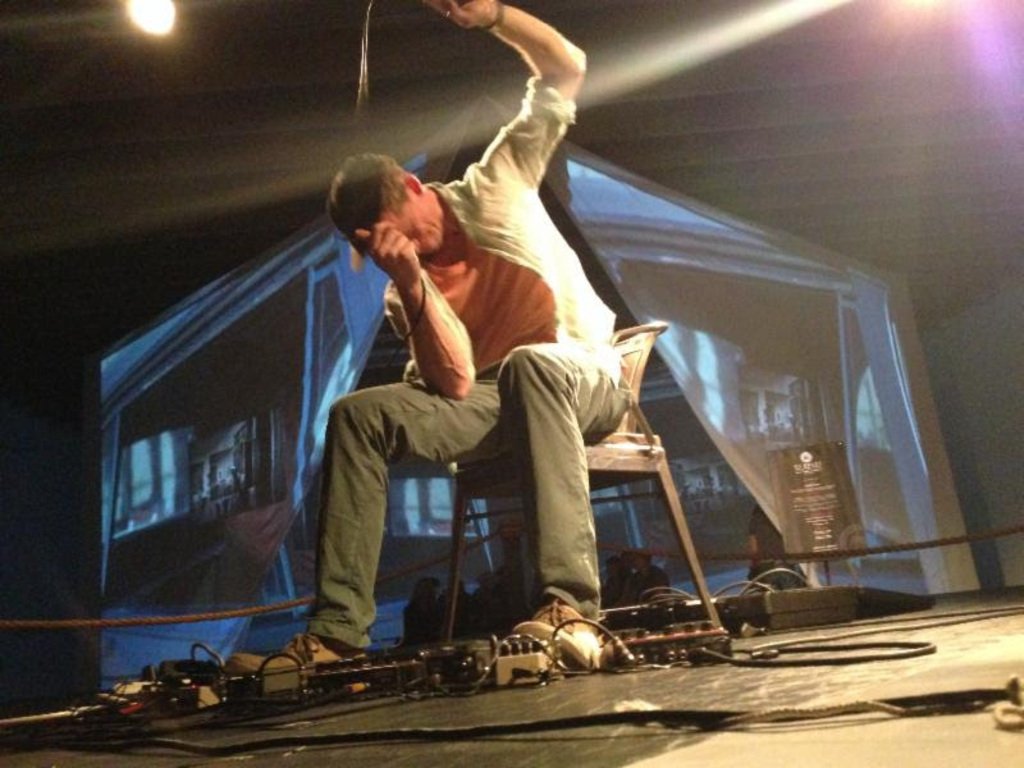 Forget the dancing elephants and cotton candy—a new circus à la mode just arrived in town.
Transplanted from Brooklyn, NY, Monkey Town 4 is calling EXDO Event Center in Denver's RiNo art district home, for a limited time only. A stimuli for many senses, Monkey Town 4 is a cinematic dining experience, combining a two hour collaborative video program, fine dining and weekly artist in residency showcases, all within the walls of a 24 foot, floating cube.
Created by former Denver resident Montgomery Knott, this pop-up installation has been entertaining guests since 2003, but is making its first appearance outside of New York in our fair city. The fourth installation boasts bigger screens than ever before, 4.1 surround sound and an evolving menu crafted by local chefs Andrew Van Stee and Chris MacGillivray from Noble Swine Supper Club, Jonathan Power from The Populist and Daniel Landes from City O' City/WaterCourse Foods.
The weekly performance residency program features both national and local artists who will play each night, for one week, accompanied by video. From electro-pop group The Blow — featured this week — to Nikki Pike, who amplifies the sound of ice melting to create music, and local group Cop Circles. There will be no shortage of aural stimulation to tantalize the ear buds.
This fully immersive, multi-channeled experience will run for 90 days, Tuesdays—Sundays, ending on June 1. Showing times are at 6 p.m. and 8:30 p.m.  There is a limited capacity of 32 guests per showing. Tickets are $50 for Tuesdays three-course meal and $80 for the five-course meal offered all other days. The venue is closed on Mondays.
Weekly Showcases
March 11 – 16: The Blow
March 18 – 23: Real Magic
March 25 – 30: Nikki Pike
April 1 – 13: Will Rahilly
April 15 – 18: Cop Circles
April 22 – 27:  Control Group Productions
April 29 – May 4:  Julie Rooney
May 6 – 11: Casey Jane Ellison
May 13 – 18::  Opera On Tap
May 20 – 25:  Daughter Cells
May 27 – June 1:  Peter Burr
Stay tuned for more Monkey Town 4 updates including a closer look at residency performers.
For tickets, go here: http://www.brownpapertickets.com/profile/333592
DENVER FASHION WEEKEND IS RIGHT AROUND THE CORNER! GET YOUR TICKETS NOW BEFORE THEY SELL OUT! PURCHASE SEATS / TICKETS BEFORE THEY SELL OUT 
Written by Erica Lindberg of 303 Magazine.