Although Valentine's Day just concluded, that doesn't mean your hunt for sexy European-inspired lingerie needs to end.  One of the newest and freshest boutiques in Denver, NV, is a "love-inspired" décolleté and lingerie store.
NV opened its doors this November 2013 and prides itself on offering high-end and exclusive lingerie from designers like Patrice Catanzaro and Tia Lynn.  This lingerie boutique is amazing because it offers different price points including everyday basics from LOU Paris and Coquette, to more edgy and intimately detailed designs of Maison Close and Jolidon.  Besides carrying lingerie, NV offers a wide assortment of corsets, eye masks, toys, etc…, for bedroom fun or for a "masquerade-themed" party costume.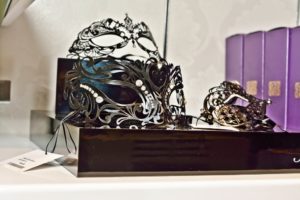 The store environment is very open, well-lit, spacious and friendly.  The sales associates at NV pride themselves on always being accepting and helpful without any judgments.  NV carries not only edgy and basic lingerie but it offers safe and trustworthy personal massagers and lubes.  The display of merchandise and staff is professional and interactive so you will have fun picking out a toy without feeling uncomfortable.
The store offers easy-to-navigate wall displays of the merchandise and decorates with more romantic and "love inspired" photographs promoting each brand.  The fitting rooms invite shopping partners to help decide on the purchase and bra/lingerie fittings are always offered free of charge.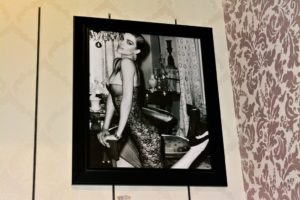 We've put together a few looks for you. Whether you're looking to spice things up in the bedroom or you just want to feel sexy again, these looks will definitely meet your needs.
303 Magazine also sat down with the store manager, Sara Stroh, to ask a few questions about NV, the merchandise it carries, and why it is such a success from when it opened its doors only two months ago.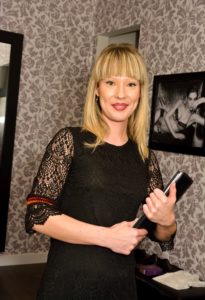 303: When did NV Boutique launch?
Sara: NV first opened its doors on November 25, 2013.  It is the first store in the U.S. and has been a great success so far.  NV carries European-inspired lingerie, as well as body lines and personal massagers.
303: Why did the owners choose to open in Lone Tree?
Sara: I think the owners chose Lone Tree, CO to open NV's first location because it fit nicely into the neighborhood attracting the more up-scale and aristocratic yet free-willing target market.  NV is focusing more on the adult atmosphere and wants to provide a clean and up-scale sanction that allows adults to explore and not be judged.
303: What are some of the brands NV offers? Does NV carry any local designers?
Sara: The brands and merchandise that NV currently carries ranges from European-inspired lingerie and intimates designers such as Maison Close, Panache, Patrice Catanzaro, Jolidon, LOU Paris, Mary Green, Tia Lynn, Coquette to companies that carry lubes and massage oils such as Luz de la Riza.  NV also specializes in providing the safest and best-quality personal massagers from Jimmy Jane, LELO (bestselling Soraya design), and We-Vibe. As far as the local designers go, NV currently only carries a local scent and lotion company called Lollia.  The Lollia No. 9 scent and TokyoMilk mixable scents are very popular. NV is looking to build partnerships with local businesses and become involved in the Denver community, hopefully spurring a strong loyalty with customers.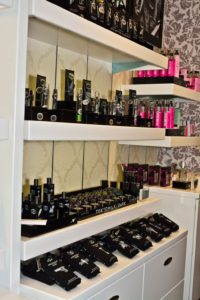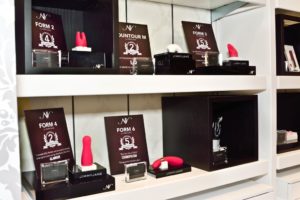 303: Who shops in NV?
Sara: The majority of customers are business owners or business professionals living in the Denver area, mostly Lone Tree residents. The Lone Tree residents prefer the lacy higher-wasted lingerie brands like Tia Lynn or the more basic LOU Paris. Younger adults with nightlife, in their late 20s or 30s, may come in for the more edgy or high-fashion lingerie looks, with Maison Close and Jolidon being favorites of NV's younger customer base. NV caters to women of all sizes. Panache is a favorite company of NV's more-bustier clientele, running up to a size 30 E.  Couples often come in looking to spice up their bedroom life, looking for some or all options including massage oils, lubes and personal massagers. The WeVibe personal massager is unique because your partner is in control.  Occasionally, NV gets some college students and has great options for them but mostly sells higher-priced lingerie pieces.
303: What's the newest trend to arrive in NV?
Sara: I have been seeing trends such as edgier lingerie pieces utilizing darker fabrics such as leather and black mesh. Also, Patrice Catanzaro is supplying NV with low-cut designs as seen in her bras and panties, which is another popular trend among the store.
303: Will NV throw any events?
Sara: Yes, definitely stay in the loop as we currently are focusing on our recent launch, however within the next two months there should be something exciting around the corner. It really depends who NV decides to collaborate with and what partnerships it decides to build with local businesses. The goal is for NV to be an active participant in the Denver community and to give its customers exactly what they want.  Stay tuned for events on NV's Facebook page.
303: So Sara, what is your favorite item currently for sale here at NV?
Sara: I absolutely love the Patrice Catanzaro line as it is sexy and feminine, yet dark and mysterious. It all fits amazing and really makes you feel sexy, like a woman should feel. Some more favorites of mine include anything from Maison Close and all of Mary Green's artistic, one-of-a-kind camisoles made of silk with hints of lace.
303: What's next for NV?
Sara: NV's next step is community involvement as well as accessing and collaborating with the local Denver market. Another priority for NV is to become involved with or create events and opportunities for local customers and residents.
NV
8423 Park Meadows Center Drive
Lone Tree, Colorado 80124
All photographs taken by Delmy Gooch, 303 Magazine photographer.