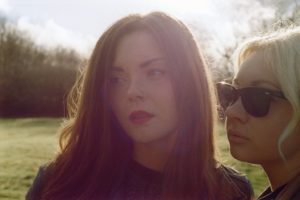 Glasglow indie-pop duo Honeyblood released a new track Choker revealing a sound that resembles "something from a California dream," according to FADER. These girls certainly know how to rock the release of their debut album, partnering with legendary producer Peter Katis to create a very unique sound.
The girls pounded out their entire album in as quick as ten days–not to mention the entire album was recorded at the home of Katis in the depths of a Connecticut winter.
These girls create unfiltered indie-pop melodies with sparkling harmonies, and punk undertones–a rare combination for many female performers today. Their new album deserves special recognition for merit points for reaching such high levels of hazy, wistful sounds.
Honeyblood kicked off their US tour at the El Rey Theatre in Los Angeles, California. From there they will make their way up the West Coast, circle back through the Midwestern states and then wrap everything up in Chattanooga, TN. Unfortunately this time around the band is not slated for any Colorado stops…yet.