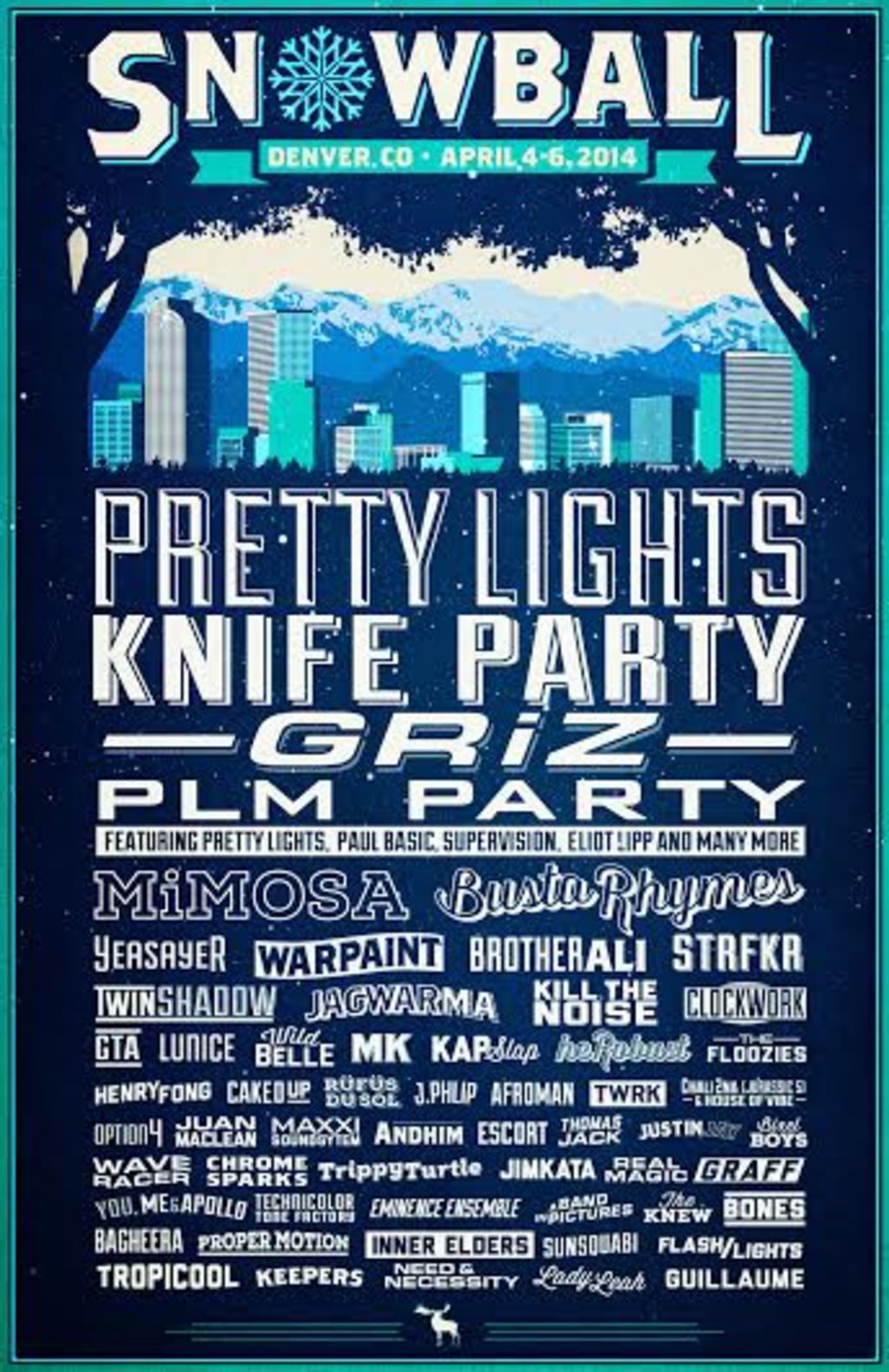 Many SnowBallers were disappointed to see the festival moved from the snowy Rocky Mountains to Denver, but the Mile High City destination managed to pull a pretty big lineup. The festival—now at the Park at Mile High at Sports Authority Field—will be held April 4, 5 and 6. 303 Magazine is stoked to announce the first-wave lineup for SnowBall 2014.
The festival features headlining performances from Colorado's own Pretty Lights (2 nights), Australian Duo Knife Party and GRiZ. Joining these three will be MiMosa, Busta Rhymes' lyrical prowess, Warpaint, Yeasayer, STRFKR, Twin Shadow, Jagwar Ma, Wild Belle, heRobust and many others listed below!
Because of the large Pretty Lights involvement, the second night will feature a PLM party featuring Pretty Lights, Eliot Lipp, Paul Basic, SuperVision and additional surprise guests. Pretty Lights leaked the news earlier to his fan base earlier saying, "I'm going to make sure that the Pretty Lights shows are one-of-a-kind and the freshest of the fresh, worthy of the sounds, styles and scene that has put Colorado on the map."
SnowBall will transform the venue with creative design throughout to create the true festival experience. For those missing the slopes, there will be chartered shuttles and discounted ski packages available. Fans can expect nightly firework displays as well as "Big Air" ski and snowboard exhibitions before they spill into the streets to Denver to enjoy after-hours parties at many of the city's best venues.
SnowBall creator Chad Donnelly said, "We've been searching for just the right balance of the best access to mountain communities, outdoor winter activities, & travel amenities such as lodging and transportation. As it turns out, Denver provides the best access to all of those."
A limited number of the Snow Day GA 3-Day Tickets are available now for $129.50, but won't last long. Early Bird GA Weekend Passes will go on sale for $149.50 when Snow Day passes are sold out.
Head to www.snowballmusicfestival.com for more information or to grab your tickets.
Full SnowBall 2014 First Wave of Artists: 
Pretty Lights
Knife Party
GRiZ
PLM Party: Featuring Pretty Lights, Paul Basic, Supervision, Eliot Lipp + Many More
Mimosa
Busta Rhymes
Yeasayer
Warpaint
Brother Ali
STRFKR
Twin Shadow
Jagwar Ma
Kill The Noise
Clockwork
GTA
Lunice
Wild Belle
MK
Kap Slap
he Robust
The Floozies
Henry Fong
Caked Up
Rufus Du Sol
J.Phlip
Afroman
TWRK
Chali 2na (Jurassic 5) & House Of Vibe
Option 4
Juan Maclean
Maxxi Soundsystem
andhim
Escort
Thomas Jack
Justin Jay
Bixel Boys
Wave Racer
Chrome Sparks
Trippy Turtle
Jimkata
Real Magic
Graff
You Me & Apollo
Technicolor Tone Factory
Eminence Ensemble
A Band In Pictures
The Knew
Bones
Bagheera
Proper Motion
Inner Elders
Sunsquabi
Flash/Lights
Tropicool
Keepers
Need & Necessity
Lady Leah
Guillaume