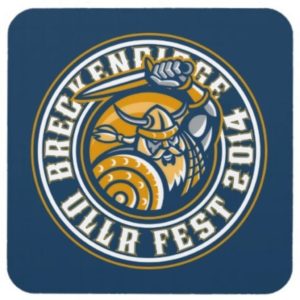 If you have been reflecting on your last year and suddenly realized that you didn't get enough outdoor adventure, now is the time. The New Year calls for a fresh air resolution and I suggest you start this weekend with a kick-ass snow festival. Brush off your Viking horns and grab your mittens it's time for Ullr Fest.

Every year the humble citizens of Breckenridge, Colorado pay homage during Ullr Fest. Through beer, parades and bonfires they relentlessly celebrate to honor the Nordic god of snow, in the hope that it will bring tons of champagne powder and if nothing else a crazy good time.

Ullr is the Norse God of Winter, and in ancient mythology he was the son of Sif, the step-son of Thor, and god of all things cold, icy, and covered in snow. Ullr Fest is now in its 51st year at Breckenridge. Ullr Fest is a week-long festival, and events include the crowning of the Ullr King and Queen, Ullympics, and the much-anticipated Ullr Parade.
It's free to take part in the majority of events. The Ullympics is one of my personal favorites. All you need is a coed team of four and a whacked-out team name. There are three events. First is the Ullr Cross Country Race, where you and your team mates mount larger-than-life Nordic skis and then try to sync-slide around the race track. Second is the infamous Frying Pan Toss. Each team must toss four frying pans onto a bulls eye. Lobbing the pan through the air like a giant lead pancake tends to be a crown favorite. The third segment is a little hard to describe, but hilarious to watch. One of your team members gets dressed in a vintage ski onzie, then sprints to a ski pole; spins around it several times; digs through a big bowl of flour and snow to find a piece of bubble gum (no hands of course); and blows a bubble. After completing these tasks you strip off the suit and it pass to the next member; the first team to cycle all four members wins. To call these events crazy is to understate the bedlam generated. This year, families, locals, and brave visitors all stepped up to the plate, and competed in true Ullr spirit.
The winners of the various events are showered with gifts from the sponsors and local shops around town. If that still isn't enough to persuade you, the outdoor events welcome community cheer and spirits of your personal preference.
The most anticipated event of the week is the Ullr Fest Parade. It is free to enter the parade and local businesses and groups compete for the first place prize and a year of bragging rights. This year is extra special for me because the town of Breckenridge invited me to be an Ullr Fest Parade Judge. Each float is judged on Creativity, Workmanship, and Theme, and having a float that is out of control with Ullr love–beads flying, music bumping and people screaming–always helps. The parade is a crazy time of floats where anything goes, from girls in fur bikinis to the King and Queen of Ullr Fest waving on to their humble citizens.
This year Ullr Fest is shattering history and going to try to set the World Record Shot Ski Attempt. If you have ever wanted to take a shot with over a hundred others, now is your chance. Ullr Fest will greet you with Ullr Horns and ice cold beer; it's hard not to feel right at home. The festival is an amazing party, and everyone is there to celebrate only the best winter has to offer.
The Deets:
When?
January 5th –January 11th 2014
Where?
Cost?
Majority of the events are free. There are registration requirements for special events, such as the shot ski record participation.
Level of fun?
Exponentially higher than what you were planning for the weekend.
Registration Information?
Features & Events?
Wednesday:
SYRCL Wild and Scenic Film 5:00 p.m – 9:00 p.m. at the High Country Conservation Center
Breck's Got Talent Doors open at 6:00 p.m. at the Breckenridge Theater
Thursday:
World Record Shot Ski Attempt at 4:00 p.m.
Ullr Parade 4:30 p.m. down Main Street
Ullr Bonfire 5:00-7:00 p.m. in the South Gondola Parking lot
Friday:
Comedy Night 7:00 p.m. Doors Open at the Riverwalk Center
Saturday:
2nd Annual Ullr Classic Pond Hockey Tournament 9:00 a.m. – 4:00 p.m. at the Gold Run Nordic Center. Teams must register online and pay $150 to participate, spectators, hecklers, and adoring fans are always free.
Extra Goodies?
Town of Breckenridge, Breckenridge Ski Resort, Summit County, Kid friendly, Dog Friendly- leash required, Discounted Lodging Rates, Pond Hockey