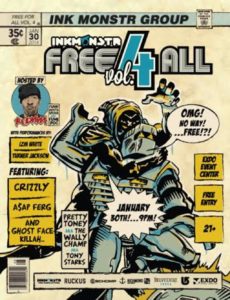 Custom print shop and purveyor of all things cool InkMonstr and Schomp MINI  is continuing to bridge art and music with the latest inception of the Free4All. This art show/hip-hop concert will feature local acts Seth Abrumz, Izm White and Turner Jackson as direct support for Wu-tang Clan's Ghostface Killah, A$AP Ferg and Crizzly. The shindig is happening at Exdo Event Center on January 30th at 9pm.
In addition to throwing progressive parties that pair art, music and creative branding, InkMonstr specializes in fleet branding, graphic design and large scale installation. This is the fourth volume of the Free4All and the always entertaining and charismatic Redman will be hosting. As the name suggests, the entire event is free however entry is limited to Exdo's capacity. Partygoers can be guaranteed entry by purchasing tickets here.
Ghostface Killah most recently touched down in Denver for a New Year's Eve performance with his fellow Wu brethren Raekwon and Method Man. A$AP Ferg's latest album Trap Lord has launched the A$AP Mobb affiliate to the forefront of young progressive hip-hop. Crizzly is a innovative producer who's penchant for "crunkstep" keeps dancefloors filled and walls shaking with bass.
Get your tickets by going HERE