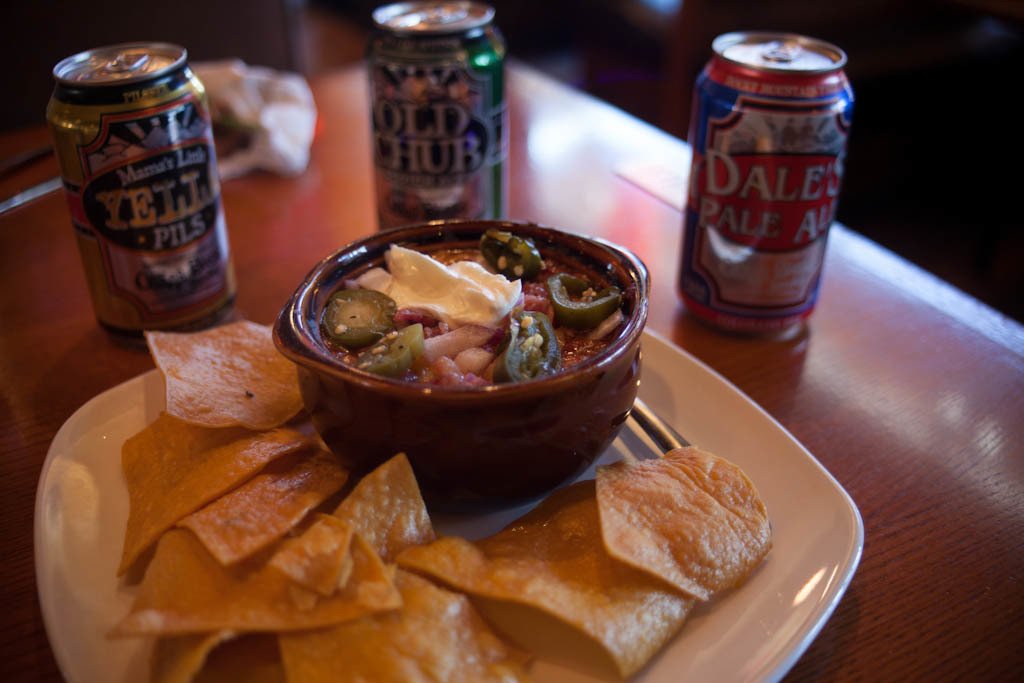 What: A friendly weekend wake-up with a side of Oskar Blues
Where: Home Made Liquids & Solids, 1555 S Hover Rd in Longmont
When: Sundays 10am-2pm
Pros: Friendly staff, award-worthy red chili, and a good chance of catching a live jam session with your brunch
Cons: With five items, the brunch menu is limited (thought the regular menu is also available), and it's about a 45 minute drive from downtown Denver
Walking up to Home Made Liquids and Solids, I was greeted by a small stream running along the outside of the restaurant. The source of that stream? A keg near the entry. As one of Oskar Blues' restaurants, this place is a beer lover's kind of brunch spot. Like an over-sized Colorado mountain cabin brimming with a hodgepodge of interesting wall décor wherever you look, this place is worth the slightly out-of-the-way trek for the atmosphere alone.  I don't know if it was the plentiful beer or the strumming of guitars coming from the booth nearby as a circle of local musicians played bluegrass tunes, but my hangover was a forgotten memory before I even made it to the bloody Mary bar.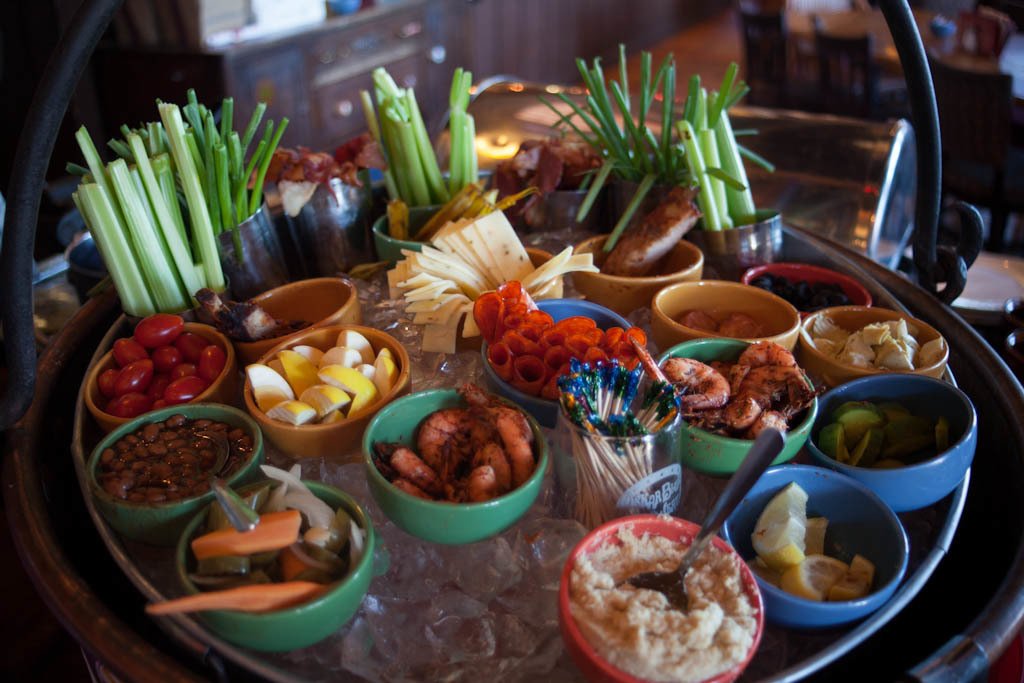 And what a Bloody Mary Bar it is. For $8.50, you get your bloody and a trip to a table filled with what could basically be an entire satisfying meal. Highlights include slices of Andouille sausage (a nod to the restaurant's very Cajun inspired full menu), bacon (of course), house-made pickles that I could not get enough of, and ribs. RIBS.
The real beverage star here, though, is still the beer. And nothing compared to a Dale's Pale Ale and a bowl of the brunch-only chili. Farmer Geoff's Chubby Red Rocket Chili is made with smoked brisket and beef from Oskar Blues' farm, Hops and Heifers. Opt for the loaded version topped with cheddar, red onion, sour cream and bacon along with a side of tortilla chips. If this meal doesn't get you on track for a perfect Sunday, nothing will.
With a super crispy cornmeal crust, the Country-Fried Chicken Biscuit was a welcome addition to the table. A jalapeno cheddar sauce pushes this dish out of the brunch comfort zone and was a nice change from the more predictable country gravy that would normally smother this dish. The Omelet Station is another nice touch. Though it's a reminder of the buffet-style brunch that this restaurant used to serve up, this option offers a customizable, fresh made omelet with a side of bacon and hash browns that is filling and fun to create. You can also add a waffle on the side, so you get all your brunch food groups in one trip.
The employees of Oskar Blues enjoy regular pig roasts (so lucky) and support each other when times are tough. 70 employees were directly impacted by the recent floods-  check back in with 303 next week to learn more about Can'd Aid, the Oskar Blues foundation currently raising money for Colorado flood relief, and what they have planned for 2014.
When you dine at one of their restaurants, that kind of sense of community is apparent. From the farm-fresh meat to the incredible (seriously) fried pickles, Home Made Liquids and Solids is the perfect excuse to take a drive and spend your Sunday amongst the kegs.
All Photography by Jackie Collins