What: Find out how to make a spicy side dish and a punch bowl cocktail with a tequila kick
Where: Recipes courtesy of Westminster's Kachina Southwestern Grill located 10600 Westminster Blvd
When: I tasted these dishes at one of this restaurant's Chef's Classes last month. Check their website for new classes coming soon. Kachina is also serving Thanksgiving dinner this year (if you're not planning on cooking) from 11:30AM-9:00PM
Turducken is like the Big Foot of Thanksgiving entrees. I'd heard the stories, even know so-and-so, that person who saw one or made one, etc. But I'd never seen this strange trifecta of poultry in person myself until I ventured out last month to a Fall Chef's Class at Kachina Southwestern Grill.  As a room packed with hungry diners watched attentively, Kachina's Chef Jeff Bolton swiftly deboned and reassembled the three necessary components of this dish, showing off some serious knife (and sewing) skills and giving me my first look at a turducken (they are real).
Soon, the packed room was munching on a turducken dinner and sides made with spicy Southwestern kicks. Alongside the food, bar manager Nick Tarsi showed off his recipes for two crowd-sized cocktails that guests were more than happy to taste test.
Though the turducken was the main dish of the Chef's Class meal, there were two clear favorites at my family-style table:
Calabacitas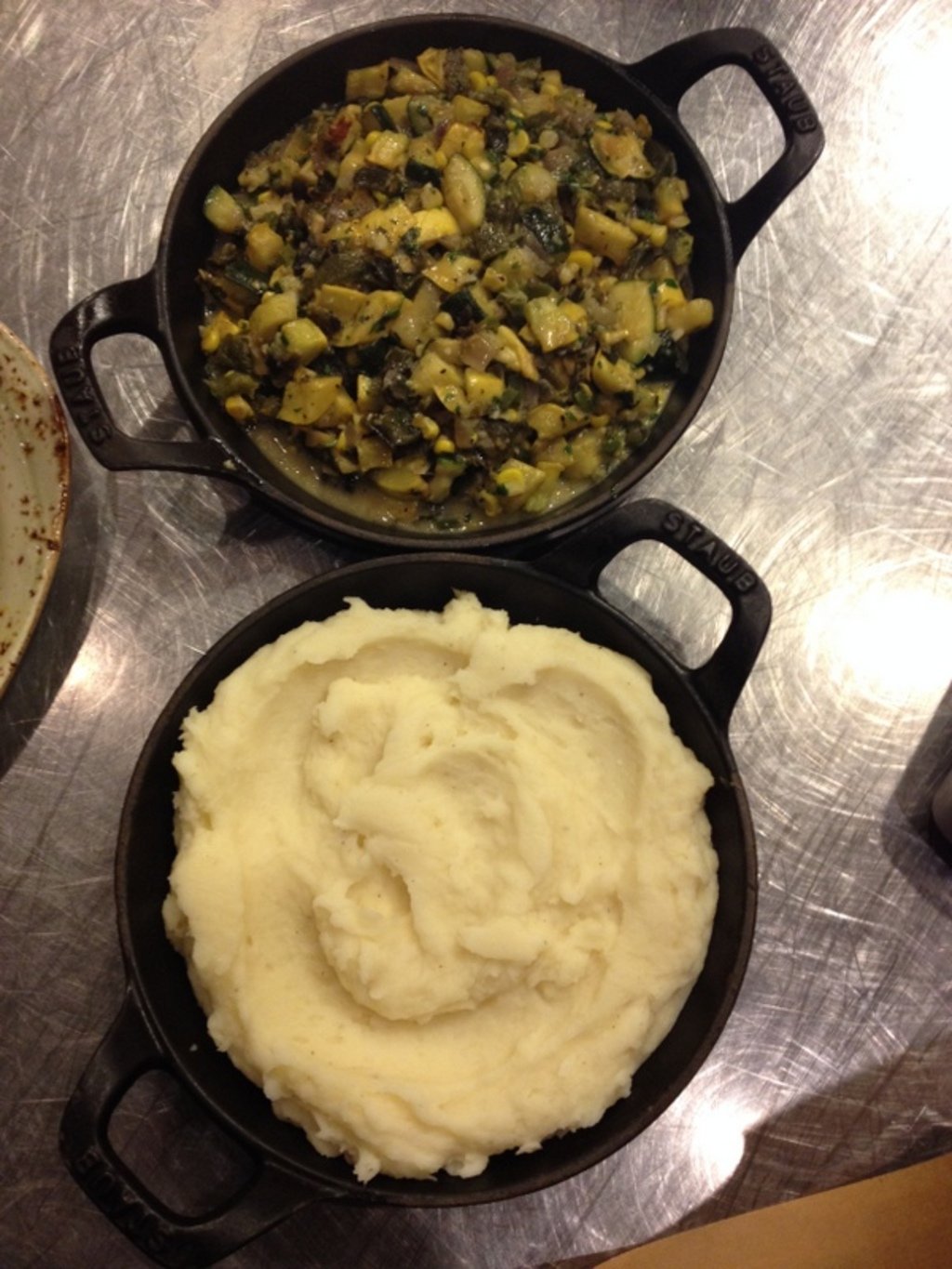 Green beans and sweet potatoes might be traditional, but this side makes eating your veggies an unexpectedly spicy treat. This dish is also being served at Kachina's Thanksgiving dinner this year.
Makes 8 servings
 2 Red Onions, small diced
4 Jalapenos, seeded & small diced
1 tbsp. garlic, minced
6 yellow squash, small diced
6 zucchini, small diced
1lb corn kernels
6 poblano peppers, roasted, skinned, seeded, small diced
1/8 c. Mexican oregano, ground
1lb manchego, shredded
1.5 c. cilantro
1 tbsp. smoked salt
1tsp. black pepper
1 c. oil
In a large skillet on high heat cook the squash and zucchini until al dente
Remove from pan and spread out on a sheet pan to cool completely
Sauté the  onions, garlic and jalapenos in oil until soft
Add the corn and continue to sauté for two minutes
Add poblanos, oregano, salt and pepper
Continue to cook until all vegetables are soft
Spread on a sheet pan to cool
In a large mixing bowl combine all ingredients
Heat the mix in a sauté pan until all ingredients are hot and the cheese has melted
Cranberry and Tequila Limeade
Pull out the punch bowl and serve up this refreshing cocktail to your holiday guests. Fruity, tart and easy to drink, this is a certain crowd-pleaser.
Serves 20
3 L. blanco tequila
12 C. dried cranberries
Fresh Limeade
-4 C. lime juice
-6 C. water
-2 C. simple syrup
Pour tequila in a bowl and add cranberries. Let soak for at least 30 minutes
Put tequila and cranberries into a blender and blend until as fine as possible
Run mixture through a sieve, using spatula to force the liquid through
Once the liquid is through, add the limeade to the mixture
OPTIONAL: Top with whole cranberry ice cubes, lemon slices and cinnamon sticks
Photos Courtesy of Kachina Southwestern Grill