Where: 6th and Corona
Don't Miss: Their vegetarian Baked Onion and Spetzle entree is delicious – even if you are a meat eater!
In this day and age, very few restaurants have all three of the date night features: a great menu, friendly service and a warm atmosphere. Usually patrons will settle for one or two of those and declare it to be a good spot. Luckily, at Table 6 you won't have to choose. This restaurant off of 6th and Corona really does have all of the qualifications to be the place for your next picture-perfect date.
Before we were even given a menu, I was extremely pleased with the entire aroma of Table 6. Mirroring the style of your little neighborhood bistro, the front room at Table 6 is small and intimate with a clear view into the kitchen. This creates a great setting in case there is a moment of silence in your conversation. Hopefully that won't be the case, especially since Table 6 offers a diverse wine list and beer menu. I chose a glass of Pinot Gris, which paired great with the rest of my meal. My boyfriend, being a self acclaimed beer connoisseur, was happy with their beer list and enjoyed his Long Strange Tripel from Boulevard Brewing Company.
Table 6's menu may be straightforward, only listing appetizers and entrees, but it's by no means simple. It seems as if Chef Carrie Shores has thought of every culinary concept known to man to create a diverse menu. Since everything looked amazing, we asked for a recommendation from our server, whose stand out options were the Pork Belly Flatbread and the Chorizo Tots. We were definitely pleased with these picks. The Pork Belly Flatbread was filled with flavor from the chèvre and fried sage, and the roasted butternut squash paired effortlessly with the pork belly. The Chorizo Tots were just as enjoyable. Served in a large crock, the chorizo tots were mixed with pickled peppers and crème cheat, creating a scrumptious dish that's easy to split. These dishes were so good, that we had to force ourselves to save room for the main entrees.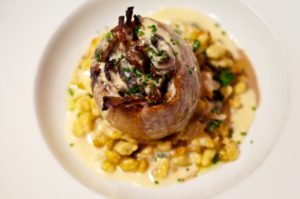 Whatever you happen to have a taste for as an entrée, Table 6 has it covered. Their menu is filled with different choices featuring fresh meats like duck, lamb, bass and pork. My boyfriend ordered the Lamb Meatballs, served with almond cauliflower Gnuddi, pickled madras cabbage, and demi. I'm sure some would disagree, but I actually love restaurants that introduce new ingredients that I have to Google to know what they are. I figured that the gnuddi was some type of pasta, and was pleased to be on the right track: it's a type of Gnocchi. The Gnuddi tied in great with the lamb meatballs. The pickled cabbage left a taste that wasn't overpowering but full of salty, delightful taste.
While I'm normally a carnivore at first choice, the Baked Onion with Wild Mushroom and Semolina Spetzle intrigued me. The presentation was awesome, with the mushroom baked into the salted onion. And to no surprise, it tasted even better. The dish was so hearty that you wouldn't even realize that it was vegetarian. This is a typical reaction, according to Chef Carrie Somers, who said that a lot of meat eaters come into the restaurant and dig into their veggie dish.
Before we knew it, the night ended with a delicious dessert dish of fried apple pie and miniature coffee chai shakes. The shakes were served in Bull & Bush shot glasses, a nod to the local Denver staple. We were so comfortable at Table 6 that we didn't even realize how much time had gone by. The calming atmosphere and appetizing menu at Table 6 made a perfect abode for our weekly date.
Photos by David Hach.