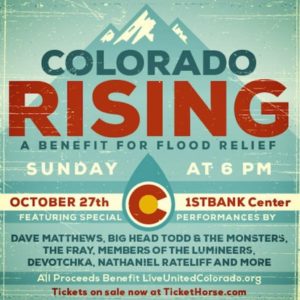 Want to support a good cause and see awesome live music at the same time? Great news: now is your chance!
Some of the biggest acts in the music industry are coming together in concert to raise money for relief as Colorado recovers from the September flooding that resulted in nine deaths and over $2 billion in property damage.
Promoters AEG Live and Live Nation have announced that Dave Matthews, the Fray, Big Head Todd and the Monsters, members of the Lumineers, Devotchka, Nathaniel Rateliff and others will unite for "Colorado Rising: A Benefit for Flood Relief," Oct. 27th at the 1STBANK Center in Broomfield.
All proceeds from the concert will go directly to United Ways of Colorado Flood Recovery Fund.
Ticket prices range between $65 and $125 and go on sale Friday, Oct. 18 at noon on tickethorse.com or by phone at 866-461-6556.