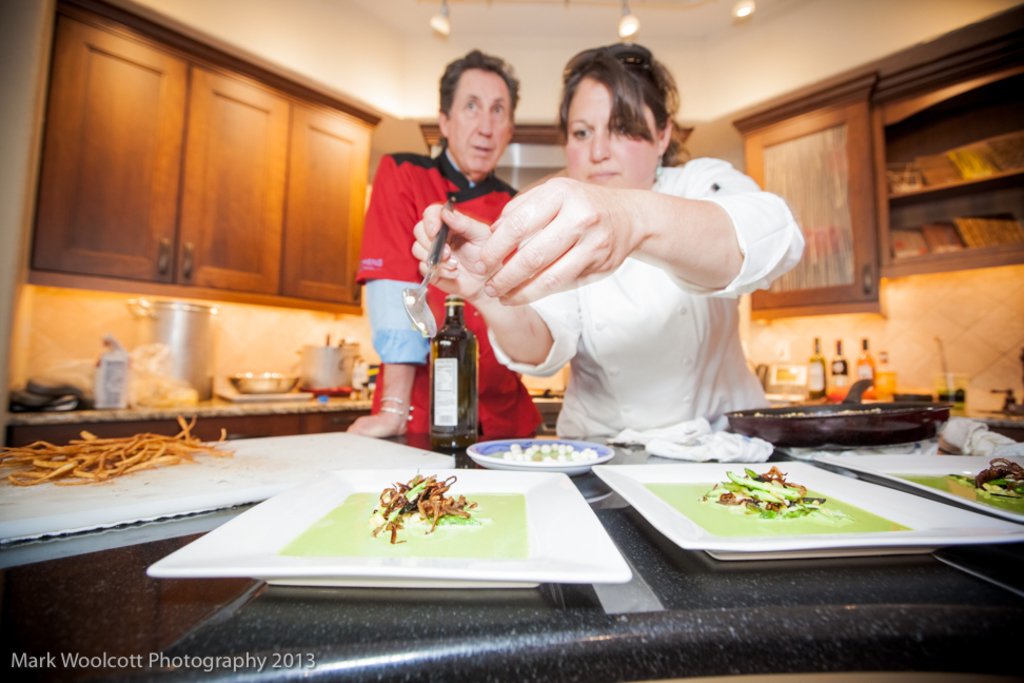 What happens when celebrity chefs and interior design professionals collide in the kitchen? You get the 2013 Culinary Design Challenge. Chefs partnered with design professionals in four teams to produce the most tasteful and beautifully designed dishes. The goal? To raise awareness for an organization called We Don't Waste. Did you know that there are over 1,000 young adults, just in Denver, who don't know where they are going to sleep or where or when they will have their next meal? It's a somber fact considering we live in the land of plenty.
 We Don't Waste works with caterers and restaurants and other food suppliers to collect their unused food. This food is then distributed to local agencies that support the needs of Denver's homeless and hungry. Waste is reduced and needs are met.
Last night's event was held at Kitchens at the Denver where a multitude of beautifully designed working kitchen displays were converted into stages for this culinary cookoff. The four teams were led by chefs Elise Wiggins of Panzano restaurant, Martin Yan of "Yan Can Cook" fame, Virginia Davis (the kitchen mistress), and Michel Wahaltere of Gisella restaurant in Aspen.
I was thrilled to be one of three judges. My judging cohorts were Darrin Alfred, a curator from DAM, and Daniel Asher of Linger/Root Down. The three of us developed our judging criteria of: taste; creativity; presentation; and waste.
We spent the evening spying on the teams to see how and what they were cooking. One of my favorite techniques of the evening came from Mr. Yan. He had a sauté pan with a bed of dried rice, lychee tea leaves, and sugar topped with a DIY trivet made of criss-crossed asparagus. He seared off duck breasts and laid them on the trivet, covered the pan, then set it on the heat to scorch the tea, rice, and sugar. This 'smoked' the duck breasts. It sure was a sexy technique. I wasn't sure it would really work. But it sure did. His duck was cooked perfectly and was delicately infused with that smokey flavor.
The winner of the evening, though, was Elise Wiggins. Her dish won on multiple fronts. When the three of us walked up to her presentation table, we were all taken with the vibrant green of her herb nage, dotted with white spheres of goat cheese and floating dots of olive oil. It reminded me of a Jackson Pollock painting while Danial said it reminded him of Pablo Picasso. She earned points for creativity with her deep-fried pasta squiggles dusted with spices and also in her execution. The scallops were perfectly cooked with just the right caramelization. The dish had a balance of textures and flavors. It was modern. It was fresh. It was perfect.
The evening's event was co-sponsored by Luxe Interiors + Design. Each chef was teamed up with a top interior designer and appliance manufacturer. The designing 'sous chefs' were:
Carol Moore of Carol Moore Interior Design
John Mink – Architectural Partnership
Rollie Jordan – Kentwood Real Estate
Cress Carter – Old Greenwich Builders
Heidi Mendoza – ReDzine Interiors
John Atencio – John Atencio Jewelry
Miranda Cullen – Duet Design
Ariel Gelman – blu Design Group
Patricia Bainter is a blogger and writer for 303magazine. She trained at Le Cordon Bleu London and shares her culinary musings and recipes at her own website ThePatricianPalette.com.