My initial impression of Friday night's Global Dance Festival kick-off was that of a nice crowd, which was refreshing after last year's candy-cane rave scene.  Not to say that rave kids aren't nice. I'm sure they're great. They just seemed… young. And totally blitzed. This year I saw drastically less pacifiers, furry leg warmers, plastic bracelets, and fishnet clad butt cheeks. Hell, I even saw a kid in a Grateful Dead t-shirt. More sacred geometry tattoos, dreadlocks, and heady pins on flat-brim hats, though. And you wouldn't believe what else I saw more of. Instruments! Yes, folks, electronica is evolving back into music.
Full bands like Papadosio and Conspirator rocked the top stage beneath a nearly full moon. Ott and Emancipator both played lovely, melodic sets that got the crowd warmed up in the early evening. The sun set on Emancipator's dreamy tunes with not one, but two violin players accompanying him beside the decks.
Next, EOTO took Red Rocks by storm from within the depths of their lotus flower shaped stage. Their hypnotic visuals, especially the creepy blinking eyeballs, were fun to watch all the while dancing to their world music meets deep house meets disco funk. There were also the sporadic bouts of womp, chilled out dub interludes, and a dash of live drum and bass. They covered a few crowd pleasers such as "Sexual Healing" and "This Is How We Do It," with Jason Hann on vocals. He even demonstrated some impressive Indian padhant singing, which is traditional tabla drum tone reciting.
And then there was Beats Antique. Their set can be summed up by the fact that violinist David Satori had to question whether or not they had "weirded us out too much yet," after only a few songs. Zoe performed in a billowing parachute dress with antlers followed by a sexy space-geisha shadow puppet dance. Visually speaking, there were jellyfish, desert moonscapes, African tribal videos, and bizarre black and white footage being projected behind the band throughout the show. Beats Antique's Bob Marley cover of  "Rock My Boat" took the song way out of context and bass twerked the ordinarily mellow reggae jam. Mermaids and a synchronized swimming stool routine accompanied the Daft Punk cover "Get Lucky," which the entire amphitheatre sang along to. And for their grand finale, EOTO's Michael Travis took the stage and Tommy Cappel donned an Animal Muppet mask on the drums. Zoe led a squad of black n' white striped cheerleaders with marching band swagger and pom-poms while a human centipede belly dancing troupe with gas masks wiggled center stage. I couldn't make this stuff up if I tried.
Oh, then a giant inflatable squid appeared. The end.
Check out 303's event photo gallery from Friday night's Global Dance Festival for more images from the show.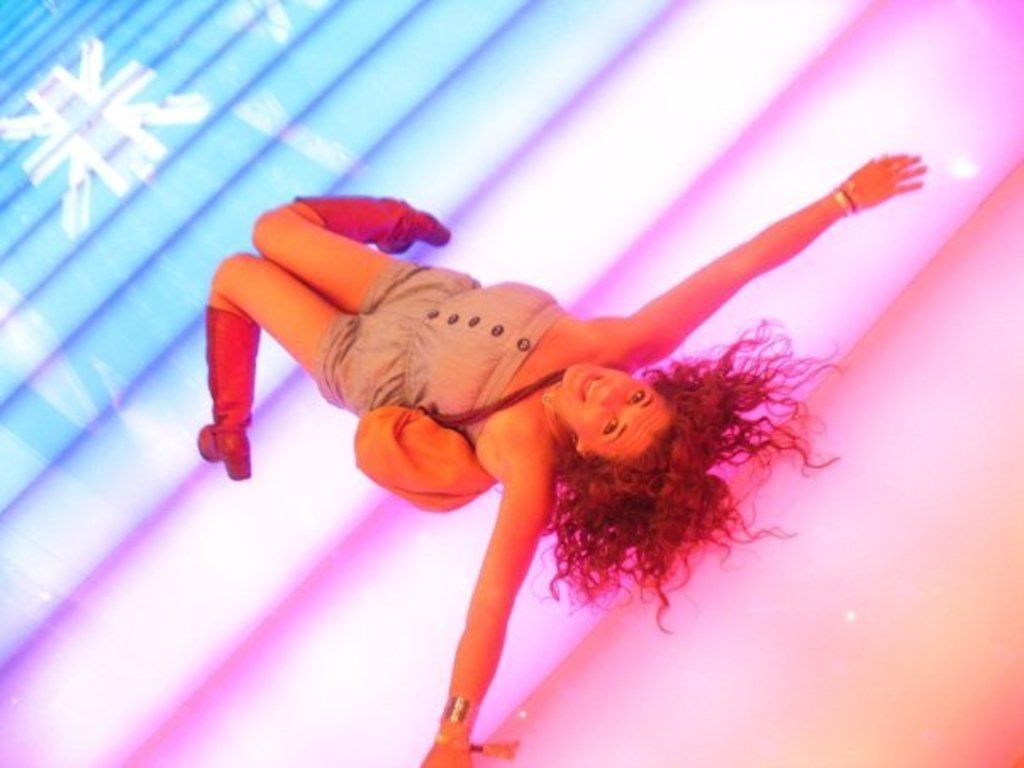 Allison Cohn loves gold spray paint and nonsense. She also has a very difficult time sitting still and keeping quiet. She can often be found dancing like a fool when she isn't hiding out in her mountain lair or gallivanting around the globe.