The time is here. Our 303 Magazine Pool Party Series for 2013 begins Sunday, Aug. 4th at the Breakers Resort. We know you have been working hard on your poolside body all summer and it is time to show it off. You have chosen an amazingly flattering suit, incredible shoes and the perfect accessories. Now, top off that package with pool-ready hair, skin and make-up.
I am an advocate of dedication and long term maintenance when it comes to skin and hair care, but even I know you don't have enough time for that with the party a week away. Here are my quick solutions to looking your poolside best.
1. SUN-KISSED COLOR
If you are using sunscreen properly whenever you are in the sun or you are stuck indoors all week long, you may not have the tan that you dream of. Visit the spa for a professional spray tan a couple days before heading to the pool. Your aesthetician/ spray tan pro should be able to suggest the perfect color for you. If you are just reading this and the party is tomorrow – go now and get a fast-acting self-tanning cream or spray. Return home, shave your legs, exfoliate and apply evenly over prepped skin. (Then pray it works in time!) I am a fan of L'Oreal Paris Sublime Bronze Any Angle Self-Tanning Spray. It is easy to find, easy to apply and the color appears a few hours after application.
 2. PREPARE YOUR HAIR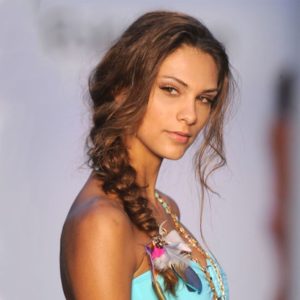 Even if you will just be lounging by the pool and not actually diving into the water, prepare your hair for a day in the sun with an ultra-intense, D.I.Y. moisturizing treatment. Start by wetting your hair. Then, add a small amount of slightly warmed coconut oil to the lower half of your hair. Avoid your roots and scalp. Let the oil soak in for 10 minutes, then shampoo as usual. Coconut oil will soften brassy hair and add shine. The day of the party style your hair into a wispy, easy side braid.
3. MAKEUP THAT WON'T MELT
Your make-up for the pool should be light and simple. Skip the foundation which can clog pores, run and streak if you start sweating. Instead, use a tinted sunscreen with an SPF of at least 30. Hydrate and draw attention to your lips with an SPF-infused, tinted lip balm. To amplify your eyes, apply a waterproof mascara and a quick dusting of your favorite eye shadow. Try bareMinerals Flawless Definition Waterproof Mascara. This formula stays on and doesn't clump or dry out my lashes like other waterproof mascaras.
4. SHOW OFF YOUR GAMS
Give your legs a sexy sheen and distract the eye from any blemishes with a reflective lotion. I love South Seas Beach Bling Shimmer Lotion, which is made right here in Colorado.  Apply the lotion after shaving. Not only will your skin look better, it will stay hydrated throughout the day. Available at http://southseasskincare.com.
5. FEET TO BE SEEN
How many times are you walking around barefoot in front of strangers? Don't be caught off guard with feet used to hiding in shoes. The night before the party, slough off dry patches and dead skin with a good foot file and then massage a few drops of organic jojoba oil on each foot. The oil will leave your feet and your nails hydrated. Use the oil the night before so that your feet don't slide around in your sandals or shoes. If you wipe out poolside, no one will notice how beautiful your feet look!
Have more suggestions? Leave a message below!