SubCulture is already a Denver favorite for its relaxing atmosphere, prime patio space and, of course, their creative and tasty sub sandwiches. But now you don't have to wait until lunch time to stop by. SubCulture is now offering Weekend Egg Sandwiches on toasted baguettes (and cocktails) that will satisfy all your morning-after cravings.
Each SubCulture egg sandwich comes with two free range eggs fried in butter for $4.75. Currently there are seven options including meatless choices like the Spinach, Roasted Tomatoes and Mozzarella and the Veggie Green Chili and Cream Cheese with Grilled Onions. The Green Chili is so packed with flavor, you won't miss the pork at all, and the spicy kick is balanced out with the smooth cream cheese.
If bacon is an essential part of your morning, go for the savory Bacon, Roasted Tomatoes and Cheddar sub, a perfect partner for a nice glass of Gin n Juice. SubCulture's take on green eggs and ham, a sandwich packed with Uncured Apple Wood Smoked Ham, Swiss and Pesto, is a unanimous favorite. The pesto is fresh and not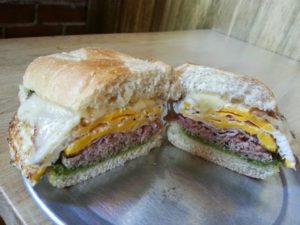 overpowering and gives just the right twist to a classic ham and cheese. Try it with a glass of Bourbon Lemonade and you might just find yourself ordering a lunch sandwich too.
Or grab your egg sandwich to-go along with a glass of Kool-Aid or Boylan's Soda for those weekend mornings when you don't have time to wade through the brunch crowds but still crave authentic food from a friendly, local eatery.
SubCulture is located on 13th and Pennsylvania and their egg sandwiches are currently available on Saturdays and Sundays from 9-11:30am. So stop in, say hello and try the eggs.